The best Polish website dedicated to the Greek island Crete and to a small extent of continental Greece. You will find useful information related to visiting Crete that goes beyond the offer of optional tours. On the website you will also find descriptions of the most interesting places that we visited by visiting this largest Greek island. The content complements the current news, photographs and recipes of Greek cuisine.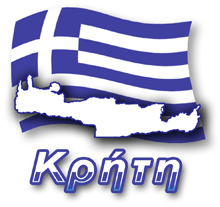 What to see in Crete
Cities, towns, villages, monuments and interesting places
Museums and the most interesting museum objects
Airports
west
central
east
Interesting places on Crete
↤ click the appropriate part of the island to change the bottom map
Data publikacji:
Data modyfikacji:
Wszystkie treści i zdjęcia występujące w serwisie są naszą własnością.
Wykorzystanie ich w dowolnej formie wymaga pisemnej zgody autorów.

Ciekawe miejsca na Krecie