Beach at Skinaria
Skinaria is a small beach located along a small bay, whose outlet on both sides ends with a rocky coast. It is still a little-known place overlooked by mass tourism. Peace and quiet and an interesting bottom abounding in the marine flora and fauna are the biggest advantages of this beach. Under favorable conditions, crystal clear water allows visibility up to 40m deep into the sea. It should not be surprising that Skinaria is so eagerly visited by diving centers. It is worth noting, however, that despite the location off the beaten track, the place is quite well organized: at the end of the road to Skinari there is a small gravel parking lot, on the beach there are sun loungers and umbrellas, and fresh water showers are also available. There is also one tavern here that also performs orders with delivery directly to the beach.
Interesting way
The southern coast of Crete abounds in a large number of small coves in the area of ​​which there are small beaches. Unfortunately, a large part of such beaches can only be reached on foot or by boat from the sea. In this respect, Skinaria is very civilized, because an asphalt road is brought up to the car park itself. It leads through small hills, where it is quite narrow in places. Due to the small traffic, access is not too much trouble.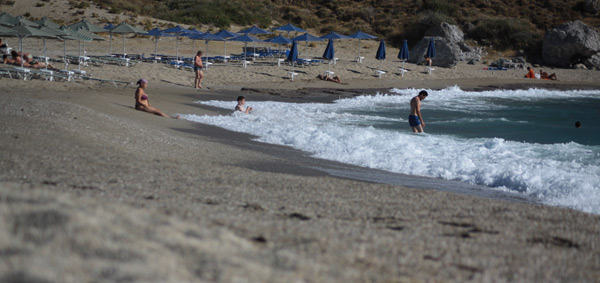 The road to Skinaria is interesting, in many places there are amazing views of the surrounding landscape. Along the way the characteristic rock attracts attention, through which runs a cylindrical hole. In several places you can count on spectacular steep descents.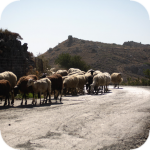 Owce na drodze na plażę Skinaria to dosyć częsty widok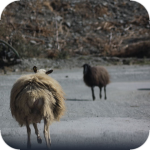 Pogoń za owcami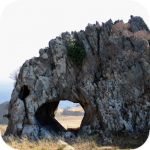 Charakterystyczna skała z cylindrycznym otworem
Access to the beach at Skinaria
Skinaria is located on the south coast roughly in front of Rethymno. People who go to this beach should first go towards this city. Of course, the best access is offered by New National Road. Then use the central exit of the Rethymnon bypass and head for Spili. After about 25 kilometers in the area of ​​Koxare, turn right following the signs for Lefkogia. In this place you have to turn left following the small informal signposts pointing to this beach.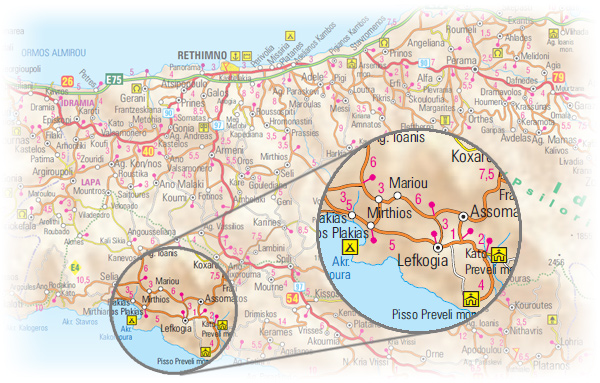 west
central
east
Interesting places on Crete
↤ click the appropriate part of the island to change the bottom map
Data publikacji:
Data modyfikacji:
Wszystkie treści i zdjęcia występujące w serwisie są naszą własnością.
Wykorzystanie ich w dowolnej formie wymaga pisemnej zgody autorów.