Thrapsano
One of the unique assets of Crete is the still strong position of local crafts, in particular furriery, leather and, of course, pottery. During your stay in Crete, the products of this last branch of craft can be found practically at every step. Near almost every house you can see huge clay pots, which nowadays are most often used as pots. If you want to see how these great clay pots are made, plan a trip to the village of Thrapsano ( Θραψανό ), about 30 kilometers away from Heraklion . It is next to Margerites, one of the most well-known villages, where today traditional Cretan ceramics are made.
today
Thrapsano is a small town inhabited by slightly over 2,500 people, the vast majority of whom currently live from agriculture. The dominant field crops are olive trees and vines. And although this region is also known for growing flowers, mainly carnations, it is the age-old tradition of pottery that determines the uniqueness of this village. Until recently, the majority of Thrapsano residents maintained their jobs.
Formerly
In the old days, during the summer, pottery tradesmen left their native village, to stop at various places in Crete in temporary workshops, to perform famous pitas. It was these handicraft expeditions called Ventema that made Thrapsano famous almost all over Crete. Since the end of the 1940s, this tradition is no longer cultivated, as modern workshops that are equipped with modern ovens put much greater demands on location. Despite the changes associated with the technique of drying and burning pitos, the method of forming is still the same. And although the potter's wheel is already most often rotated by means of an electric motor, the most important are the skills, knowledge and experience of the potter.
Most of the factories located in Trapsano are companies in which the craft tradition has been passed down from several generations from father to son. Imported ceramics pose a considerable threat to the currently operating workshops. The Chinese products, whose price is very competitive with local products, constitute a particularly serious threat. The fate of Greek potters and tourists, which we highly recommend visiting in Thrapsano, will decide about the fate of potters from Thrapsano.
I particularly recommend the Michalis Houlakis plant, where under the supervision of the owner you can try your hand at this craft. An unquestionable attraction is also the opportunity to see a real professional in action.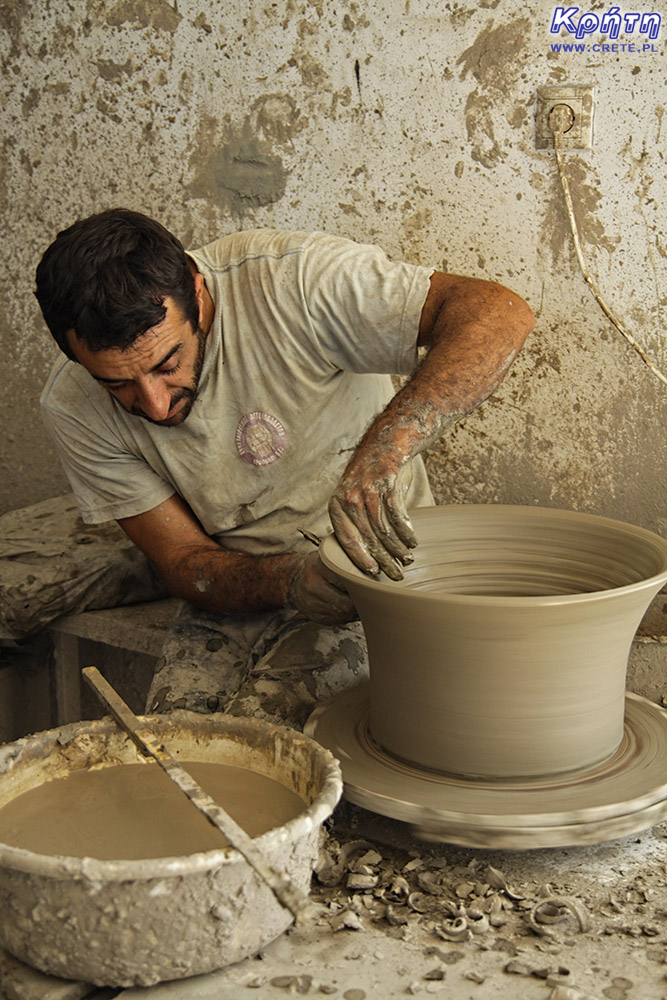 Michalis Houlakis at the potter's wheel
How to get
Thrapsano is located about 30 kilometers south of Heraklion . Due to the fairly dense network of local roads located in this part of Crete, access to this town is possible in several ways. Depending on the direction of arrival, you can choose one of many roads. I suggest, however, pay attention to signposts because in this region of Crete roads are now often modernized and rebuilt, so you can easily go astray. Of course, the most recent map or navigation with reliable data on the local road network may be helpful.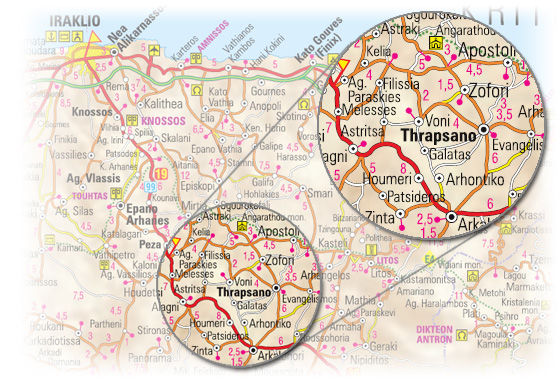 west
central
east
Interesting places on Crete
↤ click the appropriate part of the island to change the bottom map
Data publikacji:
Data modyfikacji:
Wszystkie treści i zdjęcia występujące w serwisie są naszą własnością.
Wykorzystanie ich w dowolnej formie wymaga pisemnej zgody autorów.