Agios Pavlos (Saktouria)
Agios Pavlos (Greek: ιγιος Παύλος - Świety Paweł) is a small town located on the southern coast of Crete near Saktouria (Σαχτούρια). Despite the relatively good access and a small distance separating this place from the crowded and crowded tourist Agia Galini, they can still be called an oasis of peace. However, if you still feel overwhelmed by the few tourists relaxing on the sun loungers set along a narrow bay, you can at any moment go to the more secluded beaches that stretch out behind the dunes in the western part.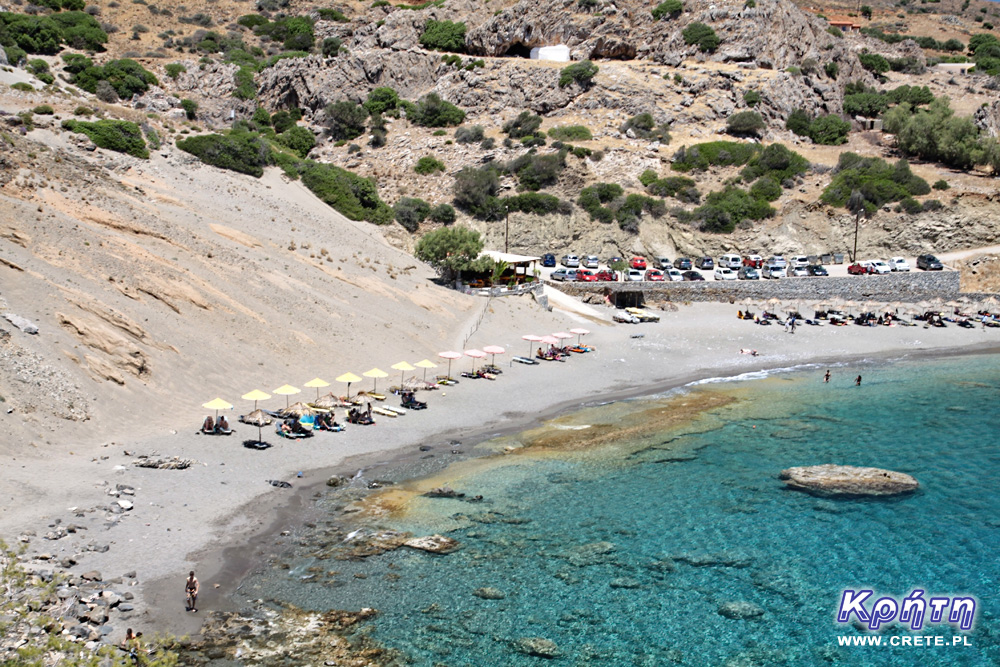 At present, this place is a cluster of a dozen or so residential buildings as well as several family boarding houses that rent rooms. Next to the car park located just above the bay, there are 2-3 local tavernas. So it's safe to say that calling Agios Pavlos a small town is definitely an exaggeration. Its real size may be proved by the fact that, according to statistical data made available by EL.STAT, in 2011, the number of permanent residents was determined to be 27 people.
The central beach located in the depths of a small bay is covered with pleasant fine sand. On site you will find sun loungers for rent and a shower with fresh water. At present, this beach does not have the status of a blue flag, but it does not detract from its high values ​​in any way.
Being here it is worth going for a walk to the top of a small promontory marking the western end of the bay. At the end of the trail leading to the top of a small hill there is an excellent viewpoint on Agios Pavlos. From this place you can also admire two beautiful high rocks, which, supported by each other, form a kind of open gate. The sea water penetrates into it creating a very picturesque and spectacular image.
How to reach Agios Pavlos
Agios Pavlos is located about 60 kilometers south of Rethymno. There is a relatively convenient road leading from the northern coast area. Follow the New National Road at the height of the city of Rethymnon, take the exit for the town of Spili, Timpaki (national road number 97). By far the fastest connection is provided by the road leading through Nea Kria Vrisi, less than 40 kilometers away from Rethymnon.
Personally, however, we recommend you access by road from the village of Akoumia, which is located just before Nea Kria Vrisi and is approximately 30 kilometers away from Rethymnon. This road leads through very picturesque areas, and it was not without reason that it was marked on the Fraytag & Berndt map as an observation route. An additional advantage of this road is the proximity of the Triopetra beach, which is definitely worth a visit.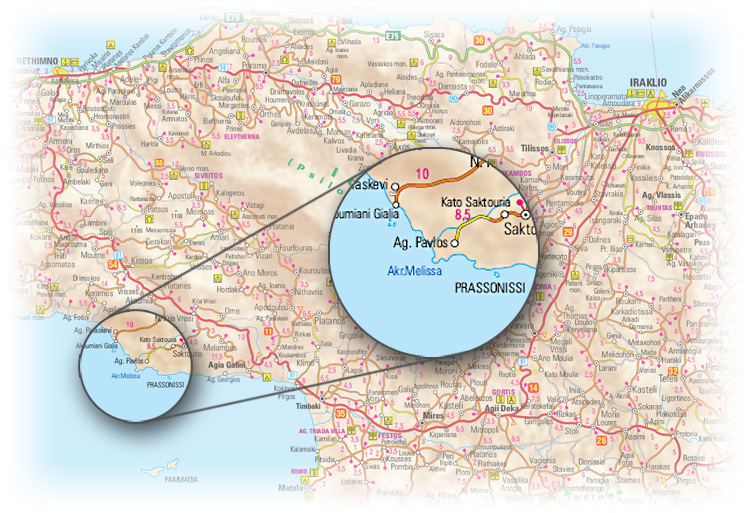 west
central
east
Interesting places on Crete
↤ click the appropriate part of the island to change the bottom map
Data publikacji:
Data modyfikacji:
Wszystkie treści i zdjęcia występujące w serwisie są naszą własnością.
Wykorzystanie ich w dowolnej formie wymaga pisemnej zgody autorów.