Wild Gorge Ha
Most people crossing the route between Agios Nikolaos and Ierapetra will definitely notice the large crack which is marked by the mountain located east of this road. This majestic geological creation called Ha was probably created as a result of an earthquake. The total length of the ravine is just over 1.5 km. Despite the fact that it is so perfectly visible, it still remains one of the wildest nooks in Crete. A few-meter rocky steep that forms the mouth of this gorge, effectively deters most visitors. Only people who have knowledge about climbing and having the necessary climbing equipment will be able to fully enjoy the beauty of this place.
If you are just ordinary tourists, you should not, after all, cross the Ha gorge from your holiday plans. It is worth taking a few kilometers off the main road to pass the village of Monastiraki, to be at the foot of steep rock walls, which rise several hundred meters up. The amazing calm prevailing in this place is drowned only by sheep and goats, which keep their bells still attached to the neck to know about their presence. Especially interesting may be the observation of these last animals, because they have the gift to appear on the least expected rock shelves, which seem to be available only to experienced climbers.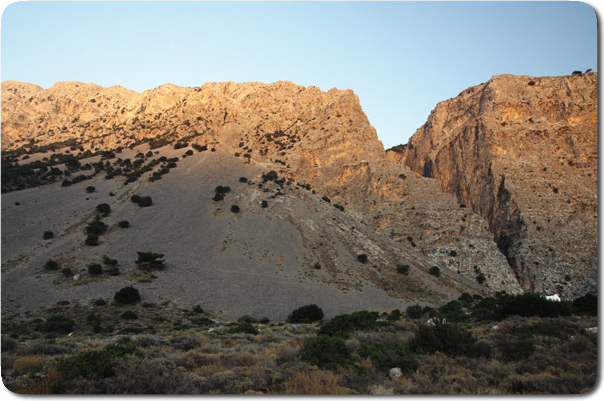 Gorge Ha illuminated by the rays of the setting sun
How to get
Regardless of where you are, access to the Ha gorge requires going to Agios Nikolaos. After turning into the road leading to the city of Ierapetra, you have to drive a few kilometers to turn east at Vasiliki. Using the few signposts you can reach the end of the asphalt road and then, walking along a gravel road, you can go to the mouth of the ravine.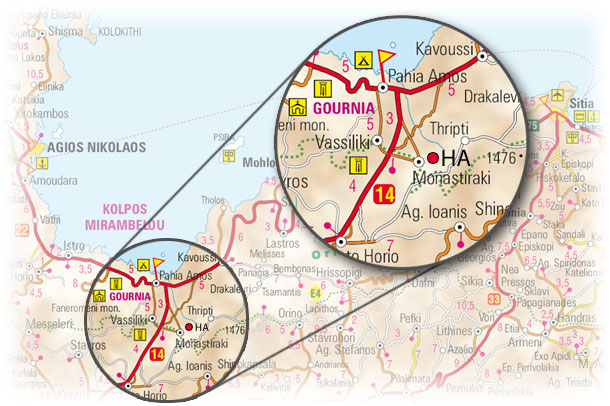 west
central
east
Interesting places on Crete
↤ click the appropriate part of the island to change the bottom map
Data publikacji:
Data modyfikacji:
Wszystkie treści i zdjęcia występujące w serwisie są naszą własnością.
Wykorzystanie ich w dowolnej formie wymaga pisemnej zgody autorów.