What should you know about Crete when you go there for the first time
For those who are going to Crete for the first time, we have prepared a set of basic information useful during the stay on the island. The following topics are important from our point of view and we have described them on the basis of our own experience. Of course, this article does not cover all topics and it is very likely that this toolbox will grow over time.
Language
The official language is Greek. However, in tourist destinations and cities you can communicate in English, German, Russian and French. Sometimes in the tavern you can come across a waiter who can say a few words in Polish. :) Do not count on a dialogue in your native language.
Before traveling, however, it is worth knowing at least a few words and courtesy phrases in Greek. Local residents really appreciate it! Especially if you plan to visit the mountain regions and villages away from tourist areas, the basic stock of Greek words and phrases will be useful for sure, because in such places you can have a problem with communicating even in basic English.
Weather
The mild Mediterranean climate is one of the factors that determines the attractiveness of Crete. During the high season, the weather is stable in the high season, only rainfall is exceptional. The average temperature in the day varies between 25 and 30 degrees Celsius, although the maximum values achieved can fluctuate around 40 degrees. Heat is easier to bear when the wind blows, which fortunately happens often. The southern part of Crete in the vicinity of Sfakia is even more windy than the rest of the island, so it may happen that you will have windstorms in these areas while the wind will be much weaker at the time. Cretan spring and autumn are seasons with lower temperatures, so if you plan trips on the mountains and trails these months will be more suitable for such a type of rest. When driving in the spring, however, you also need to buy warmer clothes, because evenings are usually cold, and the weather can be capricious and can be rainy. Autumn, on the other hand, can be warmer than spring, and the temperature of the sea warmed up after the summer lasts longer in this period.
The general rule is that eastern Crete is warmer than western, southern more than northern. Regardless of the location in the mountains, it will be much colder unless you happen to be at extremely high temperatures.
Sun
In the summer the sun shines very intensively every day and regardless of the type of rest you choose, you can not underestimate its power. Choosing whether to go to the beach or on the trail you need to bring a hat, a cream with a filter and the right amount of drinking.
If your holidays are active and spent on the Cretan routes, drinks will be the most important issue. On the trail, dehydration can get at the least expected moment and if you do not get enough water, juice, etc., the story may end up uninteresting. Every year there are accidents on the routes when local services have to intervene and bring in tourists who have succumbed to sunstroke. It can take place even on a seemingly simple and besieged road leading to Balos. It is worth remembering this because, unfortunately, stroke and dehydration also collect a deadly harvest.
If, however, you exaggerate with the sun and burn yourself, the best available means for burning skin is ... Greek yogurt. He really works!
Time
The current time zone in Crete is UTC (Universal Time Clock) +2 hours in winter and UTC + 3 hours in summer. In relation to the time in force in Poland, this is a shift of one hour. This fact should be taken into account when considering arrival and departure times, which are usually given according to local time. Remember, therefore, that when we arrive at Crete, we adjust our watches by setting the hour forward.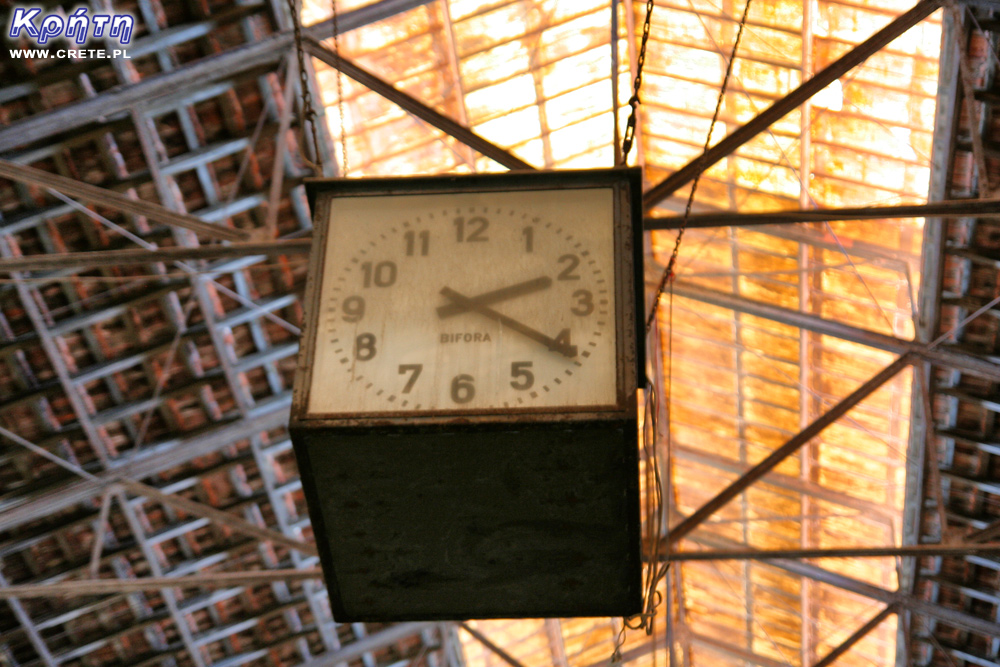 Telecommunication
Kreta has a wide range of mobile telephony, so you will be able to use your mobile phone virtually on most parts of the island. However, in the mountain regions and ravines of the range there is generally no and it is worth to keep in mind when going to these areas of Crete. It is worth remembering that since 2017 in Poland rates for international calls within the European Union have been equated with rates for local calls. It is, therefore, a significant reduction in costs for connections for tourists leaving for holidays.
If you plan a longer stay on the island, it will be better to buy a Greek SIM card. Such a card gives a larger data package for permanent internet access. They can be purchased at mobile operators' salons, a passport or ID card is required to purchase. You can ask for parameters and costs directly at the operator's outlets. On our holidays, this type of Internet access worked perfectly well and was much cheaper than purchasing data packages from a Polish operator.
The dialing code to Greece is +30 after dialing, the correct telephone number should be chosen.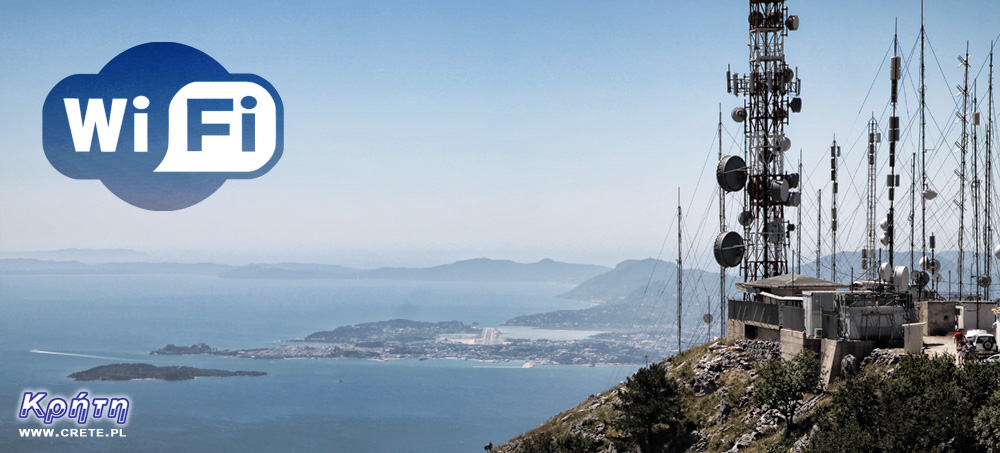 The wireless Internet network is systematically expanded. At the moment, most hotels and guesthouses offer access to wi-fi in the building (also in rooms), although there are still facilities without this facility. However, the quality of these connections varies. The same applies to taverns and restaurants. It is worth remembering that you should usually ask at the reception or the waiter (in the case of a tavern) for a password to access the network.
Currency
From January 2002, the euro is the official currency in Greece. It replaced the earlier drahma, which was completely withdrawn from the market. The exchange rate for 1 € was 370 Greek drachma. When driving to Crete, it is worth taking banknotes with low nominal values. With banknotes worth 200 or 500 euros, you may have problems accepting them and exchanging them for smaller denominations. In Greeks, they arouse considerable suspicion and fear of counterfeiting.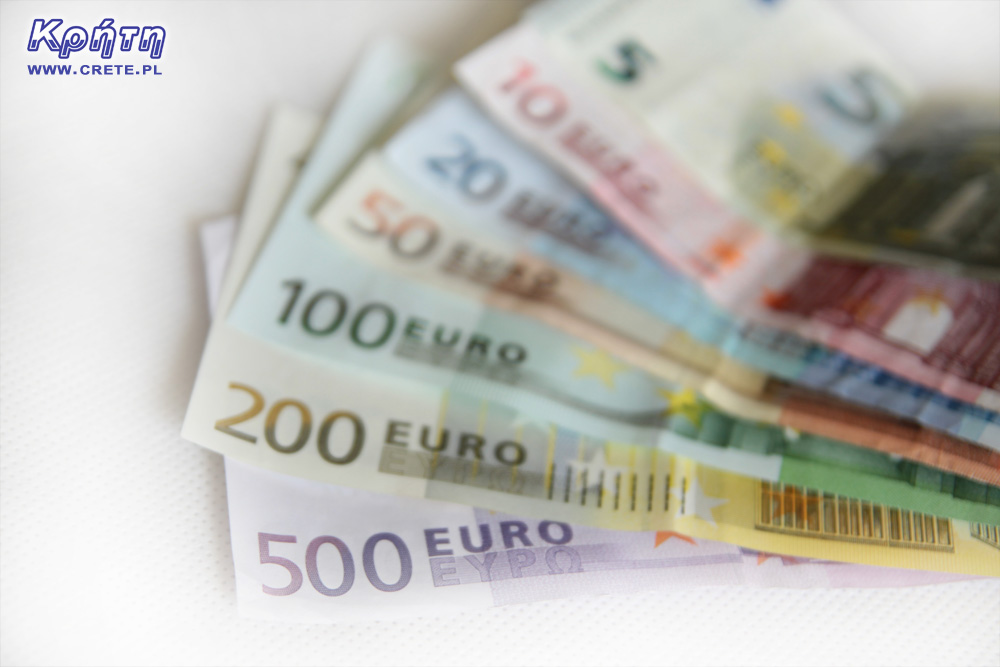 However, if you happen to have the misfortune of having such a large denomination, we will reveal a very interesting way to liquidate it. One of the local Cretans advised us to use such a big denomination to pay at the gas station. Drive the car, ask for a full refill and then press the "unfortunate" note as payment. A station employee will have to deal with the rest, because we will not give him any more fuel;)
In the case of larger retail outlets, there should be no problems with payment by credit or payment cards. In the case of smaller outlets, it is always worth checking whether the store has a terminal that supports the type of card we have.
In larger cities and popular tourist resorts, you can also find exchange offices where you can easily exchange your buck or other foreign currency.
Documents
Greece is a member state of the European Union and has ratified the Schengen Agreement, therefore citizens traveling within the EU can enter here on the basis of an ID card. What we strongly urge, because the ID card is a much more convenient and much more handy document than a passport. In addition, it is also worth knowing that this last document has been quite valued among thieves for a long time.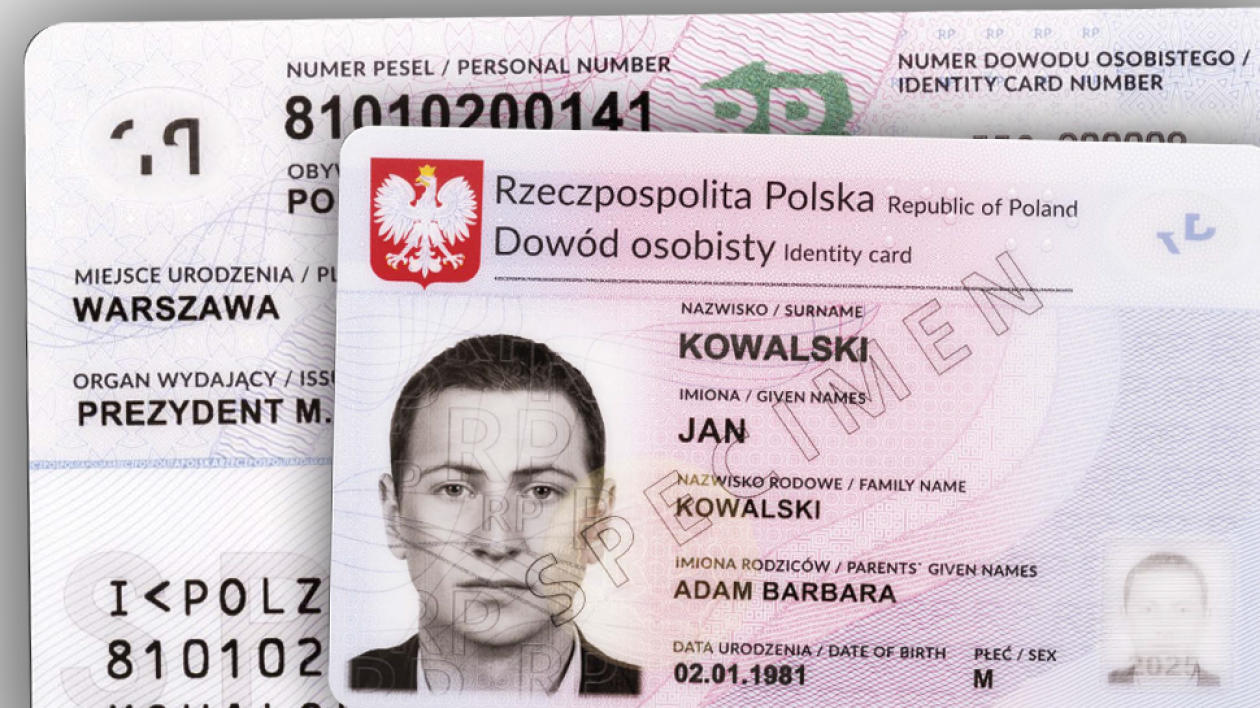 Healthcare
To get access to medical care, you need to get a European Health Insurance Card (EHIC). However, it must be remembered that this card entitles you to receive the necessary and free medical assistance in public institutions in the event of emergencies and illnesses. Having an EHIC does not mean that we will not incur any costs of necessary treatment.
What is the current medical help and treatment costs in Greece?
The current rules for providing free medical help are slightly different than some time ago. We encourage you to familiarize yourself with these conditions on the websites of the NFZ or the European Commission . Below we provide the most important information.
If necessary, start by searching for the appropriate facility that has signed a contract with EOPYY (ΕΟΠΥΥ), or the National Health Benefit System . Only in such a place will we receive free medical help. As a rule, such contracts have public health doctors (the so-called PEDY branches - the state primary health care network - and ESY - laboratory services ). Links are given below.
In the case of doctors employed in private clinics, you need to look for those who have signed contracts with EOPYY. However, in this case there is a restriction: only the first 200 patients per month will be accepted free of charge. When the limit runs out, the patient has to pay for the visit. Therefore, if you decide to visit a private clinic, you need to find out whether such a facility provides free medical services to EHIC holders and whether there is still a limit of places available.
Visits to other doctors who have not signed an agreement with EOPYY are always paid.
As far as dental assistance is concerned, it now looks like this: in urgent cases, upon showing the EHIC card, free visits are only available at public health facilities in the PEDY and ESY branches. Visits to private dentists are always payable.
Emergency treatment in a public / public hospital is free, but a referral from a doctor is usually required. Here, it is also necessary to present the EHIC card. You may also need to show a document confirming your identity. Before leaving, it is worth making a few photocopies of the EHIC card and ID card, because in cases of emergency help it will be necessary to leave a copy of the card, and not all outlets have xero equipment.
If you choose a private hospital that has an agreement with EOPYY ( National System of Health Benefits ), 30% of the costs of the medical procedure or 10% for each day of hospital stay is covered by the patient. Doctor's fees, including anaesthesiologists, and additional costs are paid e.g. for a higher standard of the room.
In clinics that do not have a contract with EOPYY at all, hospital treatment is fully paid.
Laboratory tests at PEDY and ESY are free. In private clinics that have a contract with EOPYY, the patient covers 15% of the costs.
If the doctor issues a prescription for you, it can be done in pharmacies that honor the EKUZ card (search engine below). In the case of an e-receipt, an extra non-refundable fee of 1 € is charged. The own contribution is generally 25% of the costs of prescription drugs.
In emergency and serious situations, you can use the ambulance available under number 166 . The patient will be transported to the public hospital's dispatcher. This service is free, provided it is provided by the National Medical Rescue Center EKAV. Likewise, help is offered by air rescue.
It is worth remembering that in many tourist resorts doctors only accept privately and do not honor EHIC. After returning from holiday, you can apply for reimbursement , but in this case, remember that NFZ will reimburse you, but according to the Polish price list applicable in settlements between the Fund and Polish medical facilities.
It should also be borne in mind that medical assistance provided as a result of accidents during sports may be subject to higher fees. Just in case, you should buy additional insurance before your trip, which will cover the costs of such care and possible transport to the country, because the costs of the latter are covered entirely by the patient.
Necessary links:
Search engine for all medical facilities that have signed a contract with EOPYY:
https://www.eopyy.gov.gr/
List of state pharmacies operating under the public EOPYY system: https://www.eopyy.gov.gr/PharmacyList . The above pages are ONLY in Greek.
All medical facilities, including private and private pharmacies having a contract with EOPYY: https://www.healthatlas.gov.gr The site is also available in English. There is a possibility to filter out only outlets with a contract with EOPYY.
Search engines on both sides operate according to nomos, or regions of Greece. Therefore, you should not look for medical facilities in specific cities (eg Hersonissos) only in one of the four regions of Crete: Heraklion, Chania, Rethymno and Lassithi.
Photography
Of course, there are no contraindications to photographing landscapes, but if you want to take a picture of a babinki in black or a Cretan in traditional clothes, it is better to get their consent. We do not have an unpleasant situation, but we know that there are Greeks' blood on donkeys who do not like it, that they become the target in the tourist lens. If someone does not wish to take pictures and refuse you, better respect it.
Photographs of military objects that are always marked with special information boards and appropriate pictograms are not allowed. Of course, in the present times, if somebody does, he will take a photo, but it is worth to be careful because the Greeks are sensitive to "strangers" and "spies" ;-)
In museums, you can usually film and photograph but without using a flash. It may happen that some exhibited items are subject to a total ban on commemoration. This is the case for artefacts whose photographs have not yet been published by archaeologists or those that are currently being described. Compliance with such a ban is supervised by watchful guards :)
In monastyrach sometimes different, generally not allowed to photograph in the temple itself, sometimes also in the whole area.
Outfit
Although everyone likes to dress in an informal and casual way on vacation, it's worth knowing that there are certain rules in Crete. They mainly concern visiting sacred buildings, in which strict dress code is defined. In general, it is a long skirt in the case of ladies and long trousers in the case of men (sometimes the shorts are allowed behind the knee). You will probably also be asked to cover your bare arms. If you are going for a tour of the monastery, if you forget about the appropriate clothes, then you will be able to borrow polyester scarves and skirts for more famous places. Nevertheless, it may also happen that the monks simply will not let you enter the monastery.
These rules seem quite obvious, however, during our travels we have often seen tourists who in bathing suits (!) Came to visit the monasteries.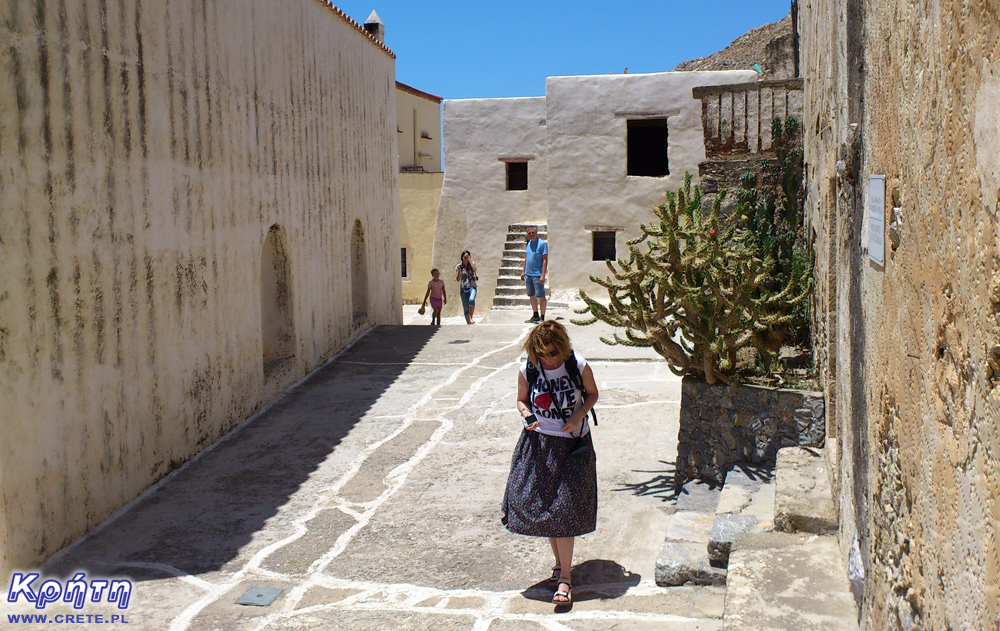 If the hotel where you will be located in a typical tourist town such as Stalida or Hersonissos, nobody will be hurt by walking in the streets dressed in beachwear or in swimming shorts. There are not such things happening in these places ... however, it is inappropriate in larger cities or villages.
The evening dress depends on the place where you rest. If it is a better hotel or SPA, then probably men will need, for example, long trousers, in women it can not be a beach outfit. Holidays spent in a less formal place, of course, allows for greater freedom in the selection of outfits.
Electricity
The electrical network supplies 230V AC. In general, plugs conforming to European standards may be used, although in small guest houses you may come across slightly more exotic sockets, which do not always accept traditional round plugs. However, as we wrote above - these are rare cases and you will certainly not have problems with typical flat plugs, such as those used in chargers and other similar devices.
Being in Crete you can deal with planned power outages, of course with unplanned ones as well. These breaks mean that there will be no electricity in the whole area for several minutes or even several hours. Some of the larger hotels and taverns have their own emergency generators, and local shopkeepers are also not surprised by such situations. In cases of failure when fiscal cash registers with stoic calm do not work, using special prints start to write out bills for your purchases. Of course, if you have the right amount of traditional money because the card payment will not be possible in such a situation.
taps
Although tap water is safe to drink, bottled water is recommended for drinking. If your room in the hotel is equipped with a kitchenette to prepare warm dishes and tea making you can easily use tap water.
No smoking
The smoking ban applies to all enclosed public places in accordance with the law 3868/10. It is worth knowing that the Greeks are a nation of smokers, so a cigarette balloon can accompany you in many places, including those that theoretically are banned.
Toilet paper
If you come to Crete for the first time, the plates like this one below can amaze you: D. So it's time to face the truth: toilet paper should be thrown into special buckets that you can find in almost every toilet. Throwing it in the usual place, that is to the toilet, it threatens to block the outflow and flood: That's the kindest request.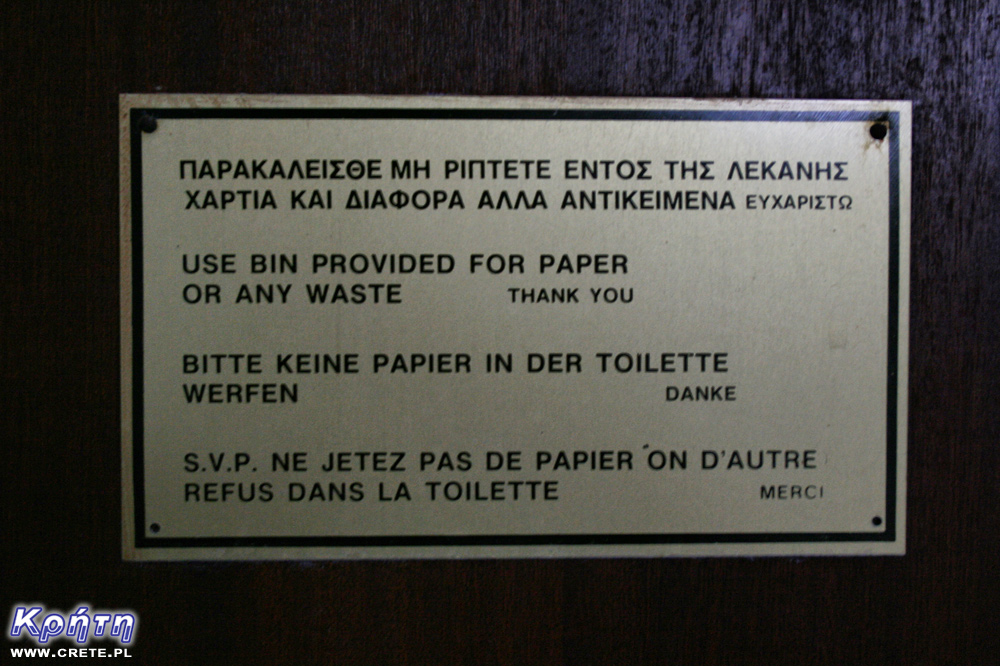 Earthquake
They happen quite often because it is a seismically active region of Europe. Fortunately, however, their strength is usually so small that they are practically not felt. Sometimes there are slightly bigger shocks, but these are relatively rare.
Refugees
This is one of the most frequently asked questions from the google search engine to our site. Looking at the map, it's easy to see that Crete is not on popular smuggling routes. For this reason, in general, it does not struggle with the influx of a large number of refugees. It rarely happens (compared to other islands) that boats with refugees will be nailed to its coasts. And if this happens, the Crete authorities quickly transfer these people to centers located on the continent. So far, in our opinion, this topic should not raise anyone's fears. More often you will meet workers from Albania or Bulgaria, etc. than refugees from Syria or other African countries.
In 2017, some of the refugees currently residing in Greece were deployed on Crete. They were mainly Syrian families with children. However, this relocation did not lead to the creation of further camps designed typically for refugees. Moved families have found their new homes in apartments located in Cretan cities. This kind of help quickly allows them to become part of local communities.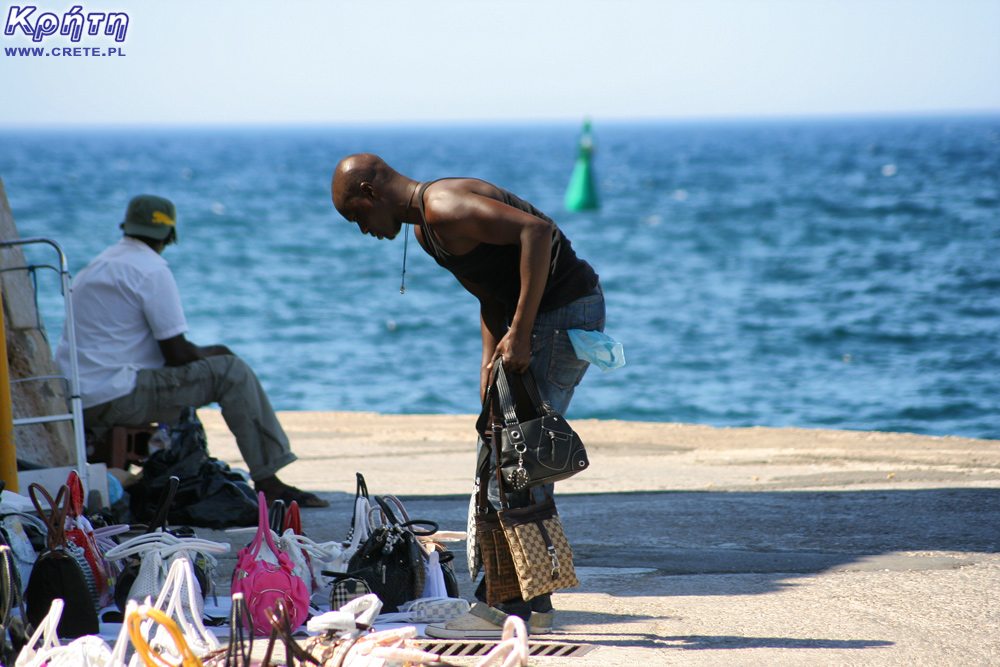 Office and shop opening hours
1. Public offices: Monday - Friday 07:30 - 15:00
2. Post offices: from Monday to Friday 7:30 - 14:30. In large cities, working time may be longer, but you have to reckon with the fact that an afternoon break may be determined in the afternoon.
3. Banks: Monday - Thursday 8:00 - 14:30 and Friday 8:00 - 13:30. File banks in tourist towns and airports are usually open longer.
4. Shops are open on Monday and Wednesday: 09:00 - 15:00, Tuesday, Thursday and Friday: 9:00 - 14:00 and 17:30 - 21:00, Saturday: 09:00 - 15:00. In tourist areas during the season, the stores are open even up to late evening hours. Remember, however, that unlike in Poland in Greece, Sunday is not treated as an ordinary trading day. Even at the peak of the tourist season, it may happen that regular stores (especially those of the Lidl or Carrefour type) will be closed.
5. Pharmacies are usually open between 8:00 and 14:00 and in the afternoon between 5:30 and 21:00 on selected days. There are also emergency pharmacies open for 24 hours and on weekends.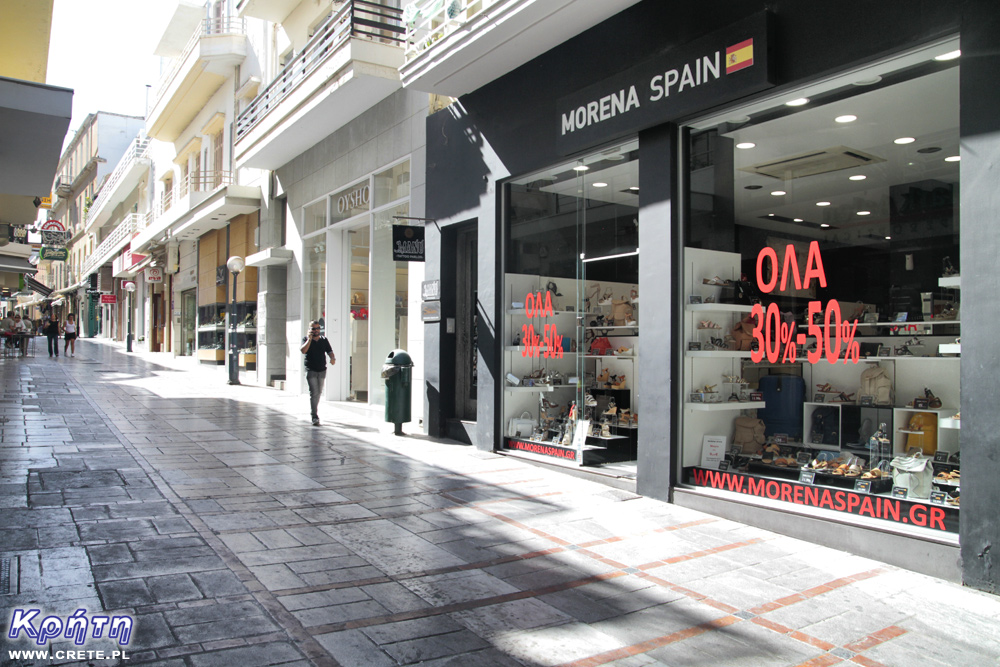 Honorary Consulate of the Republic of Poland in Heraklion
ul. 1821 39, 712 01 Heraklion - Crete
Tel .: (+30) 2810 221786 Tel. alarm: (+30) 2810 325242
E-mail: [email protected]
Beaches and deck chairs
¼ Greek beaches marked with the Blue Flag are located in Crete. This year, 113 Cretan beaches have won this distinction. You can find their current list here . Some of them also have facilities for the disabled. Our list of the most famous and most interesting beaches can be found here: Top 20 beaches.
When driving to Crete, it is worth remembering that only some of the beaches are sandy. A lot is gravel, stony or mixed. When descending into the water in such places, special shoes may be useful.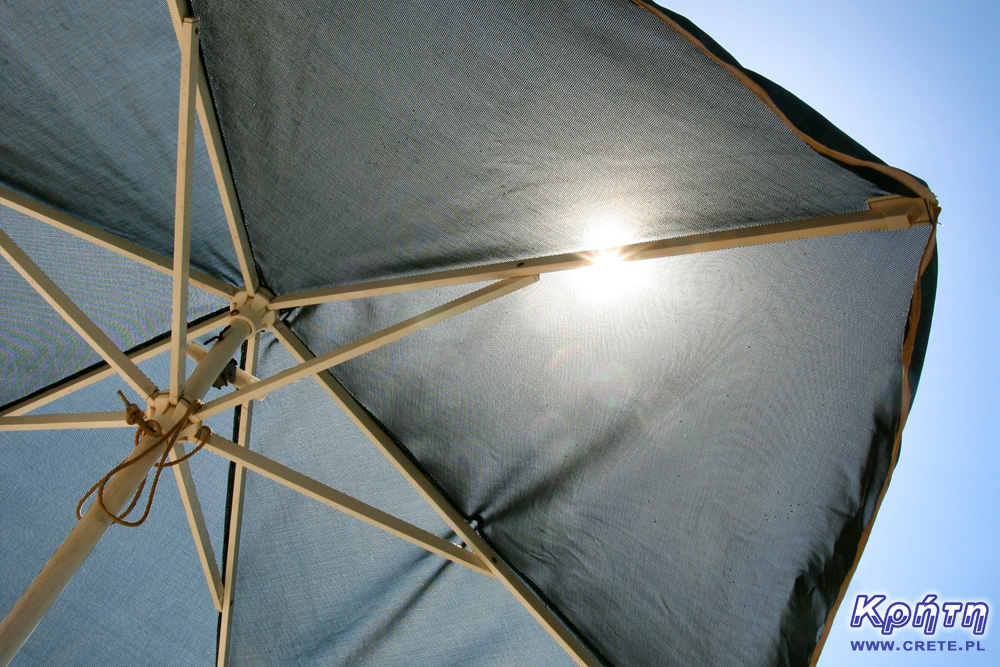 During the season, every popular or sensibly situated beach grows in deck chairs and umbrellas. Of course, there is no obligation to buy such a set, but if you plan to spend a few hours on the beach, it is rather inevitable. The sand near the south warms up most often so that it is difficult to go after it, so lying for many hours rather is out of the question. Depending on the location and the beach infrastructure, two beach chairs with an umbrella rent from about 5-6 € to 9 € (eg on the Vai beach). This is a full day fee. At the same time it is not completely meaningful that, for example, you want to spend on beaching only 2-3 hours. In some places, slightly lower fees are charged, e.g. from 16-17. However, this is not a rule. If you already take the sunbeds, the Greek will collect and find you.
A small note about very popular places like Balos, which are crowds of people every day. It may happen that when you leave your deckchairs and go to bathe, someone who has just come "obliging" these deckchairs is taking over. This is not a rule, but we warn you that such situations also happen.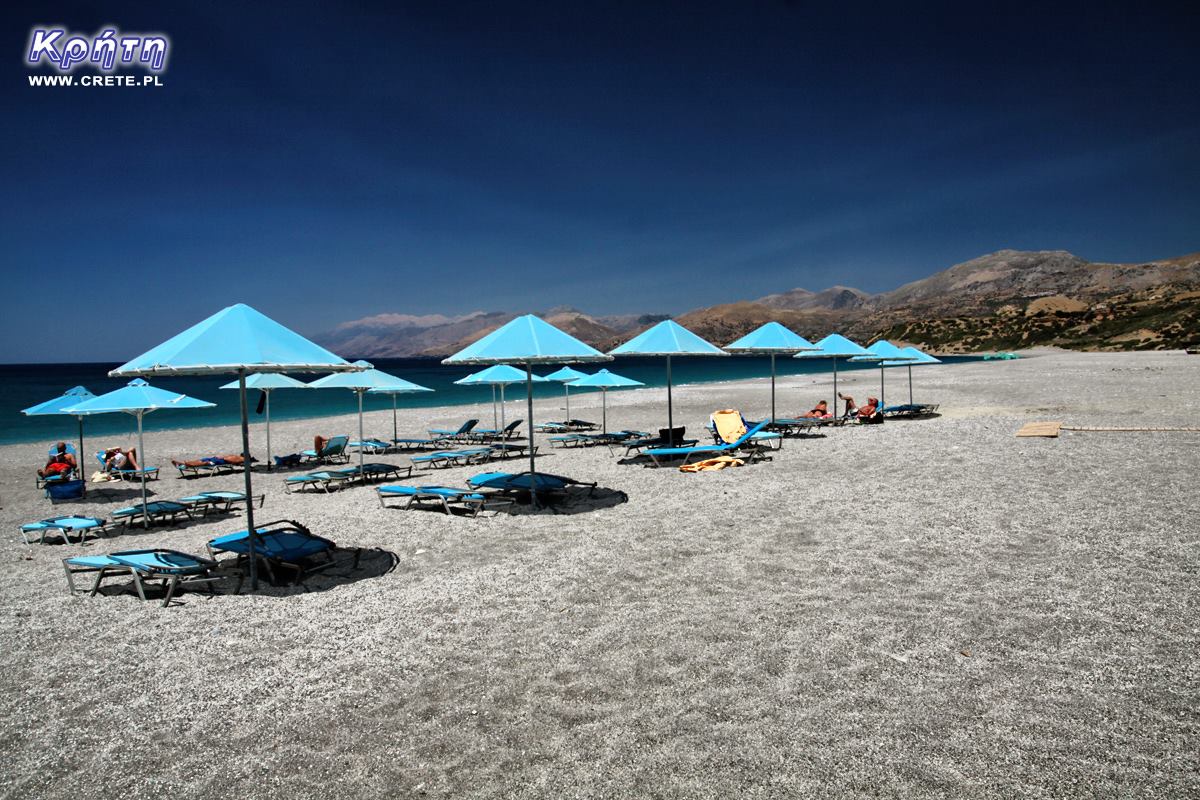 Nudism
There are holiday resorts in Crete specifically designed for nudist purposes. Often you can also find beaches only for "golas", although usually the beach is divided into a textile part and the neighboring nudist. Most often it happens that at the junction of both pieces of the beach, both sunbathe and bathe in their circle. So ... who likes.
Traveling around the island
Independently exploring the island is the best way to get to know her best, so we always urge you to plan and organize your escapades. The car will be the most comfortable way of moving, but you have to remember that the cost of renting a car and refueling it is considerable. An additional obstacle, especially for less experienced drivers, are Cretan roads. In the mountainous part of the island, you travel much harder than in the Polish lowlands. However, if you feel confident behind the wheel, it is worth renting a car, equip yourself with a good map and guide and boldly hit the road!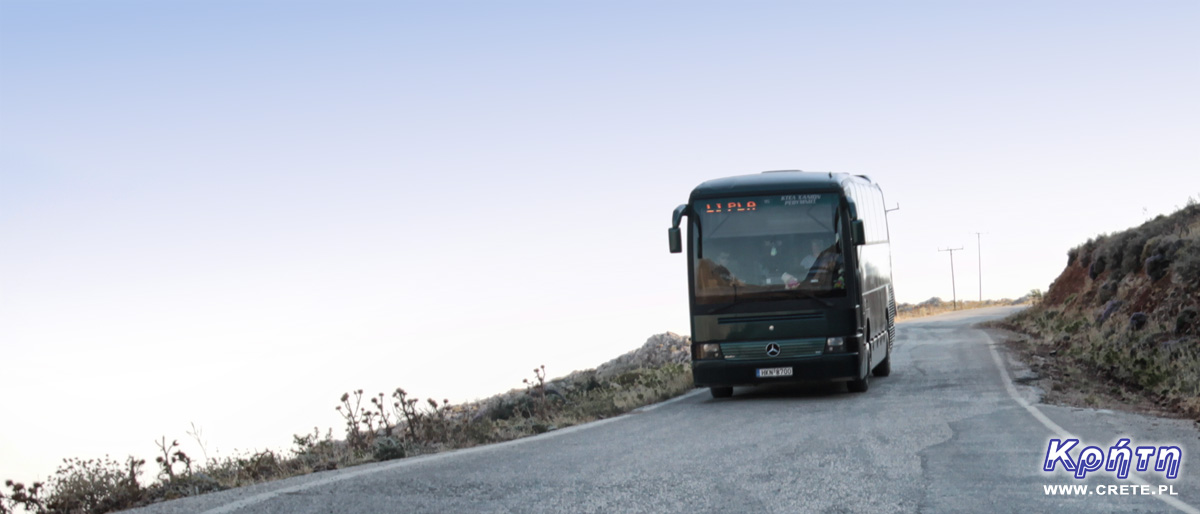 If you do not want to or can not rent a car, it does not mean that you have to say goodbye to plans to explore Crete yourself. It is worth knowing that the KTEL company operates here, with comfortable coaches you can reach in many places. You just have to remember to check bus departure tables carefully and plan your trip well in advance. In remote places buses run rarely (1-2 times a day), and sometimes it is necessary to make a change. More about KTEL - you can read in this article . Currently, most coaches operate wi-fi.
Along the significant part of the coast of Crete, there are also ferries sailing, thanks to which you can get to many nice places (especially in the south of Crete). These connections allow you to plan a lot of interesting trips. Sailing hours are available on the internet, so you can check them before you leave Poland. It's worth knowing that the number of cruises and hourly tables are different in the case of summer months and others in winter. Planning should therefore wait until summer "timetables" appear.
Ferry connections
Along the part of the southern coast of Crete, ANENDYK ferries fly regularly, thanks to which you can get to many several places on the island. These connections allow you to plan a lot of interesting trips. The number of cruises and hour tables are different in the case of summer months and others in winter, so detailed planning can only start after the publication of current schedules.
ANENDYK offers cruises on two main directions: Paleochora - Sougia - Agia Roumeli and Chora Sfakion - Loutro - Agia Roumeli. In addition, on certain days from these ports it is possible to swim to the island of Gavdos located south of Crete. In the spring and autumn months, it should also be taken into account that in the absence of proper weather, ferries may be temporarily suspended.
Connections serving the return of tourists from the Samaria ravine are synchronized with the departure of KTEL buses. In each of the towns (Sougia, Paleochora and Chora Sfakion) the driver completing the course leaves only after the ferry arrives.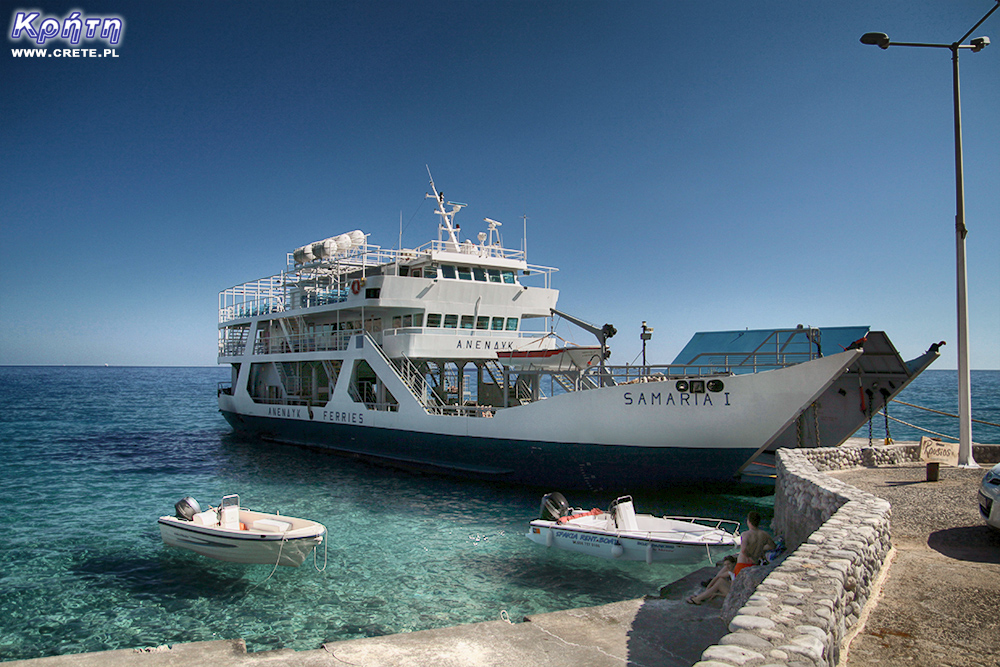 This year, in April, the afternoon ferry cruise from Agia Roumeli to Chora Sfakion (via Loutro) will be carried out at 17, while from May the departure time will be moved to 17.30. The same timetable will be on the Agia Roumeli - Sougia - Paleochora route.
On a rather dense network of connections can also count those who would like to get from Chora Sfakion to Loutro. In this summer season, seven connections will be available on both sides. However, some of them will only take pedestrians on board. The big advantage of this connection is a much lower price compared to private cruises costing even 20 € per person. The cost of a single ANENDYK ferry ticket on this route is just € 6.
The distribution of ANENDYK connections can be found at: anendyk.gr. The current price list is available at: anendyk_ceny_biletów
From June 2018, a new shipowner ΝΕΝ Κρήτης was inaugurated. Ultimately, the flights served by Apollon K. are to connect all ports from Chora Sfakion to Paleochore. Currently, however, connections made by NEN Κρήτης will include cruises on the following route: Chora Sfakion - Loutro - Agia Roumeli - Sougia. The prices offered by the new shipowner are so far lower than in Anendyk.
Refueling the car
Gas stations are usually open 7 days a week from 7:00 to 21:00, although some points are closed on Sundays. Typical types of fuel are available. It is forbidden to carry fuel in canisters, so before going to remote mountainous terrains where petrol stations are rare, make sure you have a full tank.
It is also worth knowing that there are no self-service stations at Cretan stations, so after approaching the distributor, an employee approaches immediately, to whom you only give the amount for which you want to buy fuel.
Gasoline is much more expensive than in Poland. In 2019, the price for a lead-free one goes up to: 1,8 €.
Traffic regulations
In this matter, there are not many surprises, because most of the international traffic regulations apply here. The traffic is right-handed, we ride in safety belts, and if we are driving a scooter, a quad bike or a motorcycle, we must put on a helmet. Children must ride in car seats. Up to the age of 13, children can not ride in the front seats. Calls made by mobile phones are only allowed by loudspeakers.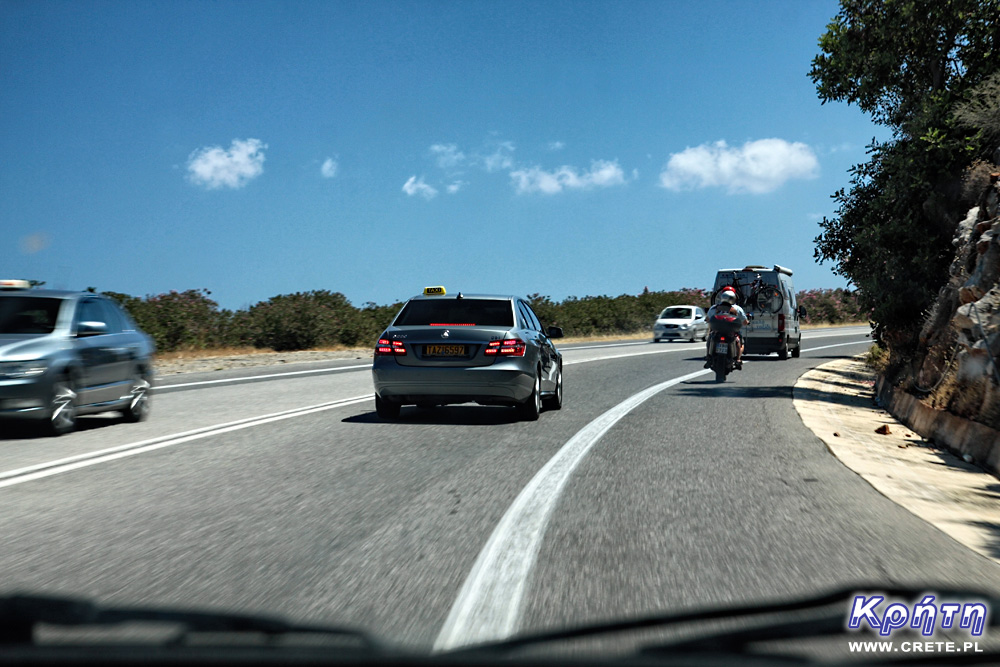 Driving a New National Road, breaking the speed limit can end with a ticket, because for several years the police have begun a battle with road pirates. Checks are quite frequent and it is worth knowing that for tourists there is generally no reduced fare when it comes to breaking the rules. Radars have been operating since 2014, and the mandator's downloadability has increased significantly. So if you already get a ticket for an offense, it is better to pay it without undue delay.
During the tourist season, the police like to make raids on tourist resorts and without mercy then issue fines for all kinds of offenses.
During the day, dipped beam should not be turned on, we only run it in after dark and in tunnels. The maximum allowable concentration of alcohol in blood is slightly more than in Poland, because 0.5 per mille.
Speed limit on the national road is 90 km / h, on the national: 70-90 km / h, in the built-up area: 50 km / h.
You will find more information on how to get around the Cretan roads in a separate article .
A self-reliant but carefree vacation
If you are an individual tourist and yet you dream of a carefree vacation, during which you will not bother with such mundane problems as traveling or organizing sightseeing, there will also be something interesting for you. You can use the Welcome offer offering a wide range of this type of services. Starting from the airport pick-up, where you will immediately receive the first support in the form of, for example, a local sim card to the phone, or a hotspot wi-fi, and ending with proposals for individual trips. To find out more about this type of service, visit the Welcome website or simply Book your Crete Airport Transfer.
Accommodation base
When planning your stay in Crete, you can choose from offers of various types of boarding houses, private accommodation and a very rich hotel base. The vast majority of hotels are located in towns along the more popular northern coast of Crete. Depending on the cost of the day, hotels offer a very diverse range and quality of services. There is no shortage of cheap, simple offers in two-star hotels, as well as among the much more expensive large five-star "self-sufficient spa" SPAs, which also offer many additional attractions in the price of the hotel day. The offer is so diverse at the moment that practically everyone will be able to choose a hotel that will meet his requirements - of course, taking into account the wealth of the portfolio.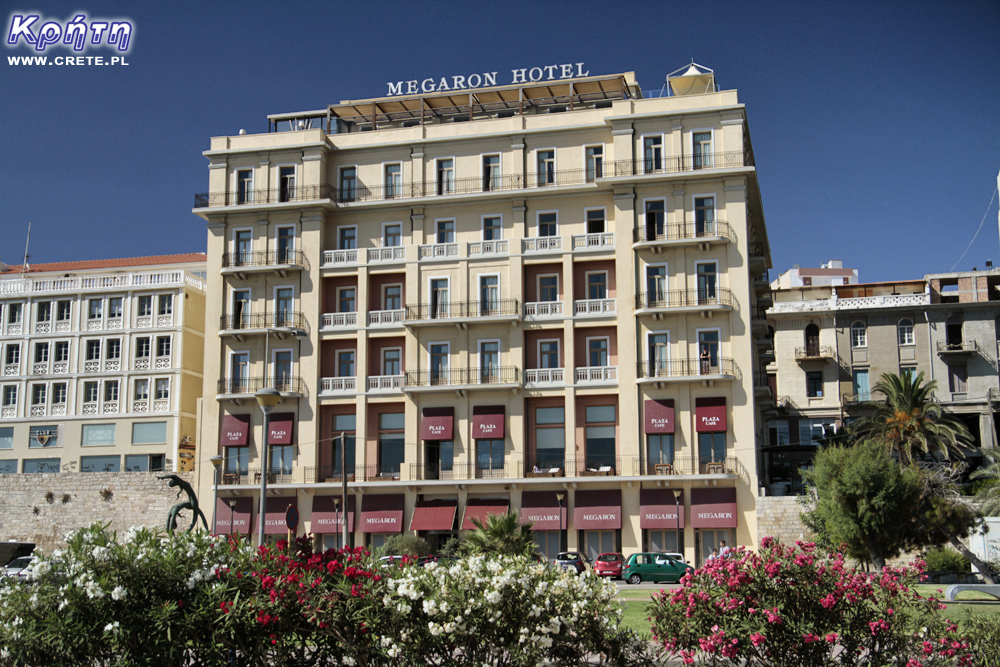 Those who plan an individual stay in Crete should look for and book accommodation in advance. In a large part of popular cities finding free rooms in months such as July or August can be a very difficult task. This dependence also applies to the southern coast, where, for example, accommodation in Loutro must be booked at the latest in January.
When organizing an individual trip it is worth remembering that offers in private guest houses with good opinions disappear, so planning and reservations should start several months before the holidays. Of course, you can also book your accommodation later, however, as the high season approaches, expensive or weaker offers become available. When browsing accommodation offers, booking.com type search engines will be very helpful, simple and friendly tools with an extensive client rating system and their reviews.
At the end, words about the standard of hotels in Crete. As in Greece, there is a slightly different system for awarding hotel stars. It is worth getting acquainted with this system to avoid surprises on the spot, because the standard of those hotels rated at three or four stars will be noticeably lower than Polish hotels with a similar rating. Hotel rating system
A new residence tax
From 2018, so-called residency fees. The new tax is obligatory and the rates charged depend on the standard of the hotel or private apartment. According to the new regulations, the rates of the tourist tax for hotels are as follows:
objects with a categorization of 1-2 stars - tax of 0.5 € per day
objects with a 3-star categorization - a tax of 1.5 € per day
4 stars categorization - a tax of 3 € per night
5-star categorization facilities - tax of 4 € per night
According to the latest sources in the case of pensions, there is a single rate of 0.5 € per day. A new tax is charged per room (not per person). This tax is usually paid at the time of the registration, although in the case of private hostels booked through Booking.com, it is already included in the rental price. You can find more information about this tax in our news Residential tax in Greece .
Where to eat and drink
Cretan and Greek cuisine is one of the healthiest and most delicious. The quality and freshness of local products is a recipe for tasty but generally simple dishes. However, to try real local cuisine is not enough to go anywhere.
In tourist towns, most often you come across pubs, where there are also Cretan dishes, but most often they do not taste as good as they should. In addition, the choice of local cuisine is usually limited to the most famous and popular. Eat here moussaka or souvlaki but horta or octopus in wine no longer.
To eat well, look for a tavern far from the tourist hustle and bustle. Of course, local residents know good places only they will keep this knowledge for themselves ;-)
However, if you want to look for such a place in big cities, in our opinion you have to leave the port and the main tourist attractions. Going deeper into the lesser known streets you will find good taverns (ταβέρνα), which are often quite inconspicuous and have a somewhat unleavened appearance (eg chairs not from a couple ;-)). It is in such places that it is usually tastier and cheaper ... You can also watch where the locals sit, but do not be suggested to choose young Greeks, because they often prefer modern local fast food.
In small non-tourist towns and villages there are much better taverns, and the food served is much more delicious. Local residents eat in them, so the quality of food must be just good. In complete "holes" it can happen that there will be no menu and the choice will be limited to 2-3 dishes that the cook has prepared at the moment.
If you want to eat fish, you should look for a special type of tavern, so-called. psarotaverine Ψαροταβέρνα, or fish tavern. However, you should get ready for a bigger expense, because fresh fish are expensive.
Cretans like to sit in the so-called ouzeri, where the local ouzo liquor is served along with small snacks ie meze. The other favorite place, especially older men, is kafeneío (καφενείο), which can be compared to cafes, where traditional Greek coffee ellinikó kafe (ελληνικό καφέ) is served along with a glass of water. Cretans love to spend long hours here, during which time slowly sip their coffee alternately with water. It is in such places that hot political, sport and life discussions take place. Kαφενείο are therefore an important part of social life. Ladies in such places we did not notice, because these premises are intended for men.
Tips
In taverns, restaurants or taxis, tips of 5-10% of the bill are welcome. If you are satisfied with the quality of the meal and the quality of service, think about leaving a few small coins, corresponding to this value.
Museums
Crete is full of museums and archaeological sites, most of which must be purchased an admission ticket. There are still a few places where admission is free, but each year their number decreases. Until recently, the cost of sightseeing was low, unfortunately from 1 April 2016, the prices of admission tickets to the most famous places increased significantly. The highest price increases were recorded in key places such as the Knossos palace, the Heraklion Archaeological Museum, or the entry ticket to the island of lepers, or Spinalonga. The list of the most important changes you will find in this news:
Current price list of admission to museums and excavations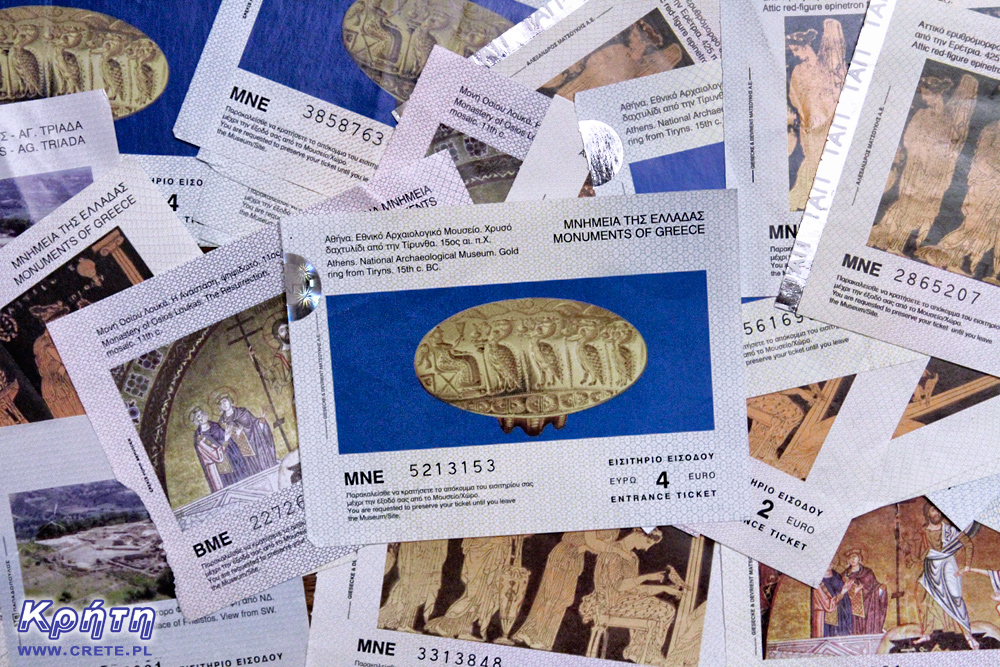 In 2018, a pilot e-ticket sales program was launched in Greece. For now, you can buy tickets to Knossos and the Archaeological Museum in Heraklion in Crete, as well as a ticket to both places. This is a convenient option to try which we encourage, because having an e-ticket you do not have to stand in queues to cash registers. We hope that over time, the possibility of purchasing electronic tickets will cover all museums and excavations in Crete and Greece. We write about this how and where to buy an e-ticket in this article: how to buy an e-ticket
Churches
Most of the inhabitants of Crete are of the Orthodox faith. This is a very religious community, so on the island you will find a lot of big churches and countless small churches and chapels that can be found on beaches, gorges, caves or on mountain peaks. It happens that they are built under the surrounding rocks, to which they are as if "glued". In some such places Cretans gather once a year on the occasion of a local holiday. On a daily basis, local residents take care of them. Most often you can enter them, because the role of the lock can be used, for example, a bent nail.
Large monasteries can also be visited, which, however, involves the payment of an appropriate fee and the need to keep the rules of a modest outfit. In the area of monasteries you can sometimes take pictures and sometimes not. The rules are set by monks. It is also worth knowing that each monastery has set admission times for visitors. If you plan to visit such a place, check the opening hours first.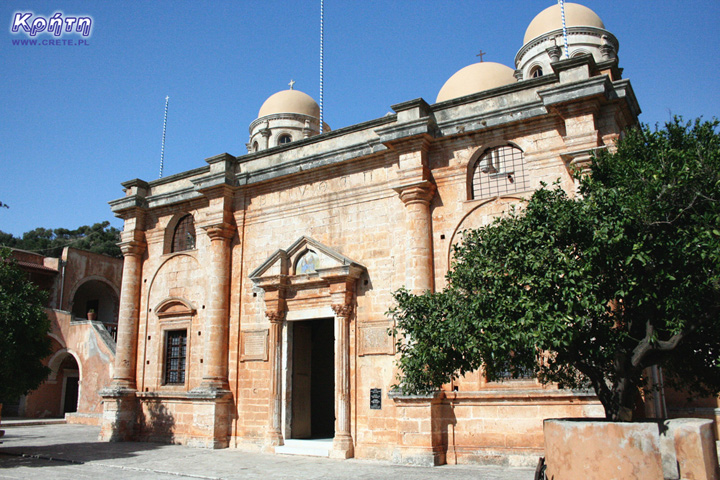 TOP 12 popular places in Crete
Crete is a fairly large island, so interesting and beautiful places are scattered practically all over its surface. If you are going there for the first time it is difficult to choose and see all the major attractions. Their availability is also limited by the location of your hotel and the time and financial resources you want to spend on sightseeing. Renting a car for a few days means that you should select the destinations carefully. In order not to get lost in the maze of possibilities, we chose 12 different most important and most visited places located on the whole island. This must-see does not mean that you have to see all these places during one trip. Top 12 is just the basis, inspiration and ease to plan your vacations.
We suggest you choose these places, which are located a short distance from the hotel. Additional suggestions for less popular and less known places can be found on our map and in the index of interesting places . It is constantly being supplemented by us, we create it based on our experience.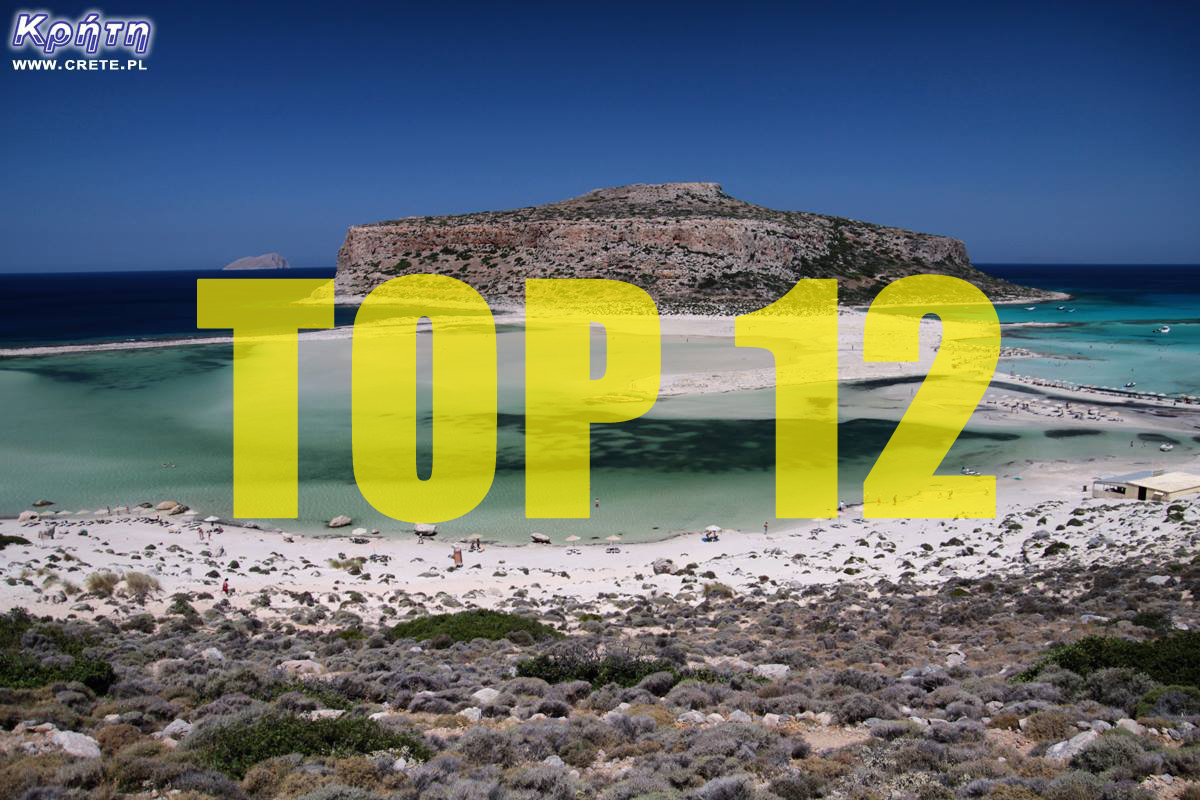 Hiking trails in Crete
In addition to the beautiful beaches and ancient monuments on the island, there are plenty of gorges and mountain trails that attract people who prefer active rest and hiking. A lot of routes are relatively easy, others have a varied degree of difficulty, and some are very difficult and dangerous. To the last places if you do not have the right skills and equipment preparation should not walk.
We encourage us to be well prepared even for seemingly easy transitions. It can happen, even in the case of often frequented places, that what was supposed to be a simple and pleasant trip ends completely differently.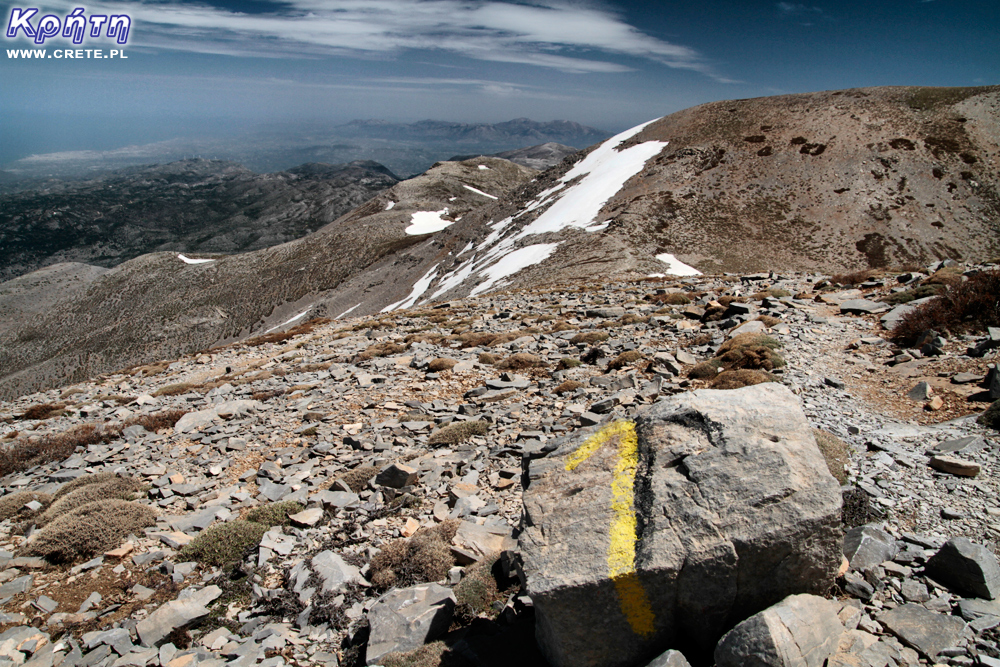 Good trekking shoes, water, headgear, provisions, sunscreen are necessary. If the trail is not frequented (or not at all) a good map of the area will be needed (Avenza, Anavasi), a GPS with a map, eg Locus Map, a charged power bank. The mobile phone may not have a range, you need to remember about it and leave the trail / hotel information where you are going and when you plan to return. Cretan mountains and other routes are demanding and can be dangerous, and the summer sun is merciless. You just have to remember about it. You can read more about this topic in this article.
Crete administratively
Crete (gr: Κρήτη ) is the largest Greek island and the fifth largest island in the Mediterranean. In spite of the strong ties that connect Crete with continental Greece, this island has retained its separate language dialect and local cultural traditions up to the present day. The distinction should also be expressed by the fact that the majority of the inhabitants asked for their descent will in the first place say that they are Cretans, and only then they will describe themselves as Greeks.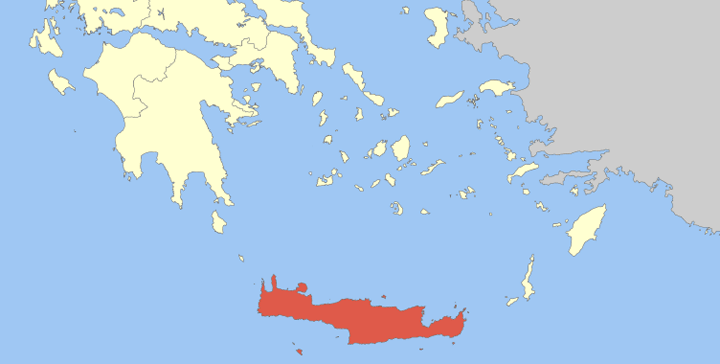 An administrative division
As a result of the administrative reform in 1987, Crete was separated as one of the 13 regions of Greece. Another administrative reform carried out in 2011 reduced the number of regions to 7, however, the status of Crete remained as a separate region. The island's largest city is Heraklion, which also serves as the capital. Crete is divided into four nomos (prefectures): Chania, Rethymno, Heraklion and Lasithi (with the capital in Agios Nikolaos). Stavros Arnaoutakis (Panhellenic Socialist Movement) has been the governor of this region since January 2011.
The most important cities:
Transport
Charter flights are quite a comfortable and the most common way to travel to Crete. At the moment, the most popular companies implementing this type of connection from Poland are:
Air traffic in Crete is served by three airports, with only the two largest serving the main traffic from outside Greece. The most important airports in Crete are:
The construction of a new international airport in Kastelli (next to the already existing military airport) has also been under consideration for a long time. Due to the problems with financing, and hence also problems with obtaining funding from the European Union, this investment is only in the sphere of far-reaching plans.
People who want to get to Crete with their own car will have to use the ferry. Currently, the most frequently chosen connections are flights from Italy (Venice) and mainland Greece (Piraeus). The ports located in Heraklion and in Chania (Souda) play a dominant role in servicing this type of transport. The most popular shipowners operating on these routes are:
Data publikacji:
Data modyfikacji:
Wszystkie treści i zdjęcia występujące w serwisie są naszą własnością.
Wykorzystanie ich w dowolnej formie wymaga pisemnej zgody autorów.