Gorge Kourtaliotiko

The Kourtaliotiko gorge (Greek: Κουρταλιώτικο Φαράγγι), also known as the Asomatos gorge (Greek: Φαράγγι Ασώματου), is perhaps one of the most spectacular natural attractions available in the central part of Crete. The total length of this ravine is about 3 kilometers. Its majestic walls are separated by Sucha Góra (904 m high) and Kouroupis mountain (984 m above sea level). At the climax point, the steep walls of the gorge are over 600 meters high. Kourtaliotiko is one of those places whose enormity and beauty is very difficult to "reproduce" on the Internet. No photographs or films made in this place are able to convey the impression that the Kourtaliotiko gorge exerts on people passing through it.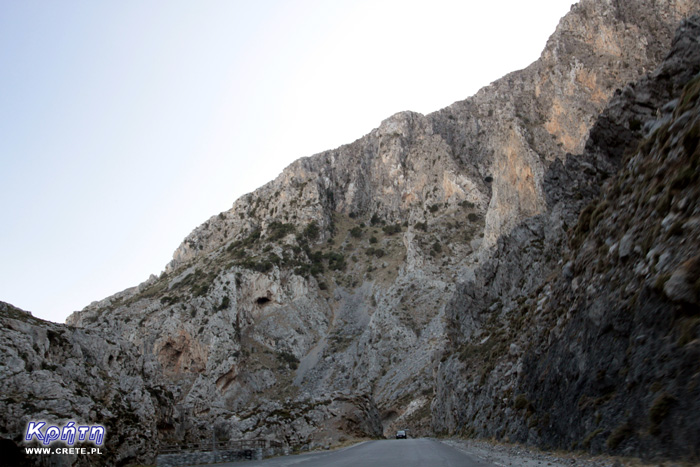 Going by road number 93, south of Rethymnon, you'll find yourself in a little varied agricultural region of Crete. Only when you are about 20 kilometers away from this city you will come across mountainous areas that seem to close the possibility of further travel. A small rock ledge under the western wall of the ravine forms the entrance gate to Kourtaliotiko. In this place the width of the ravine to a small extent exceeds the width of the road. Over several hundred meters, the gorge clearly opens, and the road leads to a large parking lot towering over the bottom of the ravine. This is usually quite crowded place, because cars stop here, and often also bus tours. They all take pictures, make movies, and look around in the ravine with amazement. It is enough, however, to come this late in the afternoon or at evening, to freely contemplate and soak up the beauty of Kourtaliotiko.

A small church, Agios Kiriaki, located in the Kourtaliotiko gorge.
For most of the time a very strong wind blows in the area of ​​the ravine. It is from him that the name of the gorge is derived. Strong gusts lashing the rock walls seem very characteristic sounds of the "kourtala" resembling the sound of clapping. These sounds are particularly well audible in the northern part of the gorge, about 20 meters from its beginning.
Along the bottom of the gorge, along the banks of the Kourtaliotis river, there is a walking trail that leads to Preveli beach. Currently, these areas are protected by the EU directive on the protection of natural habitats (92/43 / EEC). Several endangered species of predatory birds (including vultures, buzzards and eagles) found shelter in the created reserve. It is also worth mentioning the unique aquatic animals inhabiting the Kourtaliotiko gorge - the Mauremys caspica turtles and freshwater Elaphe situla serpents.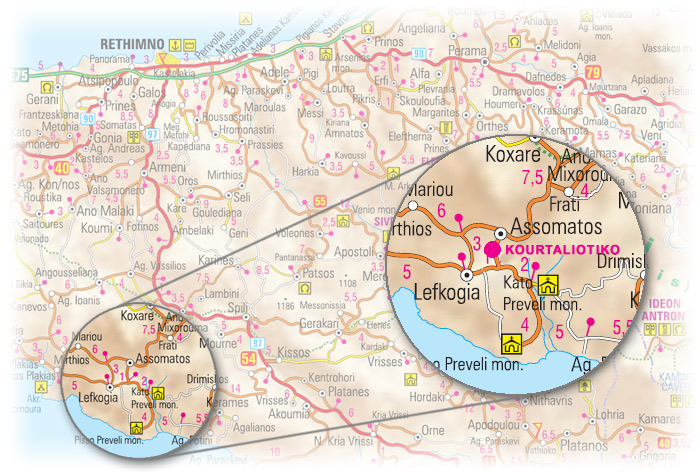 west
central
east
Interesting places on Crete
↤ click the appropriate part of the island to change the bottom map
Data publikacji:
Data modyfikacji:
Wszystkie treści i zdjęcia występujące w serwisie są naszą własnością.
Wykorzystanie ich w dowolnej formie wymaga pisemnej zgody autorów.