The Omalos plateau

The Omalos plateau is located at an altitude of approximately 1100 m above sea level and extends over an area of ​​25 km 2 . Its size corresponds more or less to the size of the Lasithi Plateau, but it is located more than 200 meters higher. It is an excellent starting point for exploring the Samaria Gorge and the nearby peaks of the Lefka Ori mountain range (White Mountains). The local Greeks are currently using this place to grow cereals, potatoes and fruits, and grazing sheep and goats. Olive growing here is too high. In the past, during the Turkish occupation, this plateau served as a refuge for the then rebels. It resulted from a convenient location and few roads leading to this plateau. Also during the German occupation of Omalos, English soldiers and equipment were discharged.
Omalos gates to Samaria
Nowadays, Omalos, or Xyloskalo in principle, is the place from which most tourists begin their tour of the Samaria Gorge. This place is located at an altitude of 1250 m above sea level, which is over 200 meters higher than our native Zakopane. In Xyloskalo there is a small information center and a small museum about Lefka Ori and Samaria. Omalos is surrounded by several peaks, so going to the Samaria gorge is worth stopping for a moment to look at, for example, the Gigilos mountain growing in front of Xyloskalo. The summit rises to 2,080 meters. To the west of Gigilos is the mountain Agathopi 1768 m and Psilafi 1984 m. Although it may be hard to believe in the peak holiday season, in the recent past, the ski slalom was held at the Agathopi mountain. Besides, many people think that winter is the best time to view this plateau.
How to get?
The most convenient access from Chania leads through the towns of Lakki and Kares. However, if you are going from Kissamos, the shorter route will be through Deres and Prases. It is also possible to reach the KTEL bus from Chania , from Paleochora and from Sougia . If you plan to go through the Samaria ravine, then you must decide to come to Omalos as early as possible by bus. If, however, after going through the ravine you plan to stay overnight in Agia Roumeli, you can use the later connection. Thanks to entering the trail in the early afternoon hours, avoid crowds. Like other plateaus of Crete, Omalos is also surrounded by a road that allows you to easily go around it. Unfortunately, it does not make such a stunning impression as the Nida Plateau or Lashiti , but it is definitely worth hitching about this place. Omalos made a very special impression on us very early in the morning.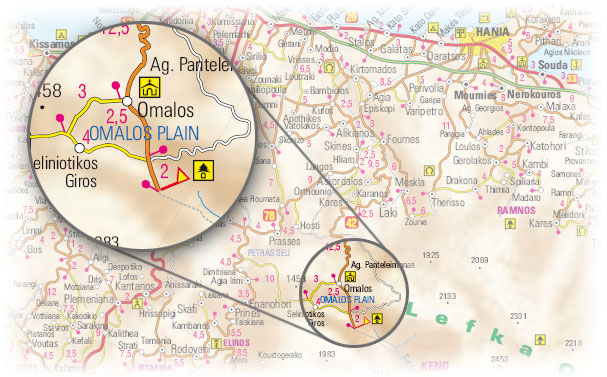 west
central
east
Interesting places on Crete
↤ click the appropriate part of the island to change the bottom map
Data publikacji:
Data modyfikacji:
Wszystkie treści i zdjęcia występujące w serwisie są naszą własnością.
Wykorzystanie ich w dowolnej formie wymaga pisemnej zgody autorów.