Seitan Limania - Paralia Stefanou
There is a beach in Crete that literally makes some people shiver. This place is Seitan Limania which can be translated as Satan's Ports or Cursed Ports. This beach is also known as Paralia Stefanou, or Stefanou Beach. For some reason (we don't know why) we haven't put a description of this place on our website so far. So it's time to make up for these embarrassing shortcomings.
Seitan Limania is one of the most popular but secluded beaches of Crete. The zigzag narrow bay literally cuts into the rocky land, and the azure color of the water looks stunning even from a distance. No wonder this beach is crowded in the summer. Its small size means that it really doesn't take much for the next tourists who come here to have a problem finding at least a scrap of free space. However, if you have the opportunity to come to Satan's Ports off-season, e.g. in spring or autumn, you will certainly find a place for yourself here.
It is also necessary to explain why we use the plural in reference to this place. If you look at google maps or fly a drone, you will notice two similar bays located parallel to the south of Stefanou beach. The name Satan's Ports also refers to them. However, in the case of these two neighboring bays, there is no question of going down and sunbathing.
Although getting here requires a car with razor-sharp brakes and the steady hand (and leg) of a composed driver, few people are put off by these requirements. Improper driving down the road with a 10% drop and 180-degree turns will heat the car's brakes and emotions to red. The way back is no less fascinating, especially when you inadvertently stop for a moment to look at Seitan Limania from above. Going uphill again will squeeze the sweat out of every smaller car.
If it's so beautiful here, why is the name so strange?
Contrary to appearances, this name was not invented by tourists who twisted their ankles while trying to descend the breakneck path. The fabulous bay was named the Satanic Ports long ago by the Ottoman Turks. At the same time, they did not go down the steep path bristling with sharp rocks to the beach, but tried to enter this narrow bay by ships. It was no less breakneck activity, as the area of this bay is known for the fact that dangerous currents and waves form here, making it very difficult to perform precise maneuvers. Apparently, getting here required much more skill than the current access by an economy class car. Why did pirates sail into such a place? The reason was quite predictable. The high cliffs of the bay provided excellent cover, which they used to ambush and then rob ships arriving (and departing) from the port of Souda.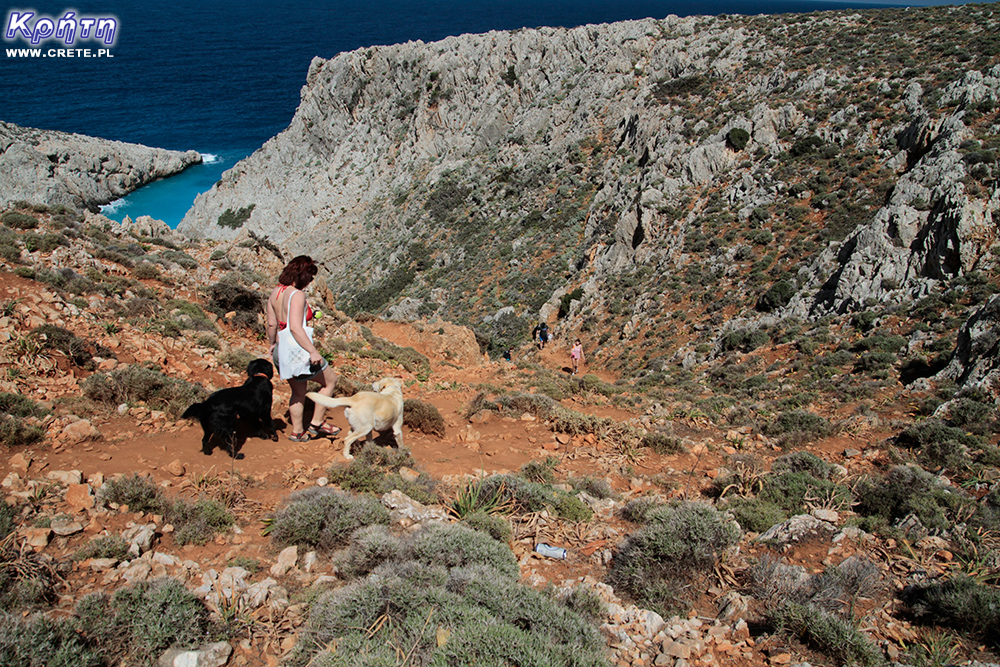 Nowadays, getting to the place where the road ends in a tiny parking lot is only half the battle. After getting out of the car, the second round begins, consisting in going down quite a breakneck path. The landscape here is completely raw, and the descent is devoid of facilities, including handrails or even stone steps. The path is led along steep rocks, so in the season there are usually more or less serious accidents here. Every year, the group of people who suffered a severe injury and ended their trip on a hospital bed is growing in this place. For this reason, the descent to Stefana beach is not suitable for small children and people with mobility problems. The average idea is also to go down to the beach if you have a fear of heights. Only goats move easily in this environment.
Before you enter this satanic trail, make sure you have taken everything you need from the car to be happy on the beach. Good shoes and free hands are highly recommended. When planning to spend a few hours on this beach, it is worth knowing that it is completely wild. You will not find here typical beach infrastructure such as: sunbeds, umbrellas, changing cabins or showers. There are also no toilets, beach bar or tavern. You should also take care of drinks and snacks on your own. Although the place is extremely beautiful, the Blue Flag never flies here. This award is given only to those beaches that meet a number of specific requirements. The lack of tourist infrastructure or amenities also means that no one is tidying up this place. You need to remember this when leaving the beach, taking all your garbage with you.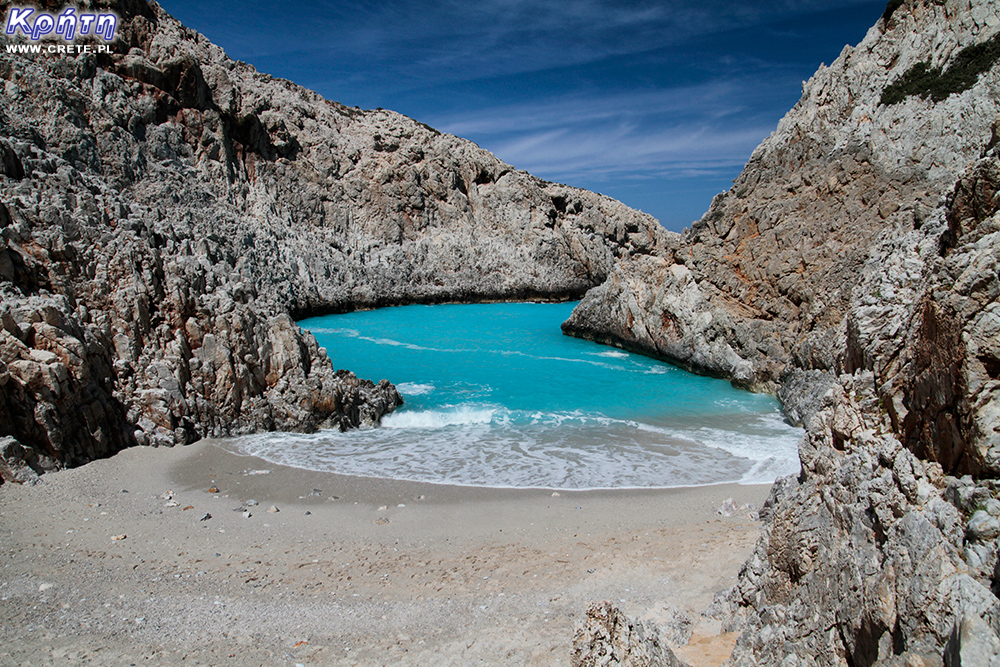 Once you reach the bottom and find a piece of space on the beach to spread your towels, you can enjoy the beauty of this place. Sand and small pebbles forming the local beach are blown systematically from the quarry located above. Many people jump into the insanely azure water right on the cliffs on both sides of the bay.
Goats are regular visitors to this place, regularly fed by tourists during the season, they have gained a lot of courage in dealing with humans. So don't be surprised when you see these animals on the beach. While you spend time happily on water acrobatics, the goats will be happy to rummage through your bags in search of food.
Looking from the perspective of the current popularity of this place, it's hard to believe that Seitan Limani has a fairly short "tourist" history and has not appeared on tourist maps and must-see lists for quite a long time. Of course, the locals knew about Satan's Ports well, but they didn't come here too often either. Everything began to change in 2010 after the construction of an asphalt road leading here. The real boom, however, came in 2015 when, according to local legend, a photo of Seitan Limania was posted on social media.
Or only by car?
Seitan Limani is easiest to reach by car. It is the most convenient and flexible way of transport to this place. Although Seitan Limani beach is located on the Akrotiri peninsula, it is 15 kilometers from Chania and only 10 kilometers from the airport. Ioannis Daskalogiannis, it lacks good public transport. In the summer, the KTEL bus from Chania sometimes comes to the village of Chordaki, which is located near the beach. However, Chordaki is still 4 kilometers away from Seitan Limania, which can only be covered on foot. While the way down is about an hour's walk, the way back will take much longer because the road climbs uphill. Unfortunately, we cannot provide any specific information about the bus's operating hours at this time, because the current timetable is still in winter and does not include this connection.
west
central
east
Interesting places on Crete
↤ click the appropriate part of the island to change the bottom map
Data publikacji:
Data modyfikacji:
Wszystkie treści i zdjęcia występujące w serwisie są naszą własnością.
Wykorzystanie ich w dowolnej formie wymaga pisemnej zgody autorów.