Kali Limenes, meaning Good Ports
Kali Limenes (Greek: Καλοί Λιμένες or Dobre Porty or Piękny Przystanie) is a coastal town located in the Asterousia Mountains on the southern coast of Crete. Although the road runs to Kali Limenes, it runs through a mountain range, so it is narrow and very winding. The demanding route and quite a distant location mean that in most cases in Kali Limenes the only tourists that can be found here are the Greeks resting on a makeshift bivouac.

Kali Limenes is located about 75 km southwest of Heraklion . To get here, from Heraklion, follow road 97 to the south. In Mires, turn left and follow Pompia and continue on the road towards Pigaidakia. In our opinion, the road led through the mountains is not difficult, it is rather a typical mountain road. However, drivers who are accustomed to driving flat, wide roadways and those who do not feel comfortable behind the wheel can make it difficult. As there is no shortage of ramps and sharp corners on it, about 30-40 minutes should be used to cover it.
An unexpected element of the landscape
The first thing that catches the eye after reaching Kali Limenes is a wide and long beach and oil tanks located on the Mikronisi islet opposite the village.
These very characteristic buildings belong to the Greek company SEKA founded in 1961 by the late Nikos Vardinogiannis. The oil business was so profitable that in 1968 it was at the top of the list of the richest Greek taxpayers. Currently, the Vardinogiannis clan is one of the richest and most influential families in Europe. In their hands there are a total of 98 companies operating both in Greece and abroad. These enterprises control many different sectors ranging from oil and maritime transport through banking, media, hotels and real estate to publishing and charity.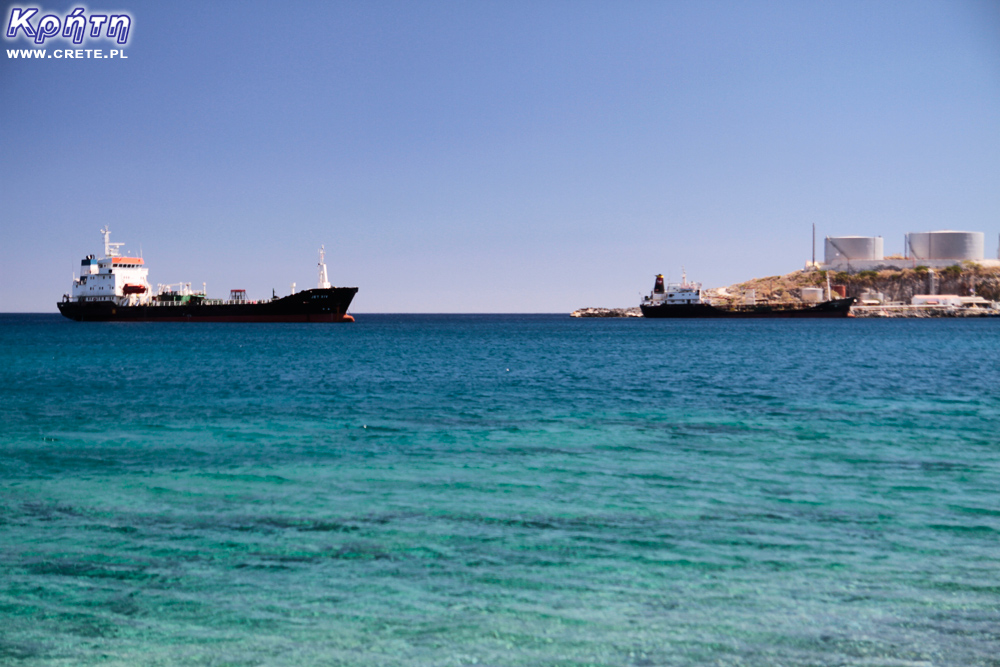 To this day, the vessels that cover the Mediterranean and the Suez Canal are taking fuel from the Mikronisi reservoirs. Living in neighboring Lentas , we often had the opportunity to observe large various types of units waiting in the queue for refueling. And although these reservoirs spoil, unfortunately, the idyllic landscape of Kali Limenes, fortunately they do not pollute the sea. One of the reasons why Kali Limenes was chosen for the construction of these installations was the lack of large waves and the exceptionally calm sea (of course, excluding winter). Not without significance is also the fact that in this place nature has shaped the port, which is well protected against bad weather conditions. The obstacle in refueling are only strong southern and south-eastern winds with speeds above 6 on the Beaufort scale.
Kali Limenes
The village itself consists of a small number of houses and a few simple taverns. In the port, fishing boats are measured. There is an atmosphere of complete freedom and peace here. Lack of tourists from the countries of northern Europe means that they are only "their own". This should not come as a surprise because this place is known mainly to tourists from Greece and Crete. Over the years, which we devote to visiting the island, we noticed that they often choose isolated places where they will not come across too many tourists from outside Greece.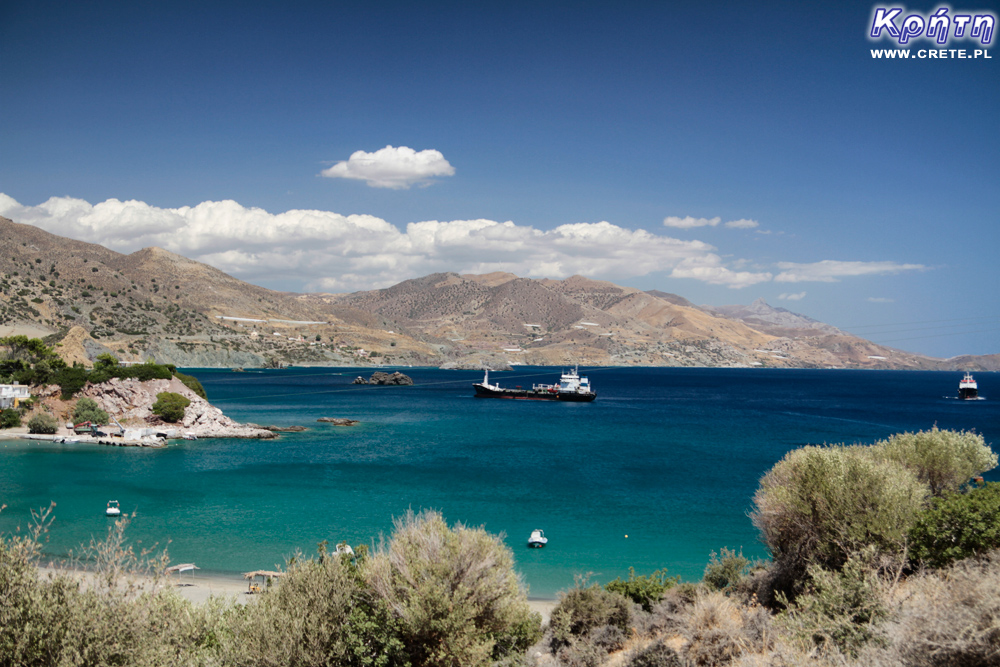 We have not met such an incredibly quiet Cretan town located by the sea in the past. In general, such an attractive location on the coast condemns even small villages to tourist traffic and growing popularity. In the case of Kali Limenes, however, this rule is not confirmed. This idyllic character of the town and the distance from tourist routes show well statistical data. In 2011, Kali Limenes had only 21 permanent residents.
There are no hotels in Kali Limenes. To the east of the village in Chrysostomos there are only two private guesthouses offering rooms (Sfinias Apartments and Villa Koutsakis). Often, the view is broken by wild tents and campers parked along the coast.
Kali Limenes comes alive only on Saturdays and Sundays. A peaceful swimming and nice beaches attract weekend tourists who come to Kali Limenes on non-working days. There are several nice beaches at their disposal, where they can relax and unwind from the tourist everyday life.
A little-known past
Kali Limenes is located near the ancient city called Lassea (Lasaia), which in Roman times served as a port. Unfortunately, nothing more can be added to this story because no excavations have been carried out so far.
The mention of "Good Ports" can be found in the Bible in the description of St. Paweł to Rome: " flowing with difficulty along its banks, we came to a place called Dobre Porty, near which was the city of Lasaia".
Chapel of St. Paul
A few hundred meters east of Kali Limenes on the hill above the bay there is a characteristic white chapel named after them. Saint Paul. Some sources say that it was erected to commemorate the stay of St. Paul in this place, others that it was built on the part of the ecumenical patriarch Bartholomew, who visited Kali Limenes twice: in 1992 and 2008. The information verified for this is that it was built on the site of an older church from 1700. Next to the chapel is a cave where the Apostle Paul was supposed to stay. However, also in her case we encountered discrepancies. Some sources say that St. Paweł was to live in it for two years. Other sources undermine the Apostle's stay in Crete.
Stena beach
From the hill on which the chapel stands, there is also a small and charming Stena beach located by a secluded enclosed bay. Its characteristic feature is a huge rock located centrally in the waters of a small bay. It is located right next to the beach, from which it is separated only by a narrow strip of water. This beach is completely unorganized. Only local residents like to use it, and owners of campers. No tourist guides mention this place, which is a shame because it is a charming place. If you have already reached Kali Limenes and have seen the chapel of St. Paweł, it is also worth going down to the Stena beach.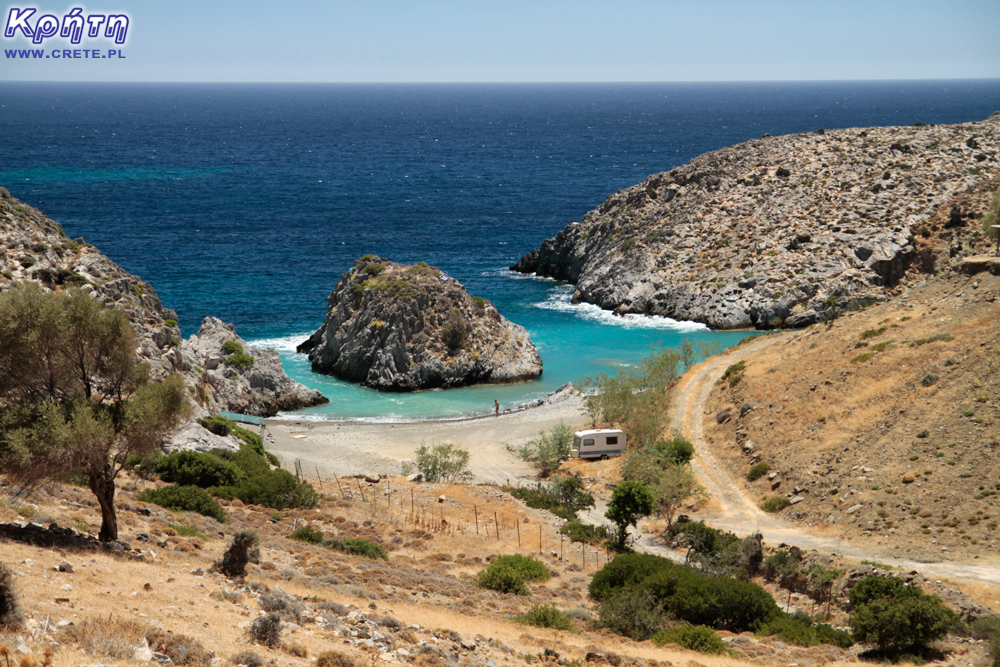 Makria Ammos beach
The main beach of Kali Limenes is Makria Ammos, located west of this town. Coming here from the mountains you can not miss it. Covered with fine gray gravel, Makria Ammos is about 1 km long. In our opinion, it can be included in one of the most interesting beaches of Crete. In its middle part there are characteristic small rocks emerging from the water. The larger one located closer to the shore is called Aspros Volakas (White Rock), the smaller one lying a bit further is Mavros Volakas (Czarna Skała). Looking at them in the pictures, basically you know where these names came from. This is a favorite place for teenagers, because rocks are a good place to jump into the water.
Makria Ammos is also known as Tamarisks , because of tamarisks growing along the coast. These interesting trees offer sunbathers shade, which is carefully used by them, because there are no sunbeds with umbrellas. Where trees grow in the largest density, the Greeks willingly pitch their tents. At this point, it's worth knowing that the isolated eastern part of Makria Ammos is very popular among naturists.
west
central
east
Interesting places on Crete
↤ click the appropriate part of the island to change the bottom map
Data publikacji:
Data modyfikacji:
Wszystkie treści i zdjęcia występujące w serwisie są naszą własnością.
Wykorzystanie ich w dowolnej formie wymaga pisemnej zgody autorów.