Elafonisi - a beach with pink sand
Elafonisi ( Ελαφονήσι , Elafonissi) is a small island located at the end of the south-western edge of Crete. A characteristic feature of Elafonisi is the shallow lagoon connecting it with Crete. Warm and crystal clear water with a color changing from green to deep blue, is adjacent to beautiful wide beaches, whose white sand is in some places mixed with broken shells creating picturesque pink stripes. This amazing blend of colors makes Elafonisi easily claim to be called an exotic paradise.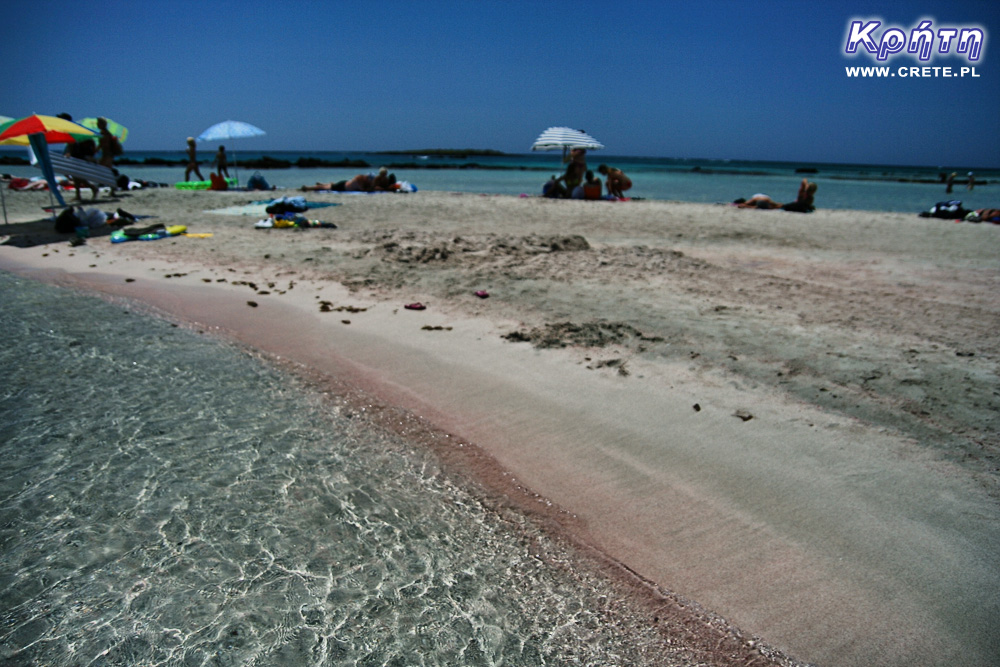 Dark legend
Elafonisi, however, is not only idyllic pictures, because there are also two tragic stories connected with this place. The wind called livas blowing from the Sahara can create some of the highest waves in the Mediterranean Sea in this region of Crete. The Austrian Lloyd liner convinced of this, which sank here in 1907, and its victims rest on the island. Another tragic history associated with this beach is the slaughter of 850 women and 40 men made by the Egyptian army in 1824 under the leadership of Pasha Ibrahim.
All roads (or two) lead to Elafonisi
The most popular ways to get to Elafonisi are the route along the west coast of Crete or an alternative route through the Topolia Gorge. In my opinion, it is best to cross both routes, because they are equally interesting and picturesque. Regardless of the route chosen, coming from Chania, you have to take the New National Road more or less to Kissamos. Before this you have to make a decision to choose a further route, if you decide to drive through the Gorge of Topolia, then take the exit from New National Road just behind Kokkino Metochi and if you are driving along the coast you have to follow Kissamos towards the west coast.
Both roads are relatively well marked and you should not have a problem getting to Elafonisi. Behind the village of Kefali, both routes merge again. Not far from this road is the picturesque white monastery of Chrissoskalitissa. This church is known mainly from the legend circulating on it. According to this story, one of the steps leading to the top of the monastery is made of gold, but only sinless people can see it. The monastery is just 3 kilometers away from Elafonisi beach. After reaching the place, the car can be left on a vast wild car park, where shady places under trees are in the "price" and rather hard to get them. There are several taverns on the beach and small guesthouses where you can spend the night.
Tourist mecca
Elafonisi is one of the biggest tourist attractions of Western Crete next to Samaria. Virtually every person going to Crete has heard or will definitely hear some information about this beach. Unfortunately, the popularity of Elafonisi makes it quite crowded. In July and August this place attracts over 2.5 thousand. tourists a day. If someone is looking for peace, they should appear on this beach in the morning or wait until afternoons, when most people are already starting to return to hotels. Especially a lot of tourists come to Elafonisi on weekends, so these days are best spent on visiting other interesting places in Crete.
west
central
east
Interesting places on Crete
↤ click the appropriate part of the island to change the bottom map
Data publikacji:
Data modyfikacji:
Wszystkie treści i zdjęcia występujące w serwisie są naszą własnością.
Wykorzystanie ich w dowolnej formie wymaga pisemnej zgody autorów.