Azoria
Not for everyone, Crete is synonymous with carefree fun and typical tourist leisure. The proof can be a group of nineteen US students who are spending their holidays in Crete in a very busy way. Their typical day starts very early, because at 6.40 they leave the hotel in Kavousi. Moments later, they get into cars, which climb a gravel road to one of the surrounding hills, where at an altitude of about 360 m above sea level, there are ruins of the ancient city of Azoria. It is here that students spend several hours daily discovering the history of Crete.
Conditions on this elevation are very difficult, and the hot Cretan summer means that the vast majority of people finish their work in the afternoon hours. Of the several dozen students and local residents supporting them, only a few people are able to continue their research until the afternoon hours.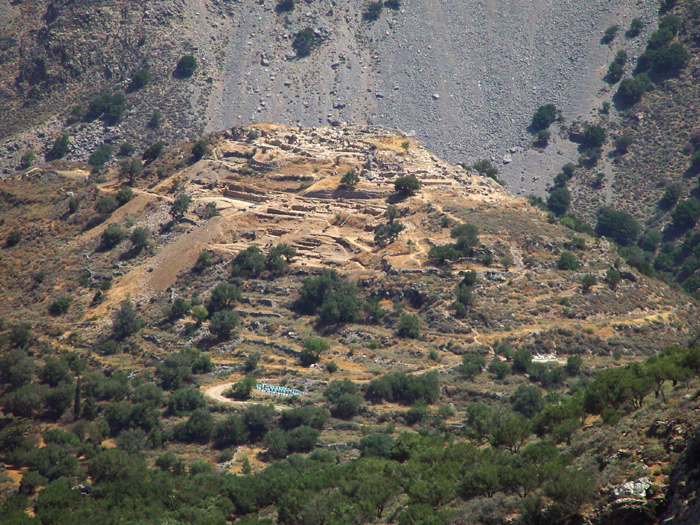 View of Azoria from the south-west
source: Donald Haggis, wikipedia.org (Public Domain)
History of excavations
The first excavations in this place were conducted in 1900 by the American archaeologist Harriet Boyd Hawes, who was also responsible for the discovery of this place. Further work, however, was abandoned because the place did not coincide with her interests.
After more than a century of interruption in 2002, archaeological work in Azoria was resumed by Donald Haggis, an American UNC professor who has Greek roots and fluently speaks the language of his ancestors. This scientist is the director responsible for the organization of research, which is treated by him as his most important project. The contract signed with the Greek authorities foresees that work on Azoria will continue until 2017. Professor Donald Haggis has a permit that allows him to explore this place for six weeks a year.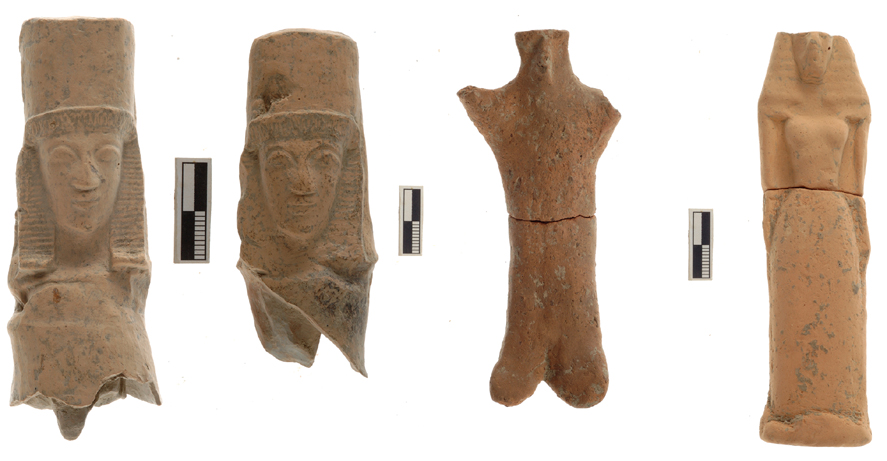 Terracotta figurines found in Azoria
source: Donalda Haggis, wikipedia.org (Public Domain)
All artifacts found in this place can not be exported and will remain in Greece. The items found are transported to the Institute of Aegean prehistory located in Pachia Ammos. In a modern building, further painstaking work is carried out related to the conservation and restoration of the original appearance of the discovered artefacts.
Due to the works being carried out, the excavations in Azoria are currently closed to visitors. Professor Haggis, however, hopes that after completing the main research, this facility will be on the list of places available for tourists.
Ancient Azoria
The first work carried out by Professor Haggis and Margaret Mook from Iowa State University showed that the ceramics found in this place come from a much older period than the initial assumptions of Harriet Boyd Hawes. At present, the beginnings of settlement in this place date back to 1200 BC. Later, after 630 BC Azoria developed into a small town, whose population is estimated at between 2 and 5 thousand people.
The end of the settlement in this place was laid by a catastrophic fire, which in 480 BC completely consumed this area. The traces found today seem to confirm that this place has never been inhabited since then.
Archaeological excavations carried out over the past years have revealed many facts about the life of the former inhabitants of Azoria. A building called "syssitia" was excavated, in which they shared meals. In the kitchens and warehouses located within this building, the remains of grapes, grain and olives have been found. Eating together means that there is a special bond between Azoria residents. Professor Haggis argues that the strong relationships of these people could be based on the creation of a kind of brotherly community derived from the then military elite. Further work carried out in this place will certainly reveal further secrets hidden under the layer of earth.
If you are interested in these excavations, much more information about them can be found on the website of Professor Haggis: www.azoria.org


Data publikacji:
Data modyfikacji:
Wszystkie treści i zdjęcia występujące w serwisie są naszą własnością.
Wykorzystanie ich w dowolnej formie wymaga pisemnej zgody autorów.