Chaniotiko boureki
Ingredients for 4 people:
600 g of young small zucchini

600 g of peeled raw potatoes

3 tablespoons of wheat flour

250 g stak (alternatively ricotta cheese)

200 g sour mizithra (alternatively feta)

1 large ripe tomato

a handful of fresh mint leaves and basil

a solid pinch of dried Cretan oregano

2 medium garlic cloves

salt pepper

a cup of oil

½ a cup of water
χανιώτικο μπουρέκι
Boureki is a very classic Cretan baked dish consisting mainly of two ingredients: potatoes and zucchini. In Cretan taverns you can find it in two versions: in dough ( bouréki) and without dough ( chaniótiko bouréki ). And it is the dough or the lack of it that makes a fundamental difference in the taste of this dish. Boureki in dough can be found basically all over the island, but the version without dough can only be eaten around Chania. It was there, in a small family tavern, that we had the opportunity to eat the best boureki of all time without a cake. We wouldn't be ourselves if we didn't ask about the preparation method.
While the boureki in dough did not conquer our hearts at all, we simply love boureki without dough. Unfortunately, in Polish conditions it is not possible to use the original recipe because there will be a problem with finding the necessary additives in our stores. We mean xinomizithra cheese and staka *, which guarantee a unique taste of the dish. While you may still get mizithra in some Greek food store, you simply have to forget about buying a stall in Poland. You can prepare boureki with these ingredients on a Cretan vacation, if you have a well-equipped kitchen in the apartment.
In Polish conditions, these two problematic ingredients must therefore be replaced with other products. After many experiments, we believe that Italian ricotta and Greek feta cheese will be the best substitutes. The taste of boureka will be slightly different, but the consistency of a dish with these ingredients is the most similar to the original.
Consistency is one of the most important aspects of this dish. Chaniótiko bouréki prepared according to the original recipe is not a dry casserole but a very creamy casserole with a lot of oil. So below we will provide a recipe for both the version to be prepared in Crete and in Poland :)
In a dish, as usual in Greek cuisine, high-quality oil is very important, which we do not regret! If you did not bring it from Crete, you can find a very large selection of excellent oils in the kreta24.pl store
* Finally, let's explain that the second of the problematic additives, i.e. the staka, is a Cretan specialty that is made when sheep's milk is heated. It can be compared to a sheepskin, which in texture resembles something between thick cheese and yoghurt. In grocery stores in Crete you will get a stack without any problem. It is often added to a variety of rice or noodle dishes. The most popular is scrambled eggs with the addition of a stak, which in Crete is almost a cult dish.
1. Cut the zucchini into thin slices, put it into a larger bowl, then salt it and leave it for 5 minutes. During this time, the peeled potatoes are also cut into thin slices.
2. After a few minutes, the zucchini will start to release water, do not pour it out, but only at this point sprinkle the flour and mix. It is one of the ingredients that provides a creamy texture, so don't skip this ingredient.
3. Add chopped potatoes, chopped herbs, ricotta and feta (or mizithra cheese and staka) to the zucchini. Season with salt, pepper, add oregano and mix thoroughly. Then we put everything on a baking sheet and spread it evenly on it.
4. Cut the tomato in half and grate it on a large-mesh grater, finally discarding the skin. Spread this grated tomato evenly on top of the vegetables. Finally, chop the garlic (don't crush it!) And sprinkle it over the entire casserole. If you crush the garlic, it will stick to your hands, so when chopped, it will work better.
5. At the end, pour the boureki generously with olive oil and add a little water. Bake the dish for about an hour in an oven preheated to 190 degrees C. The top of the casserole should brown nicely, so the time given by us is approximate. Just judge for yourself if the boureki need a few more minutes in the oven.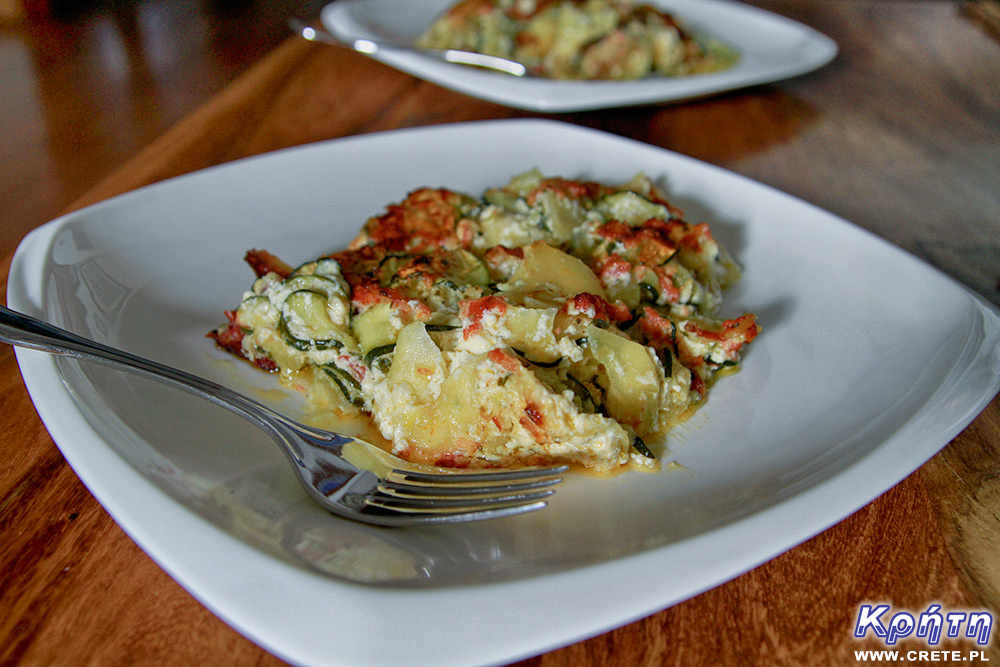 Data publikacji:
Data modyfikacji:
Wszystkie treści i zdjęcia występujące w serwisie są naszą własnością.
Wykorzystanie ich w dowolnej formie wymaga pisemnej zgody autorów.