Eggplants from Xinochondros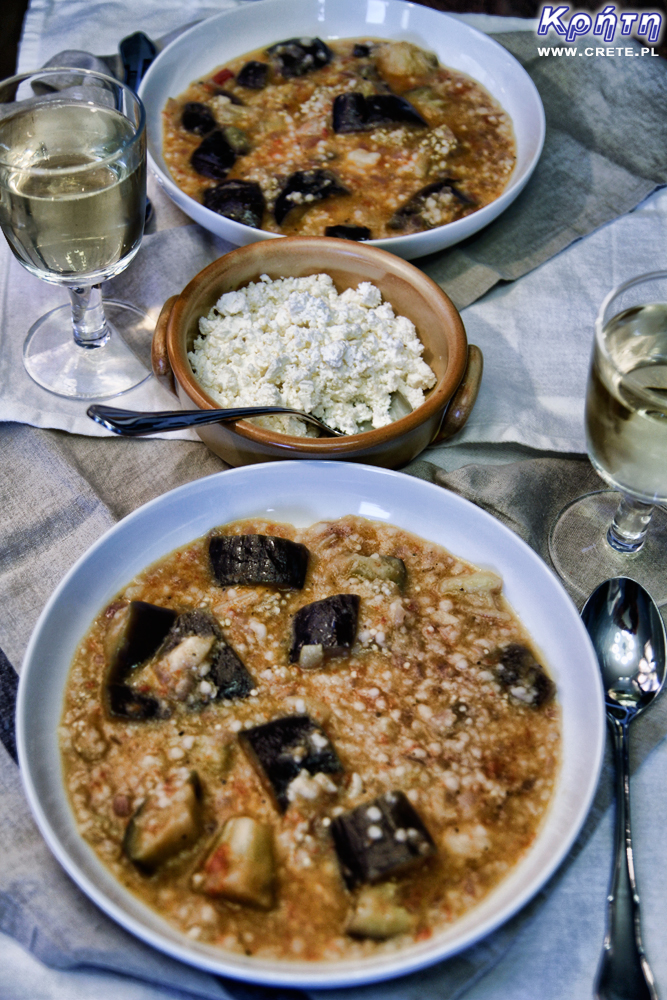 Components
2 aubergines (approximately 1 kg in total)

1-2 onions

2 cloves of garlic

2-3 ripe tomatoes

Xinochondros cup

a cup of oil (you can eat less)

salt pepper
Μελιτζάνα με ξινόχονδρο
We have recently written about xinochondros , a soup additive that is popular in Crete, sauces and vegetable dishes. We will only remind you that it is made of fermented goat's or sheep's milk and coarsely crushed grains of wheat. After cooking and a good drying, you can store them for many months and enrich various dishes.
The first recipe that we published on the use of xinochondros in the kitchen was tomato soup . Today, we offer aubergines stewed with a sauce with this addition. Instead of xinochondros you can possibly add equally popular trahanas, but in our opinion then the dish gets too bland and requires stronger seasoning. In our opinion, Xinochondros fits much more into this dish. Both xinochondros and trahanas can of course be bought in Crete in typical grocery stores.
1. Pour the Xinochondros in a saucepan with cold water and cook for about half an hour. Then we drain it from the water.
2. At this time, cut aubergines into larger, rather thick pieces, properly salt and leave for about 20-30 minutes. After this time rinse with juice.
3. Fry the onions diced in a deep pan until it is vitrified. Tomatoes are rubbed on a grater with a thick mesh, and the skin is discarded. We add the chopped tomatoes to the onions.
4. Then add the eggplants and chopped garlic. When the eggplants are tender, add the cooked xinochondros, season with salt and pepper.
5. If the dish is too thick, you can add some water. We keep everything on fire for a moment, then leave it for 10 minutes. Serve with a good bread and crumbled feta cheese.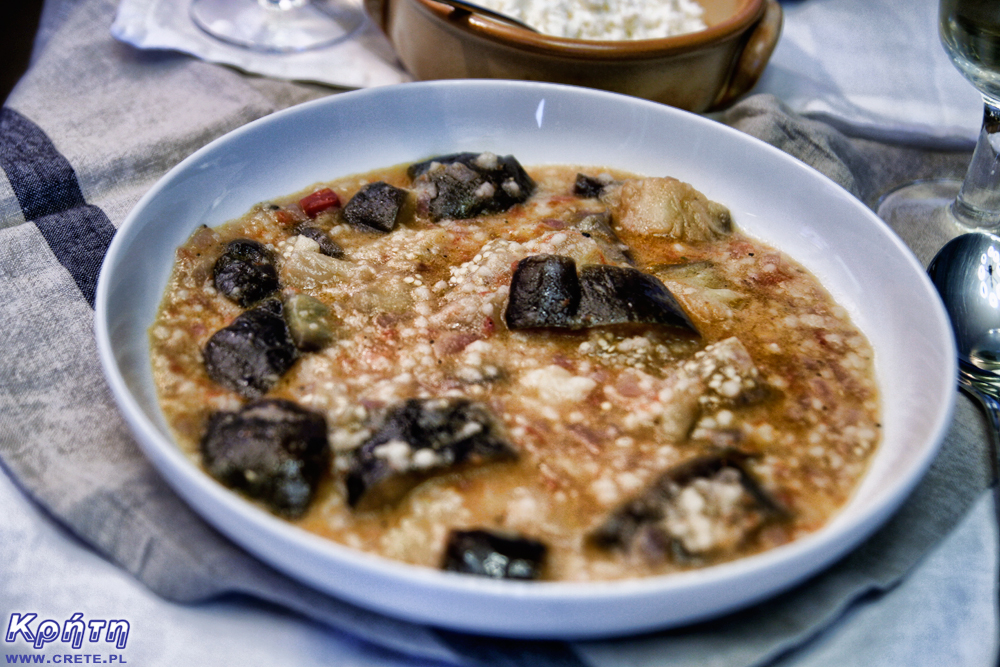 Data publikacji:
Data modyfikacji:
Wszystkie treści i zdjęcia występujące w serwisie są naszą własnością.
Wykorzystanie ich w dowolnej formie wymaga pisemnej zgody autorów.