Pumpkin baked in filo pastry - Kolokithopita me kitrini kolokitha
Κολοκυθοπιτα με κιτρινη κολοκυθα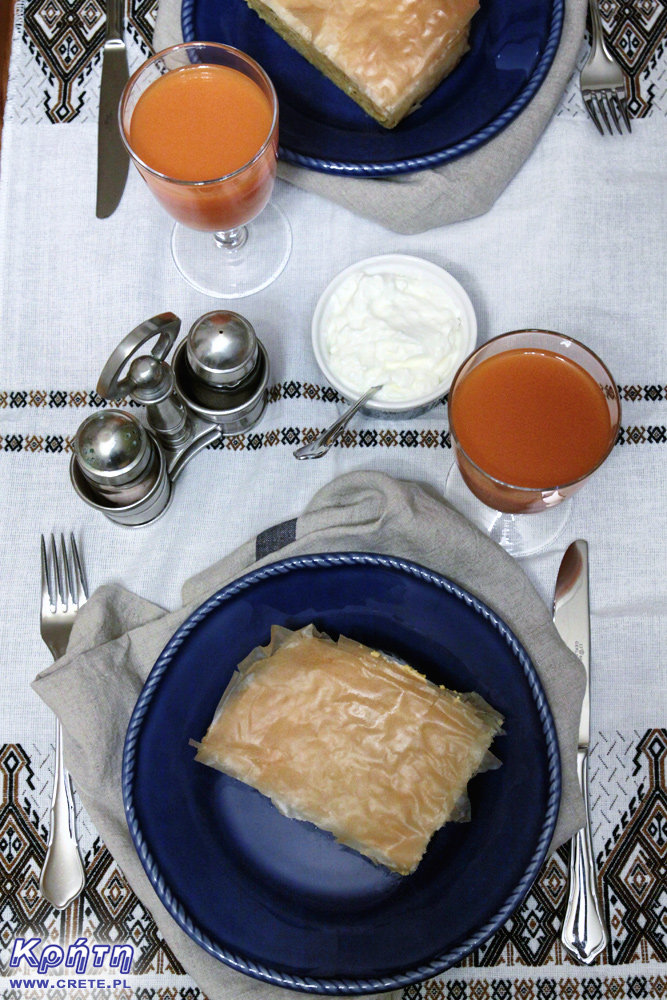 Components
half a filo pastry package

about 850-900 g of hollow pumpkin

2 onions

200 g fete

100 g of yellow kefalogravier cheese or the like

2 eggs

2 tablespoons finely chopped mint

1-1.5 tablespoons semolina

½ tablespoon of grated nutmeg

salt and pepper
Recently, we served a recipe for a spicy pumpkin pie baked in a sweet version. This, of course, is not the only way to prepare this universal vegetable. Greeks often also prepare a pumpkin roasted in filo, but with the addition of cheeses, on the salty.
It's a very tasty and quite simple dish. Preparing them, however, you must remember that the pumpkin requires proper juicing and evaporation. If we do not do it, the dish may fail.
Pumpkin baked in filo is one of those dishes that left a few hours after baking definitely gain in flavor. Therefore, it is worth preparing a larger portion, which is enough for more than one dinner. It can be served with Greek yogurt, but it will also be delicious without this addition.
1. Grind the pumpkin on a large mesh grater, properly salt and leave for several dozen minutes. After this time, we squeeze the juice firmly.
2. Cut the onion finely and fry in the preheated olive oil until vitrified. We add the grated pumpkin and fry for a long time, until most of the water evaporates from it. When the pumpkin falls apart, remove the pan from the fire and leave to cool.
3. When the pumpkin has stopped, add grated cheese, mint, nutmeg, whipped eggs and semolina, which will absorb any excess water remaining in the filling. Farszu no longer salt, only season with pepper.
4. The bottom and sides of the heat-resistant dish are laid out with filo pastry patties. Each of them we lubricate with olive oil. At the bottom should be no less than 6-7 slices of cake. We put on the filling and wrap the edges of the dough. On top, we put more filo loaves, which, as previously, are oiled with olive oil.
5. It is also important that the ovenproof dish, which we use for baking, is not too small, because too high stuffing will require longer baking.
6. Before inserting into the oven, you can gently cut the top layers of filo, which will facilitate later cutting. However, if you do not do it, nothing will happen.
7. Bake the pita in an oven preheated to 180 degrees for about 50 minutes. Filo should be slightly brown after baking.
8. Pita tastes best the next day, when the flavors blend in exactly. It can be stored in the refrigerator for several days.
Καλή όρεξη!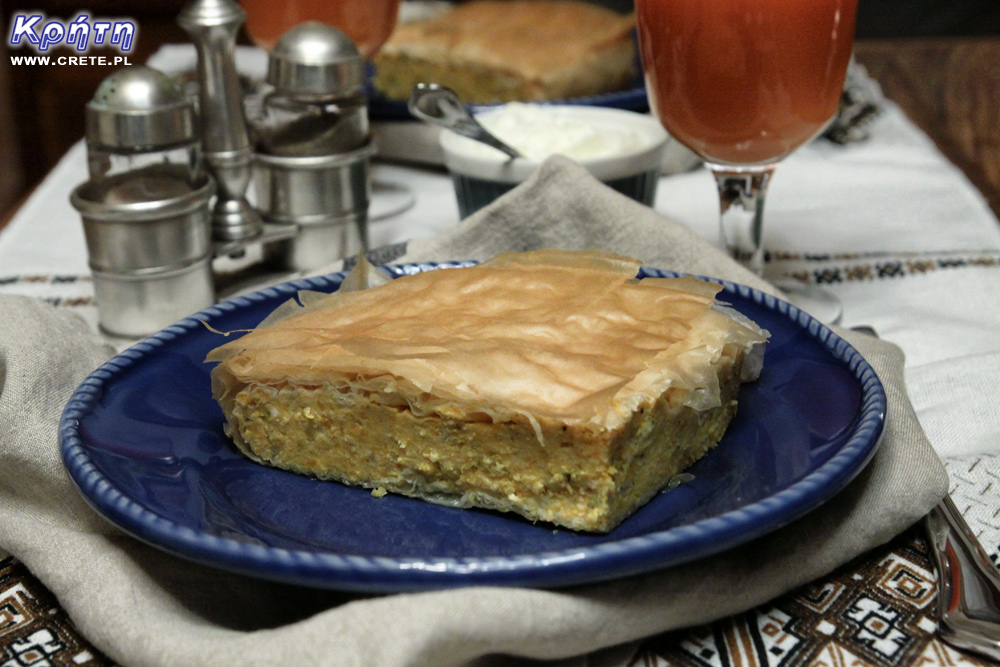 Data publikacji:
Data modyfikacji:
Wszystkie treści i zdjęcia występujące w serwisie są naszą własnością.
Wykorzystanie ich w dowolnej formie wymaga pisemnej zgody autorów.