Xinochondros
Xinochondros ( Ξινόχοντρος) is one of the most traditional food products of Crete, which was already produced in ancient times. It arises from a combination of fermented goat or sheep milk and coarse crushed wheat grains. Nowadays xinochondros is added to soups, sauces, boiled vegetables or meats. Thickening them gives these dishes a rather characteristic slightly sour taste.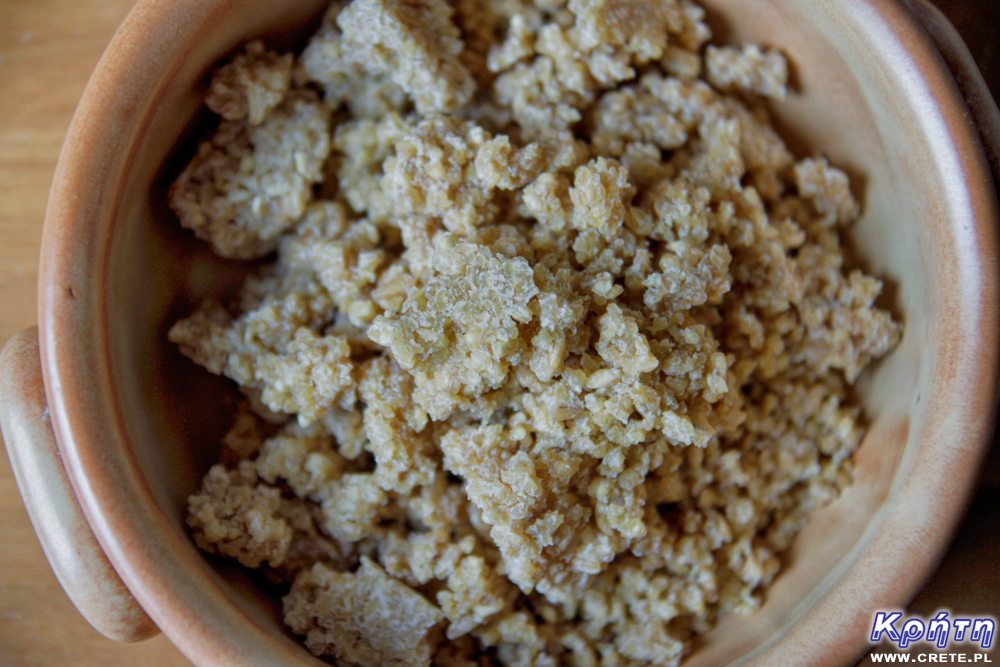 Xinochondros ( Ξινόχοντρος )

Despite the fact that Crete is popular in Crete, probably most people who were on vacation on this island did not even hear about it or tried it. It is a typical product used in traditional, home or rural cuisine, which is rarely found in tourist taverns. This type of dishes can be found only in more distant regions of Crete, where taverns serve even more than moussaka, souvlaki or horiatiki salata.
That's why we decided to introduce you to this interesting topic, the more that we did not find any article in Polish on the subject of xinochondros. Again, we will be the first time ;-) Today's article is just a kind of introduction about xinochondros, because soon we will publish some simple recipes of the Cretan cuisine with its use. At the moment, xinochondros unfortunately does not have any of the Polish stores with Greek food in its assortment. Therefore, there is nothing else but to bring a package of Xinochondros from Cretan holidays with you.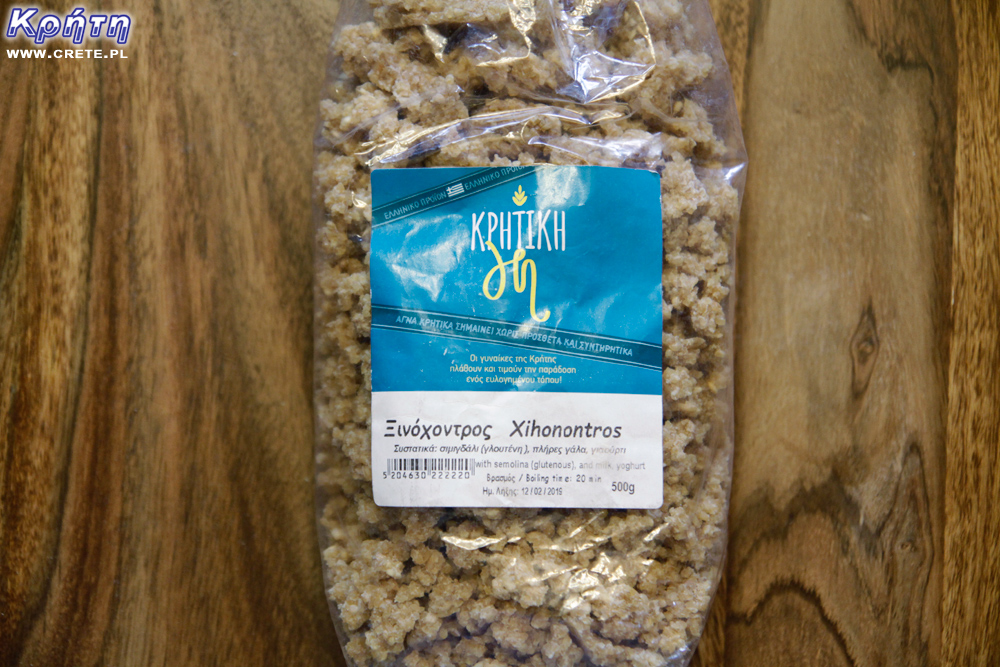 Xinochondros package from the Cretan market
Two ingredients are needed for the creation of xinochondros: goat milk and / or sheep milk and coarsely crushed wheat grains. The milk is first left for a few days at room temperature to make it dense and sour. During this time, they should be mixed 1-2 times a day. Subsequently, the milk thus fermented begins to heat, and when it starts to boil, wheat and small amount of salt are carefully added to it. Apparently, you can also add a bit of oil. Mix this mixture constantly and cook until thick. Apparently, the consistency is appropriate when the spoon placed in the center of the pot, does not fall over ;-) After receiving this density, the pot should be put together from the fire and left to cool down for the entire night. The next day, the mass received is divided into small portions, and then dried for several days in the sun. In such a dried form, xinochondros can be stored for a very long time. For this reason, at home, it is prepared mainly in summer, when the strong sun guarantees its quick drying.
On the basis of archaeological research, scientists have found that such a method of preparation of milk and grain was known already nearly 3 thousand years BC both in the areas of northern Greece and on the current island of Santorini (half of the second millennium BC). Currently, in addition to Crete, xinochondros is also known for Karpathos and the small island of Kithira.
In modern times xinochondros has been hand-made in homes by housewives for decades. Currently, however, it is also already produced on a larger scale in factories, so you can buy them ready in ordinary stores. Therefore, during the holidays in Crete, it is worth looking for xinochondros on shop shelves with dried food and bring a package of this specialty.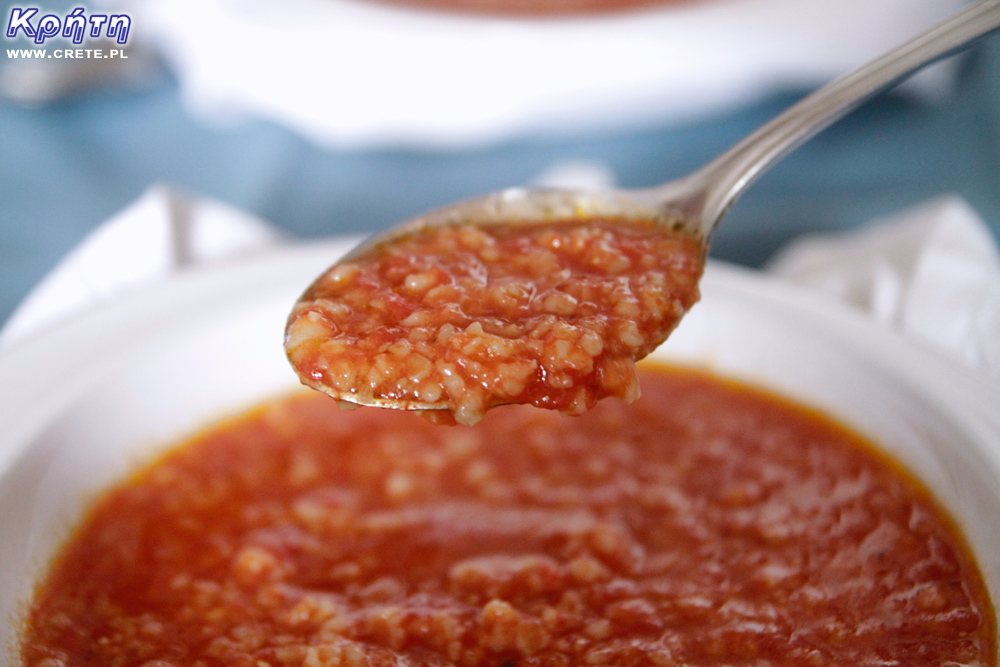 Traditional tomato soup with xinochondros
Dried Xinohondros is a component of a large number of kitchen recipes. It is used in soups and goulash, boiled with chicken, round or pork, snails, vegetables, legumes or simply milk. Freshly prepared xinochondros (not yet dried) is apparently also delicious and sometimes served for breakfast. Unfortunately, in this form, we did not have the opportunity to try it.
Data publikacji:
Data modyfikacji:
Wszystkie treści i zdjęcia występujące w serwisie są naszą własnością.
Wykorzystanie ich w dowolnej formie wymaga pisemnej zgody autorów.