Dolmades - stuffed grape leaves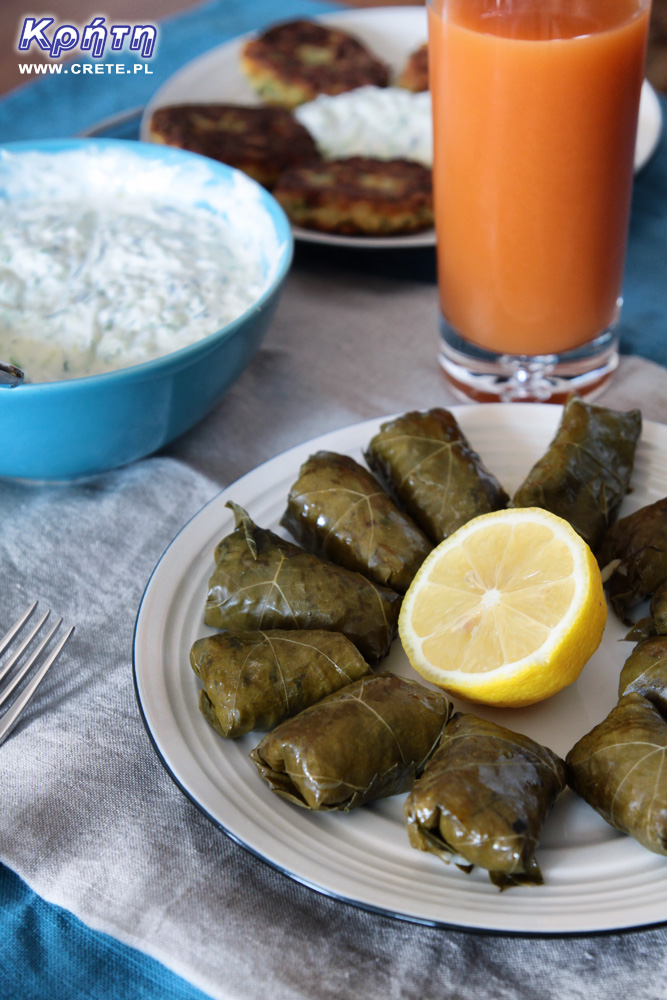 Components
for about 40 dolmades
grape leaves (40 + extra for the pot lining)

about 250-300 g of arborio type rice

2 medium onions or spring onions in a proportional amount

tomato

half a lemon

a bunch of mint

bunch of dill

salt and pepper

200 ml of oil

100 ml of water
Vτολμάδες
Dolmades is one of the most popular Greek meat dishes. It occurs both in the vegetarian version and with meat. Young grape leaves are needed to prepare them. And it is in the leaves that the key to success lies. They must be young and very delicate. The best and the most delicate ones are collected around May. However, if you do not have the opportunity to collect fresh leaves, you can use ready-made leaves from the lagoon. However, the effect will be better if you use fresh leaves. Due to the small size of leaves, wrapping dolmades is a labor-intensive activity, so it's worth to reserve more time to prepare them. Greek grandmothers are able to spend a lot of this afternoon preparing a lot of delicious dolmades.
If you have not eaten dolmades so far, being in Greece is worth the temptation to this appetizer. However, you have to reach for those made fresh at the tavern, because they will be the best. Do not try the version of cans or jars, which are often served in hotels because their taste is different (to the detriment of) from the fresh version, which makes it easy to discourage this tasty dish.
There are plenty of ways to make stuffing. You can use pre-cooked or dry rice, you can add pine nuts or raisins as a variety. In our opinion, however, it is worth starting from the basic version. When giving dolmades, it's worth remembering how to prepare tzatziki, which perfectly blend with this dish.
1. If you use fresh leaves, after washing them, blanch them briefly (about 3 minutes), drain them from the water, cool and carve out the hard part of the stem.
2. Leaves from the pickle should either be rinsed well or also put in boiling water for 2-3 minutes. After catching the leaves, we also drain them and cool them down. Some soak the leaves from the lagoon for several hours, exchanging water several times.
3. Put the largest and slightly damaged leaves aside. They will serve to cover the pot.
4. In this version of the recipe we use dry rice. Mix it in a bowl with chopped mint and dill. Tomato grated on a grater with a thick mesh and add to rice. We also grind onions on a grater, fry it on a small amount of oil and add it to rice. The stuffing is seasoned with salt and pepper, and the whole mix thoroughly.
5. Wrapping the dolmades starts with spreading the leaf with veins up. We put a small teaspoon of stuffing on the center and wrap the lower part of the leaf first, later laterally, and finally wrap the rest in the shape of a cylinder. Stuffing should not be too much, and the dolmades should not be wrapped tightly, because during cooking the rice will swell, and the leaf may burst.
6. Repeat the procedure until you use stuffing (or leaves).
7. Put a few leaves on the bottom of a pot or a deep pan. This will prevent burning during cooking. We place the Dolmades closely next to each other. If there are more of them, we arrange two and more layers, pour the whole with water and oil and cover with another layer of leaves. To prevent the development of dolmades while cooking on the top, put a fairly heavy plate. Cover the pot with a lid, bring it to a boil, then reduce the heat and cook for 30-40 minutes on low heat. Water should be absorbed by rice. After cooking, remove the top layer of leaves and pour the hot dolmades with lemon juice.
8. Serve slightly chilled with tzatziki sauce or Greek yogurt.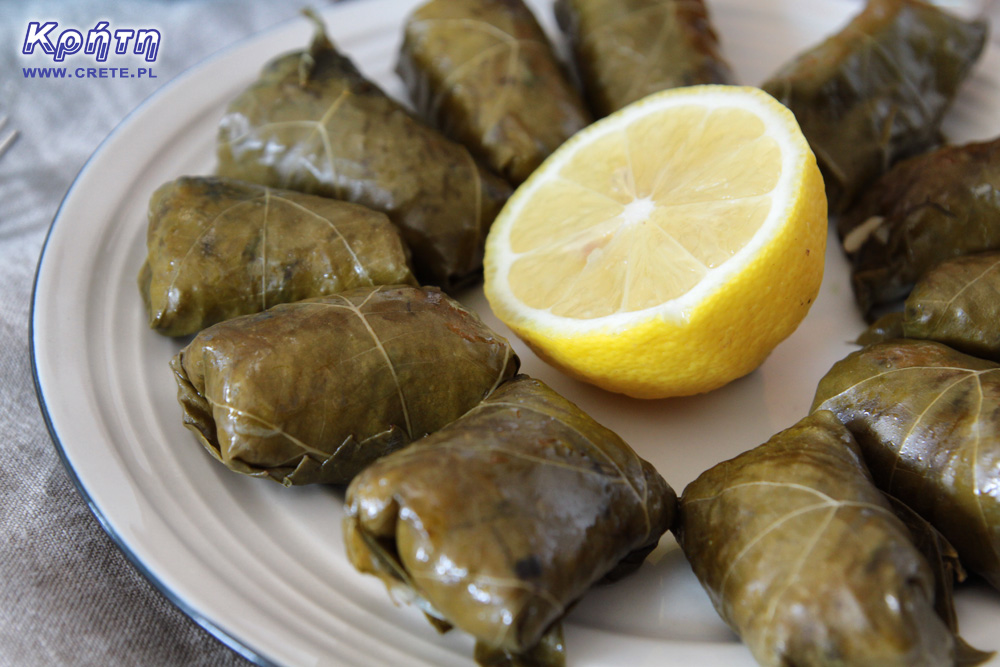 Data publikacji:
Data modyfikacji:
Wszystkie treści i zdjęcia występujące w serwisie są naszą własnością.
Wykorzystanie ich w dowolnej formie wymaga pisemnej zgody autorów.