dakos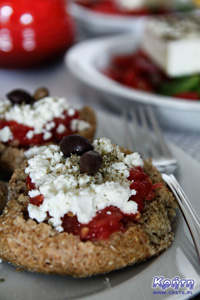 Components
6 halves of dakos


olive oil of the best quality

2 large tomatoes

oregano

myzithra (sweet) or feta cheese

olives
ντάκος
Dakosy is one of the most popular snacks in Crete. It is simple and fast to prepare, and at the same time very healthy and tasty. Its taste is primarily determined by the high quality of all ingredients. The dakos name actually refers to the pancakes (paximadia) that are needed to prepare it. Ready biscuits can be bought without any problem in Greek supermarkets, so it's worth coming back from vacation to complete your luggage with their parcel. In Poland, you can easily buy them at kreta24.pl . In our opinion, these are some of the best paximadia that we had the opportunity to eat.
Rukhas (paximadia) are made in a traditional way from barley flour, salt and yeast. Barley flour is a source of valuable ingredients and vitamins from the B group, and fiber, whose beneficial action allows to reduce the level of bad cholesterol. This flour has the lowest glycemic index of cereals, which allows for lowering the blood sugar level. All this makes these rusks in combination with tomatoes and olive oil a very healthy and filling snack. We, for our part, are strongly encouraged to try the dakos in Crete in some small family tavern, because in such places they will be the best.
However, if you would like to prepare them yourself, it is very simple.
1. Tomatoes are grated on a grater with a thick mesh. We throw the skin out, and the tomatoes are drained from the excess of water.
2. Rinse the rusks quickly under running water. It should be done quickly, because the water soaked with water begins to disintegrate.
3. Pour each half with a small amount of olive oil (about a tablespoon).
4. On each rusk, put a spoon (or more - depending on its size) of the grated tomatoes, which we slightly solicate.
5. Finely crumble Myzithra or feta and put on dakosy. Each sprinkle with a pinch of oregano, pour the oil. On top, we put a few olives and it's ready!
Καλή όρεξη!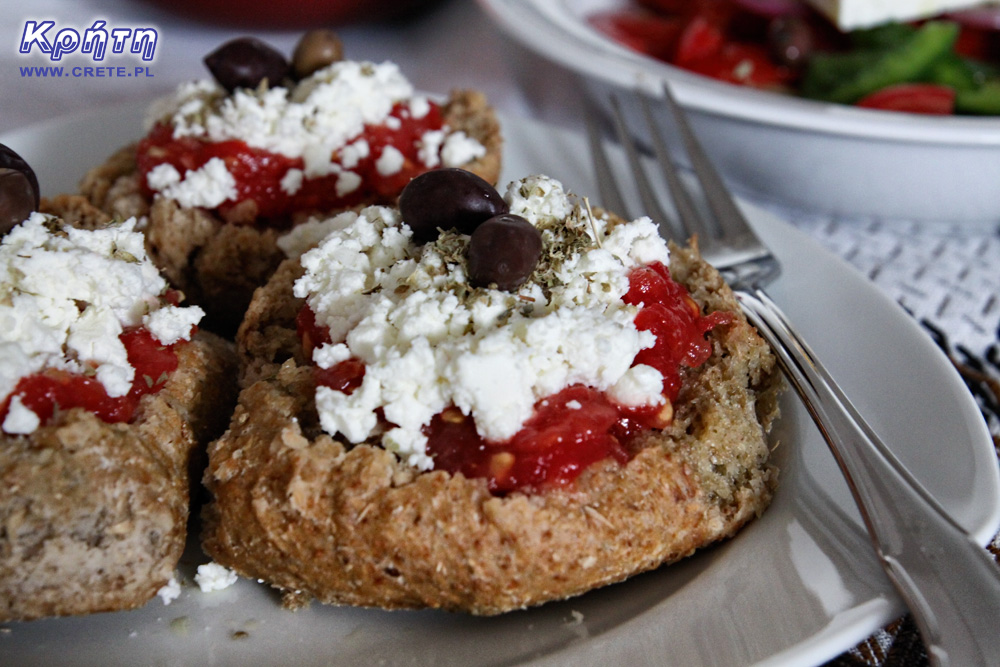 Data publikacji:
Data modyfikacji:
Wszystkie treści i zdjęcia występujące w serwisie są naszą własnością.
Wykorzystanie ich w dowolnej formie wymaga pisemnej zgody autorów.