Olive paste
Πάστα ελιάς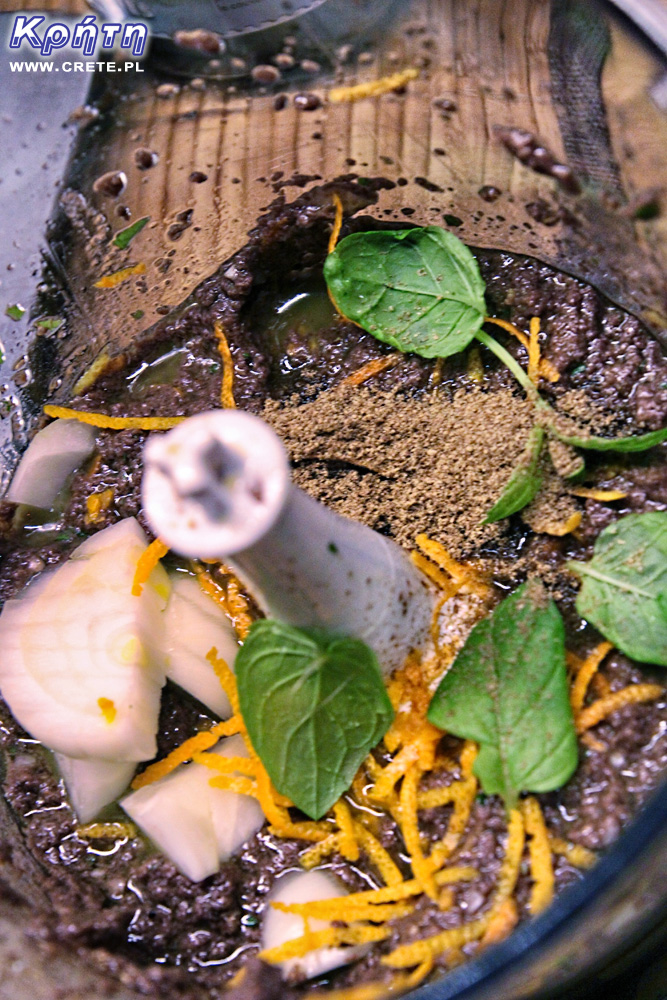 Components
black seedless olives (about 200 grams) or ready-made pasta without any additions

grated peel of half a lemon

grated skin with half an orange

1-2 teaspoons of lemon juice

a few mint leaves

1-2 tablespoons of olive oil

1 small finely chopped onion

1 teaspoon of cumin

1 teaspoon of crushed coriander seeds
In the Cretan menu, olives are one of the basic ingredients of a daily diet. They are consumed both as a whole and as a component of various dishes. One of the many ways of serving olives is making a paste out of them. It is a healthy alternative to various spreads prepared on the basis of mayonnaise. In local shops you can easily buy ready-made pastes with fewer or more additives. The most basic ones can be used as a basis for preparing your own paste.
Although olives form the basis of the Greek diet, however, eating them in the form of a paste does not belong to the basic canon of Greek cuisine. It is rather a new acquisition. It is worth knowing, however, that the olive paste served with bread was the typical food of the Cretans during the war. Nowadays, it is often served in taverns along with other mezes. It was in Rethymno we ate the best olive paste under the sun :)
This is one of those additives that looks worse than it tastes. It is intended primarily for those who love the taste of olives. It is worth experimenting with olive paste experimentally with various additives, eg garlic, oregano, feta or anchovies.
The best to prepare will be big meaty black Greek olives called throubes. Alternatively, you can use the more popular kalamata variety. However, if you can not use whole olives, you can use the finished paste as we wrote above. However, it should be noted that the list of ingredients is as short as possible and devoid of E-chemistry.
1. Mix all ingredients for a while in a shredder.
2. Prepare olive paste a bit earlier because it becomes more intense when different flavors merge.
3. After preparation, it can be stored in the refrigerator. The paste should be transferred to a small jar and then poured over with oil.
Καλή όρεξη!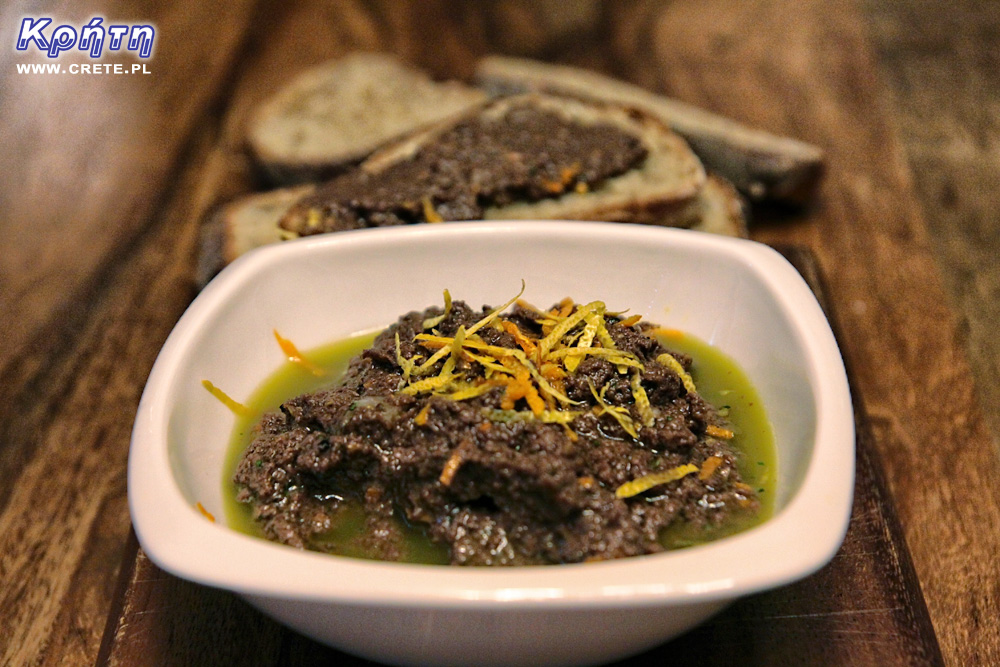 Data publikacji:
Data modyfikacji:
Wszystkie treści i zdjęcia występujące w serwisie są naszą własnością.
Wykorzystanie ich w dowolnej formie wymaga pisemnej zgody autorów.