Kourabiedes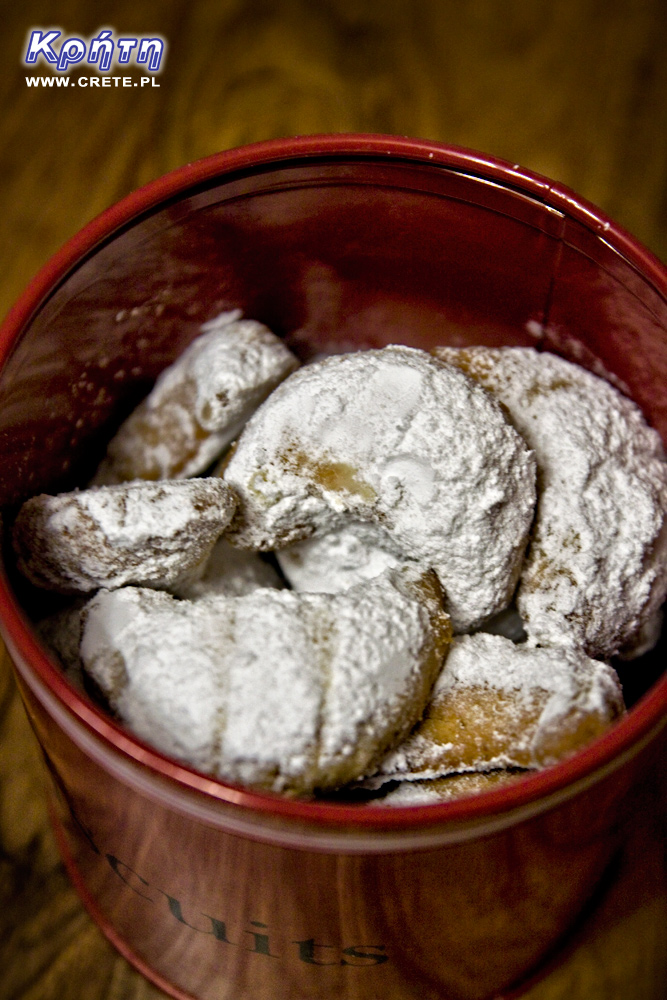 Components
225 g soft butter

55 g of powdered sugar

1 egg yolk

1 tablespoon ouzo

350 g of wheat flour

115 g ground roasted almonds

powdered sugar for sprinkling

1 tablespoon of rose water (optional)
Κουραμπιέδες
Kourabiedes are Greek butter cookies traditionally baked on the occasion of Christmas and larger family celebrations. According to the legend, their characteristic crescent shape was used during the Turkish occupation as a reference to the Turkish flag. After Greece regained its independence, these cakes began to be formed into other shapes, most often round and flat.
Richly sprinkled with Kourabiedes powdered sugar are full of almond flavor. These cookies can also be flavored with the addition of rose water, mastichato (mastic liquor), vanilla or orange flower water.
The upcoming holidays are a good opportunity to try this recipe, the more so because cookies are great for storage, so you can enjoy their taste for quite a long time, if you prepare them more. If you like their taste, there is nothing to prevent them from basting it without any problems.
1. Butter grind with powdered sugar until you get a light fluffy mass. Then add egg yolk and ouzo while stirring. When the ingredients combine into a homogeneous mass, add a weighed amount of flour and ground almonds. Optionally, you can add a tablespoon of rose water.
2. The dough is made by hand until it is soft and elastic.
3. Divide the dough into about 20 pieces, from which we form longitudinal rollers. If there is such a need (the shaft is too long), we divide it into approximately 7-8 cm sections. By bending their ends we give them a shape similar to that of a half-moon. The second typical shape of these cakes is the flattened ball.
4. Put the formed cookies on baking sheet, remembering to leave enough space for them to grow.
5. Bake cookies for 15 minutes in an oven preheated to 180 ° C. Kourabiedes should become hard and slightly brown.
6. After baking, put them on the grill and let them cool slightly. On a separate sheet we sift the layer of powdered sugar, on which still hot cakes are laid tightly next to each other. They can also be sprinkled with a little rose water (but it is not necessary), thanks to which powdered sugar will better cover the cookies.
7. Finally, Kourabiedes is very richly sprinkled with powdered sugar sifted through a sieve. It is important to remember that sprinkled biscuits still have to be hot.
8. Let them cool completely and then put them in an airtight container.
Καλή όρεξη!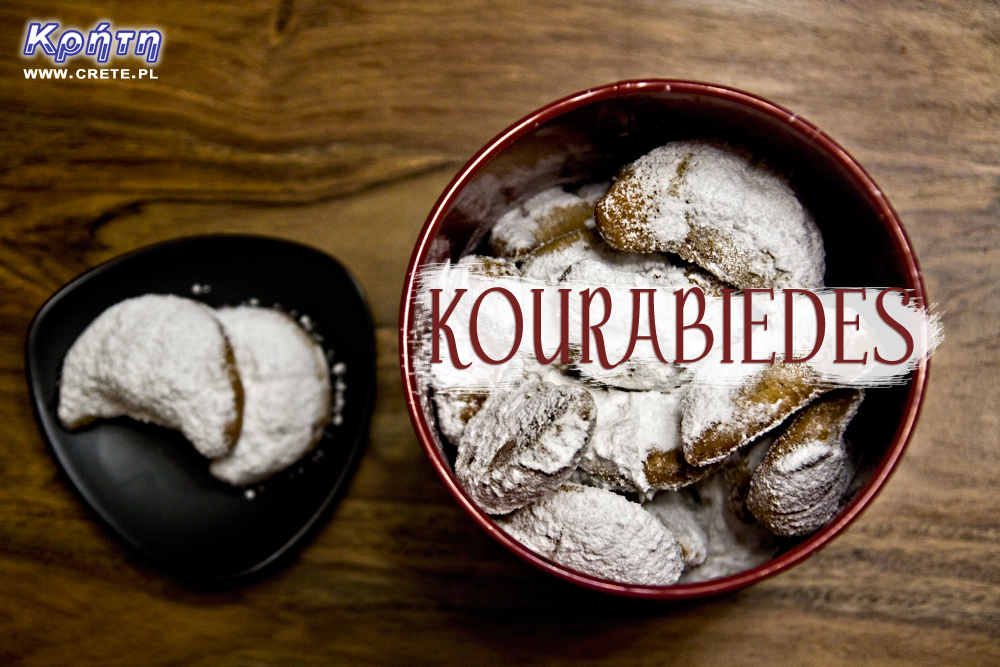 Data publikacji:
Data modyfikacji:
Wszystkie treści i zdjęcia występujące w serwisie są naszą własnością.
Wykorzystanie ich w dowolnej formie wymaga pisemnej zgody autorów.