Classic Briam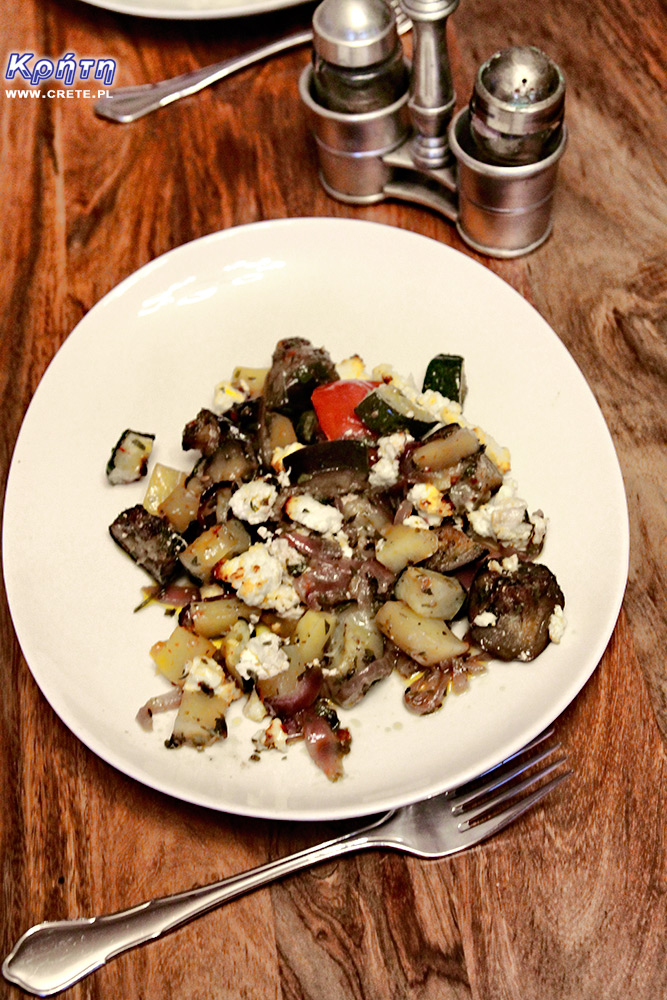 Components:
1 medium-sized eggplant

1-2 courgettes (the small ones are best)

4-5 potatoes (depending on size)

2 medium red onions

3-4 cloves of garlic

2-3 tomatoes

200 g of feta cheese

100-150 g anthotyros cheese (optional)

a small bunch of parsley and a few fresh mint leaves

a dozen sprigs of fresh thyme

a good portion of dried oregano

salt, pepper, pinch of sugar

oil
Briam is one of the most popular vegetable dishes in Greece. It is a classic casserole in which potatoes, eggplant, zucchini and onions seasoned with herbs and olive oil permeate each other with their flavors and aromas. We encourage you to make it right now, because summer and autumn are the best times to prepare briam. The list of ingredients and the methods of preparation may be subject to slight modifications. Some people also add paprika to the basic composition, in some areas you can also find a version without eggplants . Sometimes (if we have it in the fridge), apart from feta cheese, we also add anthotyros cheese (in a dry version). In our opinion, it perfectly complements feta and boosts the taste of vegetables.
The number of vegetables is adjusted to the number of portions we need to get. However, you must remember that the weight of eggplants, zucchini and potatoes should be similar to each other. If we prepare a larger portion, the amount of cheese should also be increased. You should also remember that a larger portion of briam requires a larger baking tray, preferably one in which you can spread the vegetables in a not too thick layer.
1. Start the preparation of the dish by cutting the eggplant lengthwise and salt it properly. Put the eggplant aside for about half an hour to release the juice. After this time, rinse it under running water, dry it and cut it into quarters about 1-1.5 cm thick.
2. Cut the zucchini into half-slices about a centimeter thick. Peel the potatoes and cut them into slightly smaller pieces than zucchini and eggplant. Cut the onion into half-slices or feathers, as you prefer.
3. Peel the garlic and chop it into quite thick pieces.
4. Put the chopped vegetables into a large bowl, add the chopped parsley, mint, season with salt, a pinch of sugar, pepper and a very solid portion of oregano. We add the olive oil and mix all the ingredients thoroughly. It is important that the oil covers the vegetable pieces thoroughly. After mixing, add the tomatoes cut into quarters or eighths (depending on the size of the tomatoes) and mix the ingredients again, but more gently.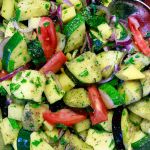 Po wymieszaniu warzyw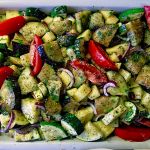 Briam wjeżdża do piekarnika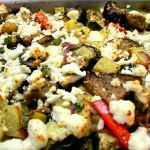 Po 45 minutach posypujemy serem i pieczem dalej przez 15 minut
5. Pour a little oil on the baking tray to cover the bottom of the pan. Then we translate the vegetables and spread them evenly. Put the vegetables in an oven preheated to 180-185 degrees. We bake for about an hour, living 2-3 times. About 15 minutes before the end of baking, sprinkle the vegetables with crushed cheese. If you add it at the beginning, it will burn while baking.
6. Briam can be served with good bread, although it tastes good without this addition. Perfect for retsina or white wine.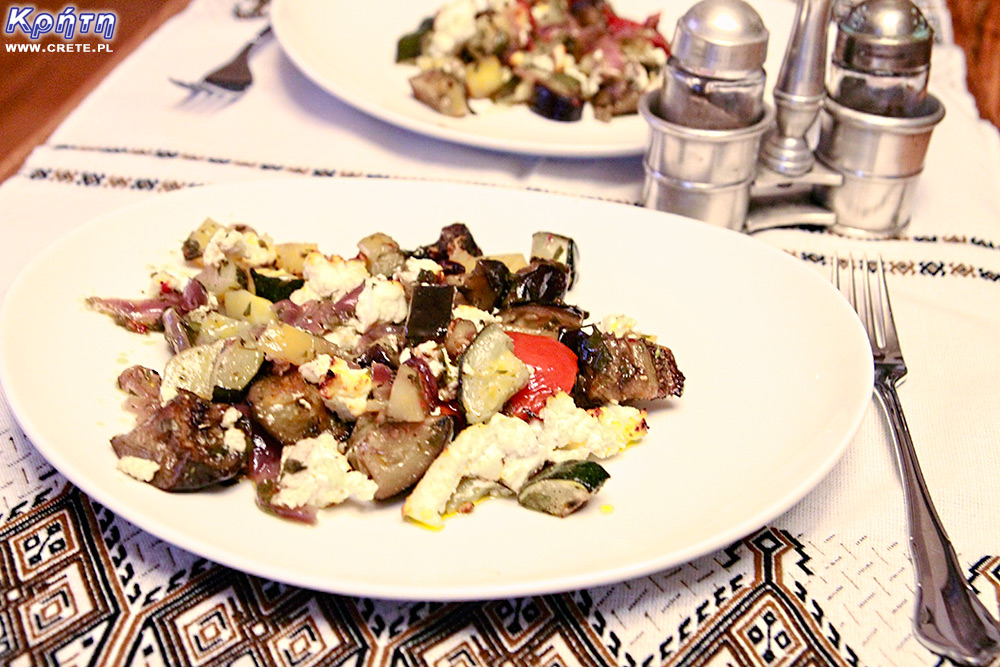 Data publikacji:
Data modyfikacji:
Wszystkie treści i zdjęcia występujące w serwisie są naszą własnością.
Wykorzystanie ich w dowolnej formie wymaga pisemnej zgody autorów.