Zucchini stuffed with feta cheese and walnuts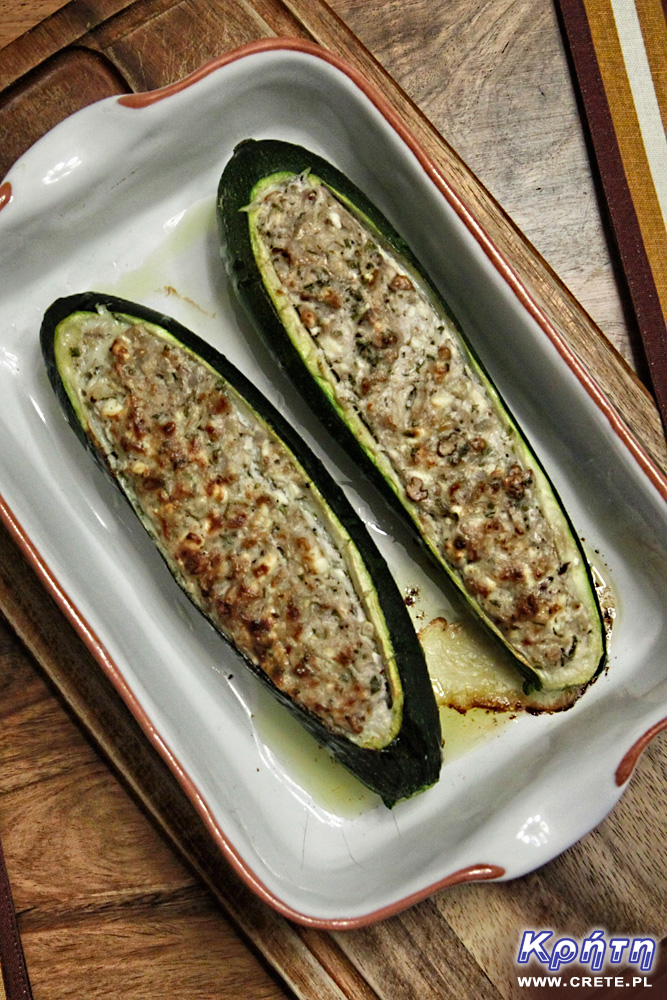 Components
2 small courgettes with a delicate crust

1 small onion

1 clove of garlic

200g fete packet

15g of Italian nuts

1 egg

1-2 tablespoons chopped parsley or dill
Κολοκυθιά γεμιστά
Zucchini in Greek cuisine is very common. It can be found as an ingredient in pits (kolokithopita), chops (kolokithokeftedes), in vegetable casserole briam, in the form fried in pastry (kolokithakia tiganita) or simply cooked or grilled. Another tasty way for this vegetable is to make it in a stuffed form. We chose stuffing without meat, mainly based on feta and walnuts. This is a fairly simple way, and its additional advantage may be that such zucchini can be reheated without problems on the second day. It will be equally tasty or even better!
1. This dish is best served with young and rather small courgettes. Those more overgrown with hard skin will not taste good.
2. The first step is to briefly cook zucchini. We put them all in a pot with boiling water and when the water starts boiling again, boil zucchini for 3 minutes. After removing them from the pot, rinse with cold water and let them cool down.
3. When the courgettes cool down on two opposite sides, remove the thin strip. Thanks to this, the courgettes will not tip over and it will be easier to hollow the center.
4. The cavity should be made quite delicately and precisely so as not to cut the skin. The pulp should be densely cut along the edges and selected with a teaspoon. A portion of the flesh (about half) must be added to the stuffing, so it should be finely chopped.
5. Warm up 1-2 tablespoons of olive oil in a frying pan and fry onions and garlic on it until the onion becomes tender. Then add the previously chopped zucchini pulp and fry another 5 minutes.
6. We assemble the pan from the oven and leave it to cool slightly. Next, add the crumbled feta, finely crushed nuts, parsley or dill, and a crumbled egg. Stir the stuffing, season with salt and pepper and then fill with courgettes.
7. Zucchini put in a heat-resistant dish, sprinkle with oil and cover with aluminum foil. Bake in oven preheated to 190 degrees for half an hour, then take off the foil and bake another 10-15 minutes until the stuffing begins to blush.
We serve hot zucchini.
Καλή όρεξη!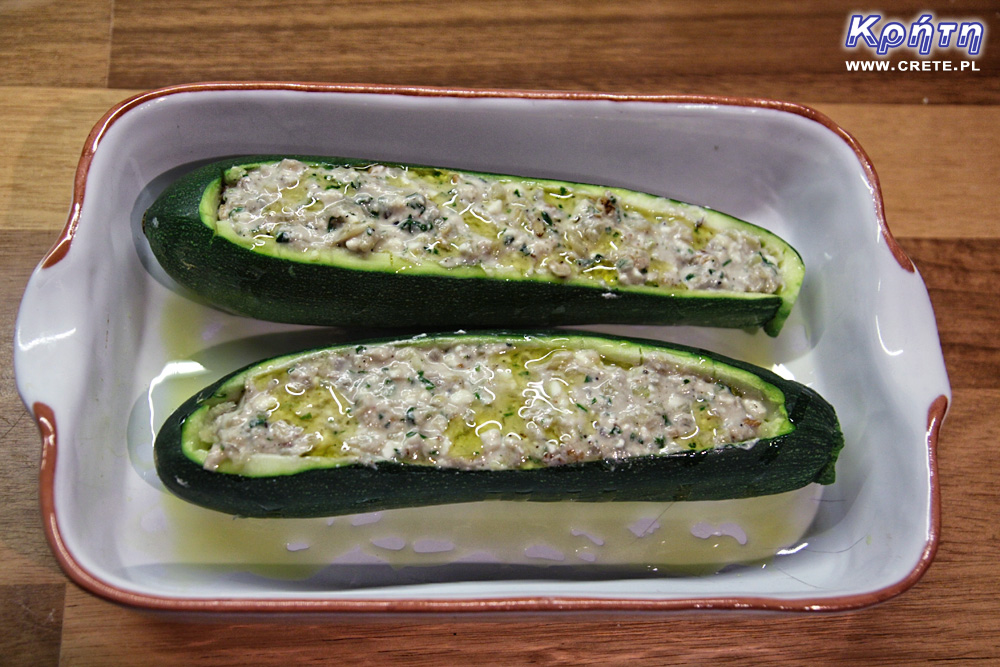 Data publikacji:
Data modyfikacji:
Wszystkie treści i zdjęcia występujące w serwisie są naszą własnością.
Wykorzystanie ich w dowolnej formie wymaga pisemnej zgody autorów.