Arakas laderos - Greek recipe for peas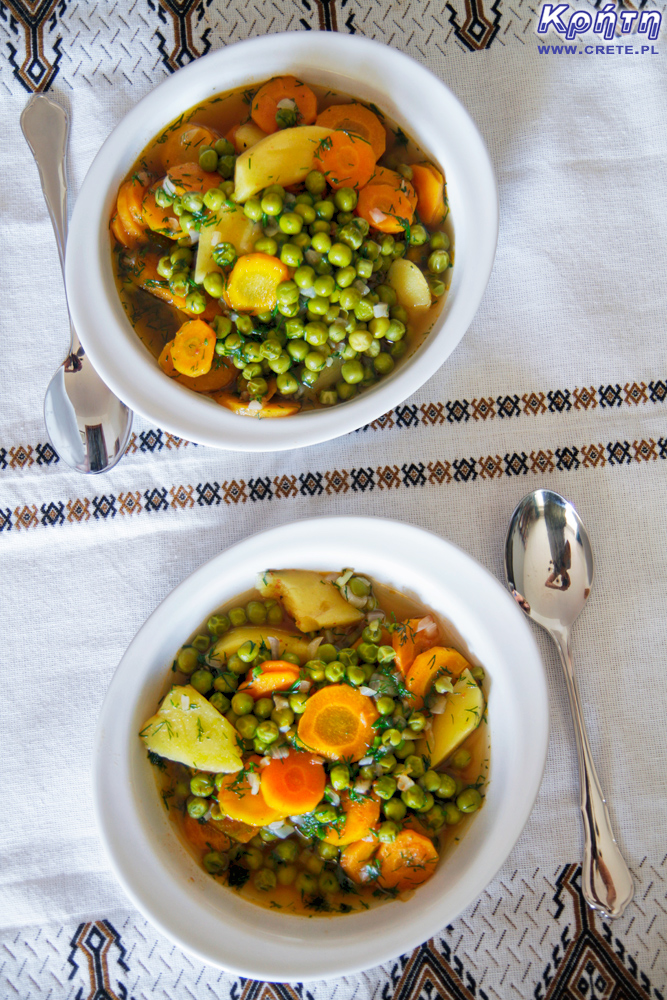 Components
about 0.9-1 kg of green peas (fresh or frozen)

3 large carrots

3-4 larger potatoes

2 medium onions

bunch of dill

bay leaf (optional)

salt pepper

feta (to be served)

4-5 tablespoons of home-made puree

water

around a cup of oil
Αράκας Λαδερος
When you ask a local resident in Greece what delicious dish can be made from green peas, the answer will probably be: Αράκας Λαδερος ! This dish from the first moment has also become one of our favorites. At the outset, it is worth noting that to prepare it you do not need many products and time-consuming preparations. In addition to fresh or frozen peas, only onions, carrots, potatoes, good home-made tomato puree (or fresh tomatoes) and dill will be necessary.
The basis of this day is also a large amount of oil, which, in combination with the rest of the ingredients, will create a sauce in which vegetables will choke. Such a sauce based on olive oil, onion and tomatoes is very versatile, so you can prepare other seasonal vegetables in a similar way, such as green beans , white beans, zucchini, aubergine, okra or cauliflower, etc. The dish should be sprinkled with crumbled feta on its plate, and if you feel like you can also serve them with delicious bread.
Dishes prepared in this way belong to one category of dishes called ladera ( lather ), i.e. cooked in olive oil ( λάδι - ládi ) and tomatoes. It is worth emphasizing that it is the oil in this dish that is one of the most important roles. It extracts all the flavors of vegetables and combines them with each other. Without the addition of olive oil, the vegetables would become bland and watery.
Among people who care about the line, this dish may arouse some doubts due to the large amount of oil required by lather type dishes . We want to calm you down, however, because the whole in terms of caloric balance nicely. Although there is a large amount of oil in the dish, the vegetables that constitute the main part of the ingredients are, after all, not very calorific. At this point it is also worth noting that thanks to the lather dishes, the Greeks owe a high intake of vegetables in their daily diet. In each type of meal, there are at least 4 portions of different vegetables. Lather dishes are therefore very healthy, nutritious and at the same time cheap.
1. We start by warming the oil in a large pot or deep frying pan. We put the diced onion on the hot oil and fry for a few minutes to soften it.
2. When the onion is fried, add the rinsed green peas and sliced ​​carrots to the pan. On top, we put the potatoes cut into quarters or eights (depending on the size). Add tomato puree or grated tomatoes, and water the whole thing so that the potatoes are immersed in it (covered with water).
3. Season with salt, pepper and if you like it, add 2 bay leaves.
4. Stew the vegetables under cover to a softness on medium heat. A few minutes before the end of cooking, remove the lid and add the chopped dill.
5. After mixing, cook and serve for a while.
6. On the plate, sprinkle the dish with crumbled feta cheese. You can also serve them with bread.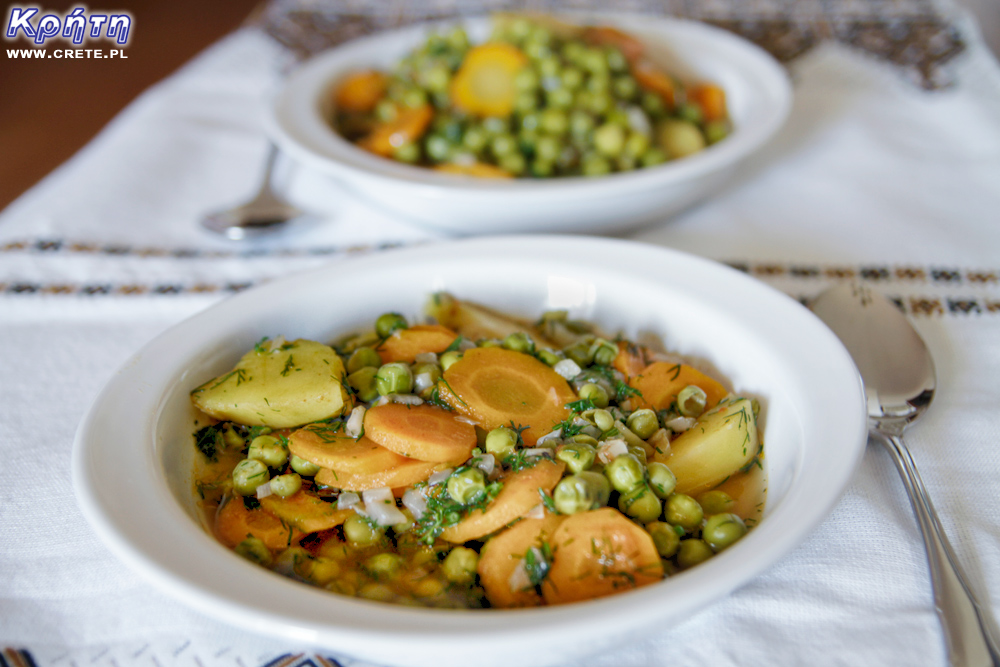 Data publikacji:
Data modyfikacji:
Wszystkie treści i zdjęcia występujące w serwisie są naszą własnością.
Wykorzystanie ich w dowolnej formie wymaga pisemnej zgody autorów.