Atrapos - dried plums and Amfissa olives dried in the oven
During our culinary experiments and during the preparation of our everyday meals, we try to reach for unique products from Crete or Greece as often as possible. Many of them permanently fit into our menu and systematically reach our shopping lists. For some time, dried plums and black olives from the Greek company Atrapos have joined the group of this type of products. At the outset, it is worth noting that both products are virtually in the permanent offer of the online store kreta24.pl , so if you are interested in our description, you can easily get to know their taste by yourself. And in our opinion it is really worth it.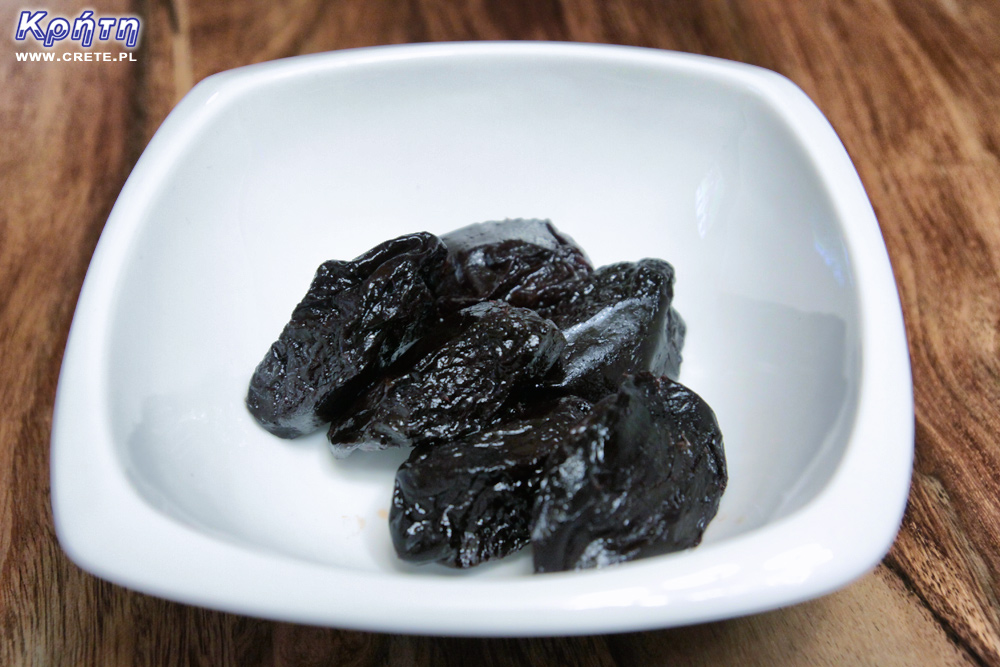 Dried plums
At the beginning we would like to write a few words about dried plums , whose taste is hard to compare to the equivalents available on the Polish market. Delicate sweetness, which is definitely smaller than in California type plums, does not dominate and does not constitute their main note. Podsuszony pulp, closely attached to the stone, has a distinct wine taste mixed with the taste of fruit.
Personally, we are very eager to reach for these plums as an independent snack, especially since they are quite sizable. If you care for lines, you do not have to worry because thanks to the relatively small sugar content, medium-sized fruit is only 20 kcal. Importantly, they are also an excellent source of fiber. Finally, it is worth mentioning that plums harvested in orchards by Atrapos are grown in accordance with the principles of organic farming, so they are certainly a healthy ingredient in the daily diet without excessive amounts of chemistry.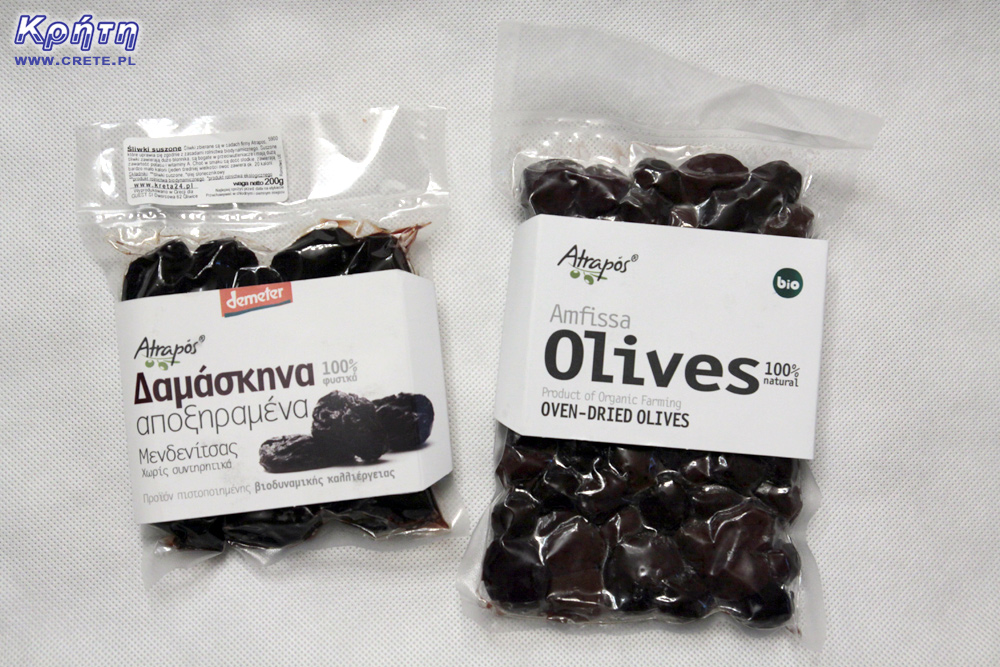 Olives dried in the oven
In one of our previous articles we've described the very delicious dried salt olives that we bought in Paleochore. Currently, they are not available on the Polish market, so we would like to present you another similar product that also won our palate. These are black olives dried in the oven , or another product of Atraps.
Although they differ in their taste from those from Paleochory, they are just as perfect complement to hot dishes. Recently, we tested them in a Greek bean soup and we have to admit that they worked perfectly well in this role.
The definitely larger fruits from the Amfissa olive trees are in the first place inherent in the association with the previously described prunes. They have quite a big soft flesh, and in their taste you can feel the delicate smoky aroma that the olives take when drying in the oven. Thanks to this treatment, these fruits do not have to be kept in salt and thus have a much finer taste.
It is worth adding that these olives perfectly tolerate prolonged storage. After opening it is enough to put them into a small jar, and then pour the oil so that each of the fruits was fully immersed in it. In this way, dried olives can be stored at room temperature without having to hide them in the fridge.
On kreta24.pl website you will also find many other types of olives from this manufacturer. We can recommend Atrapos products with a clear conscience, each of them will be of equally high quality.
Data publikacji:
Data modyfikacji:
Wszystkie treści i zdjęcia występujące w serwisie są naszą własnością.
Wykorzystanie ich w dowolnej formie wymaga pisemnej zgody autorów.