Fresh herbs in Greek cuisine
Greek cuisine is unique. Its health aspects are determined by the complementary action of the ingredients of individual dishes and its support on natural products with the exclusion of those processed with chemical additives. Greeks enrich their food additionally with herbs, both in dried and fresh form. Of the latter, oregano, mint, rosemary and thyme land very often on the Greek plate. Equally often in this role are ordinary green plants rich in antioxidant ingredients such as parsley or dill.
It is herbs added alone or in compositions that add this unique accent to simple Greek dishes. Those growing in Greece are unique due to the unique climate: a large number of sunny days throughout the year, soil, sea climate. Some of the herbs grow only here ...
The Greek tradition of using herbs dates back many centuries, when it was used for medical purposes, such as oregano, or religious. Some of the herbs are associated with stories of characters known from Greek mythology. Today, being in Crete, it's impossible to miss roadside wild, wild herbs that smell clearly in the air, as well as herbs grown in home gardens and pots.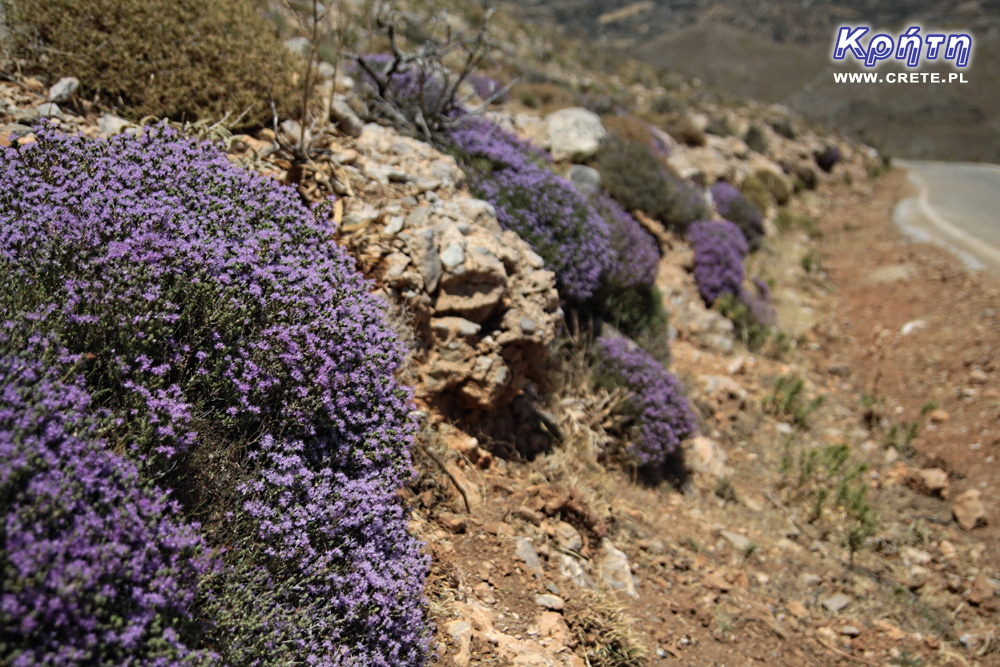 What herbs are the most popular? Creating such a list will be difficult, but let's try ...
Oregano (Rigani, ρίγανη) - is the most popular herb used in Greece, literally for all dishes: meat, fish, cheese, vegetables, as well as marinades, sauces and salads. Healing properties are also known. In Crete, you can buy a special variety of wild oregano growing high in the mountains and harvested by hand. According to Greek mythology, the sweet-spicy scent of this plant was created by Aphrodite as a symbol of happiness.
Basil (Vasilikos, βασιλικός) - popular in principle since recently in Greece, although known since antiquity and recommended by ancient physicists: Hippocrates and Pliny. Both fresh and dried are used. Its various varieties are used for salads, vegetables and cooked dishes.
Bay leaf (Daphni, δάφνη) - similarly to us, it is usually dried for soups, stewed meat or fish. Its Greek name comes from mythology from the name of the nymph Daphne .
Marjoram (Mantzourana, μαντζουράνα) used rather dried for seasoning lamb, beef and other meats, sausages, tomato dishes. The ancients attributed to him the healing action, they planted on the graves of relatives in the conviction that he would provide eternal peace and happiness, but they also made wedding wreaths for young couples as a symbol of love and happiness.
Parsley (Maïdanos, μαϊντανός) used practically everywhere where it can be added: for soups, stews, meat, fish, seafood, sauces, legumes.
Fennel (Anithos, άνηθος) - already known in ancient Greece and used as a medicinal plant. Currently, both leaves and seeds are used to season marinades, fish, meats, salads, omelettes and legumes. You can find it in dolmades, bread and even in some cakes.
Rosemary (Thentrolivano, δεντρολίβανο) - often seen in the form of perennial rather tall shrubs with woody stems. It is most often used for seasoning lamb, chicken, baked potatoes or fish. Also met during baking. The most aromas are fresh twigs.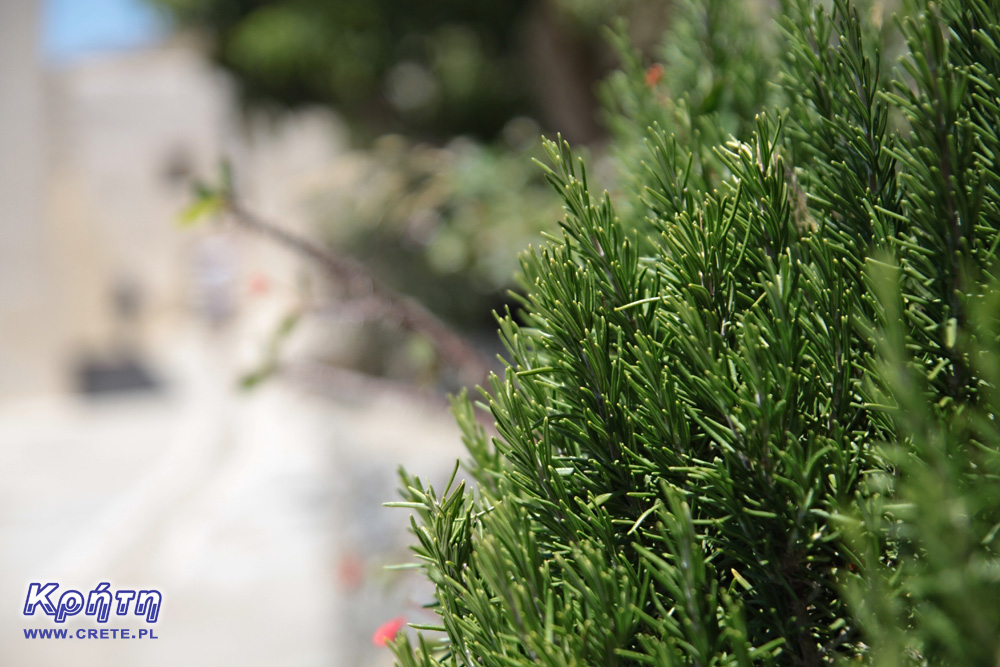 Mint (Dyosmos, δυόσμος) - who once ate even Greek meatballs knows that mint is the secret ingredient in the taste. In addition, the Greeks add mint commonly to salads, tomato sauces, cheese dishes, rice and meat. Also used as a well-known herbal tea. If it were not for Hades and his jealous wife Persephone, it would not be mint today. According to mythology, Hiden fell in love with Menthe , and his wife threw a nymph to trample her. Then Hades turned Menthe into a bush.
Purslane (Glistritha, γλιστρίδα) - very common in Greek cuisine. Fresh leaves can be found in lettuce (eg with yoghurt), also found in soups and some meat and fish dishes. Her leaves are preparing like spinach. In ancient Greece recommended by m.in. Hippocrates as a medicinal plant. Currently, for the owners of home gardens, it is rather a nuisance, because the purslane grows very invasively.
Sage (Faskomilo, φασκόμηλο) - usually added to meat but in small quantities. In Crete, it is used when smoking sausage or baking bread in a traditional wood-fired oven, into which sage twigs are put.
Thyme (Thymari, θυμάρι) is most often used in combination with other herbs, added to soups, stews and meats. Very popular thyme honeys are sold on Crete. In the mountainous areas of Crete thyme bushes are a frequent sight, because it grows in large clumps, most often with very woody stems.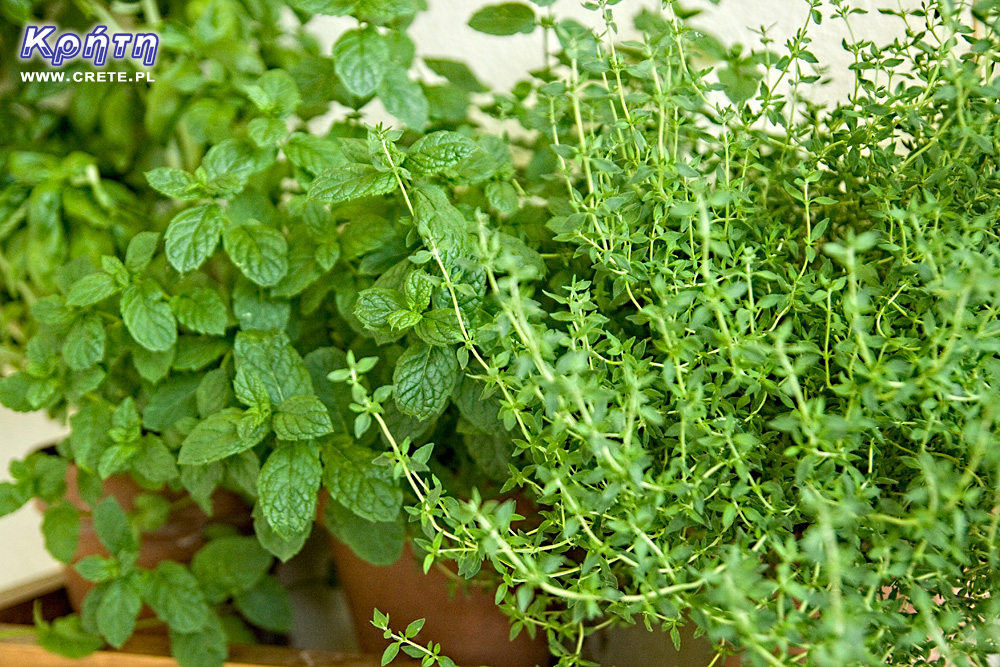 Fennel Italian - fennel (Maratho, μάραθο) - with its aniseed scent it is used for meat and fish dishes, for goulash, vegetable dishes, seafood and cakes. Vegetable dishes give a characteristic flavor. The Greek name Maratho was given in remembrance of the Battle of Marathon in 490 BC, which took place in the fennel field.
Savory (Throubi, θρουμπί) - added to dishes from legumes, marinades, fish, vegetables and many other dishes. The thybra satureja variety has been known and used since antiquity. The name Thybra comes from the name of the village near Troja.
Estragon (Estrankón, εστραγκόν) - by the ancient Greeks used to relieve toothache, by the present for seasoning, for example, omelettes, or grilled chicken.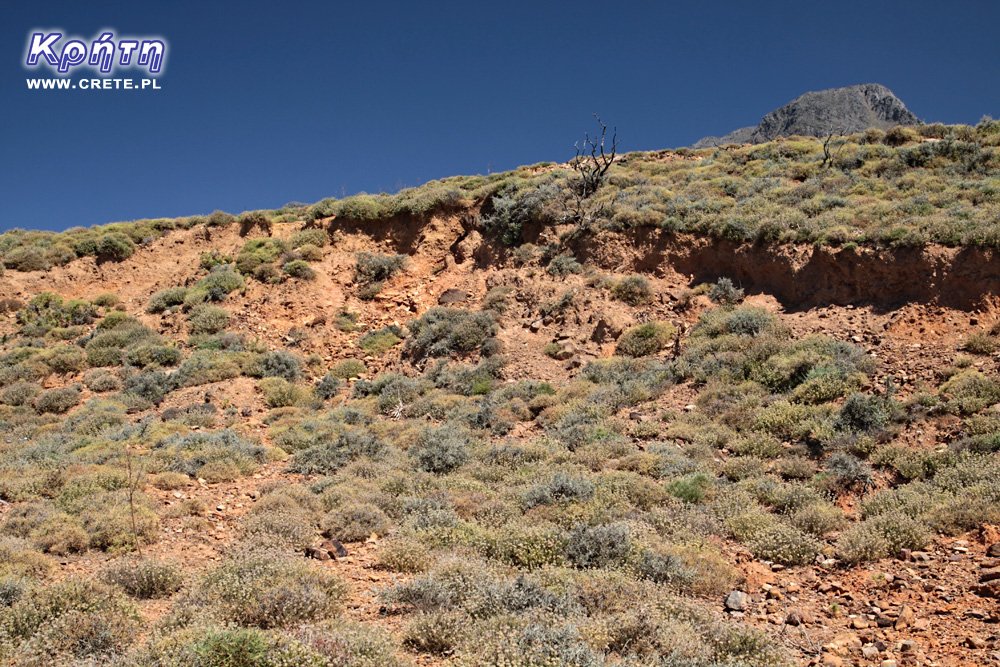 Data publikacji:
Data modyfikacji:
Wszystkie treści i zdjęcia występujące w serwisie są naszą własnością.
Wykorzystanie ich w dowolnej formie wymaga pisemnej zgody autorów.