Olive Eliam
Customers of the kreta24.pl store know that they can find here excellent Cretan and Greek oils and many other organic products. We have already written about a very high quality assortment of this store many times. This time we would like to draw your attention to the very high quality of Eliama oil produced by Elli's farm in Agia Barbara in Crete.
Before we go on to more detailed data, it is worth noting that both Eliama Gold and Eliama Premium oils are extremely low acidity oils of 0.16% and 0.15%, respectively. Recall that according to European standards, the upper limit of acidity of extra virgin oil reaches up to 0.8%. It is also worth knowing that in the case of this indicator less is better. So the lower the acidity, the better the oil.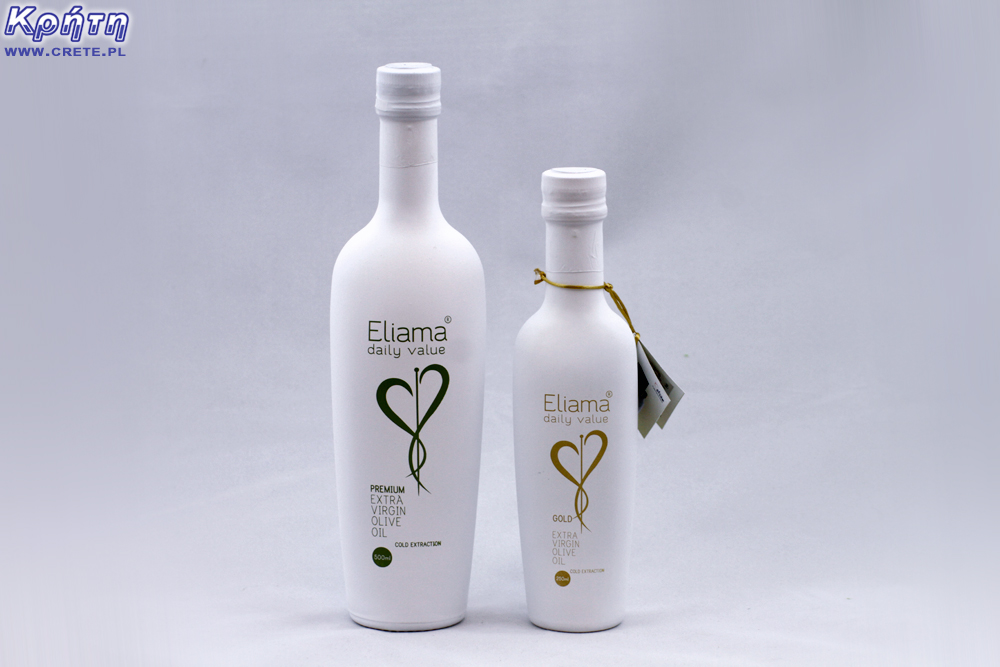 In the Elli's Farm groves, the Koroneiki olive trees are grown with respect for ecological balance, without the use of chemical fertilizers or herbicides. The producer collects olives in November, when they are not ripe yet. Thanks to this, they retain many valuable ingredients. The amount of oil obtained is smaller than when it is pressed from ripe fruit, but its quality is much higher. What is also important in the storage of oil is packing it in bottles made of dark glass, which are completely additionally sprayed with white paint. This is a very good protection of oil against the effects of light rays, which is one of the reasons for losing its valuable values.
Let us now take a closer look at the properties of one and the other oil.
Eliama Gold
Olive Eliama Gold is an oil that belongs to polyphenol oils. We have already written about this type of oils, which are new on our market in April 2018 in this article: Polyphenol Oils .
We will only remind you that polyphenol oils are recognized in the European Union as products that bring health benefits and are distinguished by the Health Claim label. In accordance with EU directive No. 432/2012, for oil to obtain such a designation, the manufacturer must meet a number of requirements. One of them is the performance of certified chemical analyzes of the oil confirming the content of the appropriate amount of substances having health-promoting effects. In particular, this applies to hydroxytyrosol and its derivatives (e.g., the complex of oleuropein and tyrosine). According to Directive 432/2012, only products containing more than 5 mg of these substances in 20 g of oil may use the Health Claim. The European Commission requires producers of such oils to inform customers that the beneficial effects of polyphenols are found when regular consumption of 20 g of such oil per day.
After this brief digression, let's go back to the oil of Eliama Gold.
It is cold pressed from carefully selected, hand-picked olives, the weight of a single fruit can not exceed 1 gram. The collected olives go to special containers holding a certificate of suitability for food products. In the case of obtaining oil, the time separating the collection of fruit from the pressing process is also very important. In this case, it is very short, never exceeding 4 hours.
After extrusion, the oil is stored in large stainless steel tanks. To counteract oxidation processes and preserve its outstanding values, these containers are protected with nitrogen. Storage temperature varies between 12-15 degrees C.
What is especially important in the case of Eliama Gold is a very rich content of oleocanthalu, oleocein and tocopherol. The presence of polyphenols is clearly perceptible in its taste. It is this quite bitter and at the same time very peppery taste that slowly turns into spicy characterizes olive oil with a high content of polyphenols.
Let's look at the content of individual polyphenols in this oil:
Oleocanthal: 296 mg / kg,
Oleacein: 225 mg / kg,
Tocopherol alfa (vitamin E): 244 mg / kg
The total sum of polyphenols is 1047 mg / kg, tocopherol: 252 mg / kg.
To have a reference point, it is worth comparing these values ​​with the average, average values ​​found in high-grade extra-virgin olive oils. The average content of oleocanthalu is 135 mg / kg, and oleacein is 105 mg / kg. Therefore, when we compare these values, it is clearly visible that Eliama Gold contains more than twice as much as the average adopted. The total content of individual substances is documented in the accompanying chemical analysis: Phenols and Tocopherols .
Medical research confirms that the high content of oleoantal, oleacein and tocopherols found in olive oil has a very positive effect on many health aspects. First of all, they have a positive effect on the lipid profile, they lower the content of triglycerides in the blood, total cholesterol and LDL and VLDL. The LDL fraction is commonly referred to as "bad cholesterol". Its excess leads to the deposition of atherosclerotic plaques in the blood vessels and the development of atherosclerosis. Such oil therefore reduces the risk of coronary heart disease. By reducing platelet aggregation and regulating blood pressure, it prevents the formation of blood clots.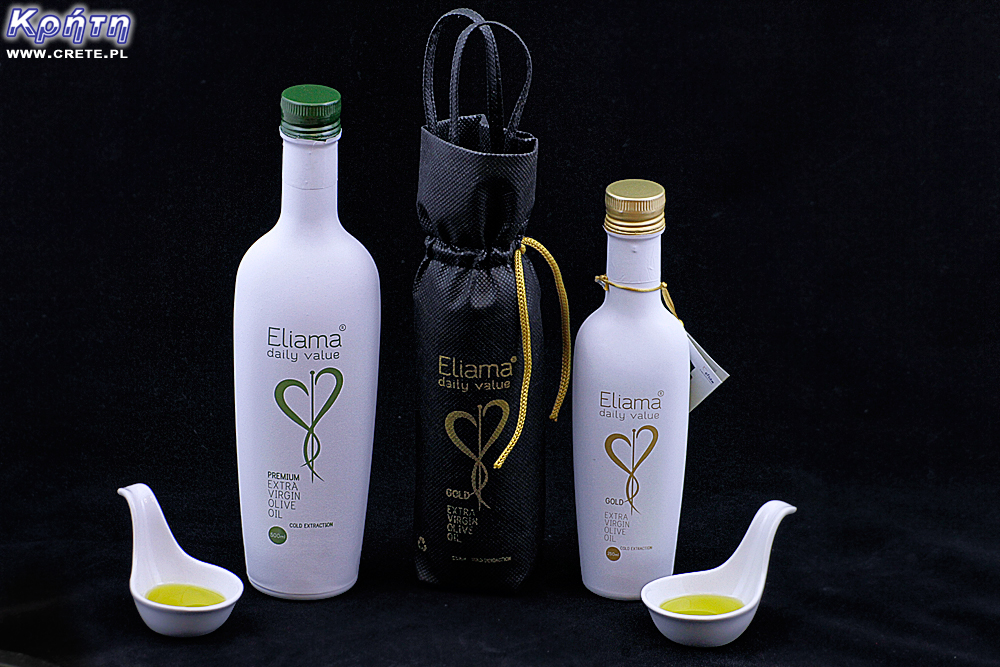 Another very important action is protection against the effects of oxidative stress. By preventing the formation of free radicals, it counteracts aging processes and reduces the risk of DNA mutation, which can lead to the development of cancer. These polyphenols also work anti-arrhythmic, anti-coagulant and anti-inflammatory (oleacein). It is also worth noting that they help in inflammation and ulceration of the stomach, cholelithiasis and constipation.
Oleocanthal, present in polyphenolic oil, reduces the risk of diseases such as Alzheimer's, Parkinson's, or multiple sclerosis. According to recent studies, it is also effective in the treatment of rheumatoid arthritis.
The high content of vitamin E in this oil is also particularly important. In one spoon of oil we find 20% of the daily requirement of our bodies for this vitamin. Regular delivery is important for many reasons. Above all, vitamin E, also called the vitamin of youth, helps maintain healthy skin and hair. Its deficiency in the body is manifested, among other things, by the poor condition of hair and its loss and the reduction of skin elasticity, bone problems and fertility. No less important is the maintenance of immunity to infections. Vitamin E is also a very good antioxidant that protects cells from damage caused by free radicals.
Olive Eliama Gold is sold in a small 250 ml bottle in an additional black case. This protection is designed to best protect the oil from light. Due to its valuable content, it should be treated as a natural supplement, whose regular consumption will supplement the level of many much-needed substances. It should only be remembered that its beneficial effects appear with regular, daily consumption of 20 g (two tablespoons) of oil. We definitely do not recommend it for cooking or frying because of the risk of losing its valuable properties. To keep them, this oil should be used cold. This note applies in principle to all high-phenolic oils.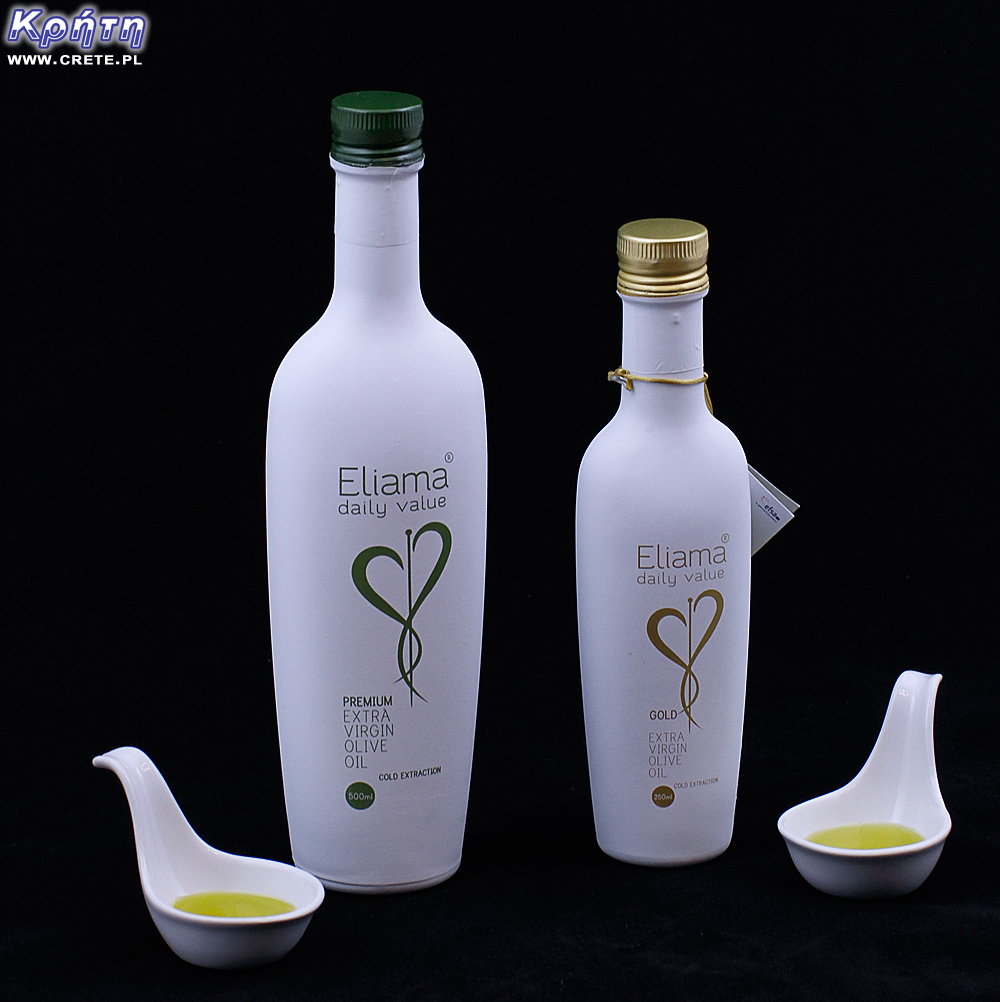 Eliama Premium
As we wrote in the introduction, this oil is characterized by an extremely low acidity of 0.15%. Her excellent taste and health benefits have been recognized in the prestigious Olive Oil Competition in London . Oliwa won the gold medal twice in this competition in 2017 and in 2018. We would also like to remind you that this year Eliama Premium was also appreciated in Poland. At the Nature Food and Natural Food Fair in Łódź, she also won a gold medal in the category of foreign natural product .
This oil is milder in taste than Gold oil. It is distinguished by a very fruity aftertaste (but not grassy) turning into spicy. There is no bitterness that is so noticeable in itself, which is characteristic of the Gold oil. Its taste is perfectly balanced between a mild, fruity and spicy note. It makes this oil a great addition to the preparation of everyday dishes.
Eliama Premium is also cold pressed from hand-picked olives. In the case of this olive fruit are selected so that none of them exceeded the weight of 1.5 grams. Here also the producer makes sure that the freshly picked olives go to certified containers suitable for food products. No more than 6 hours can pass between collection and pressing. After pressing the oil, it goes to the tanks of stainless steel, where it is stored at a temperature of 12-15 degrees. An additional protection is nitrogen, which is supposed to counter atmospheric oxidation. The consumer gets the oil in a half-liter glass bottle, which is one of the optimal ways to store oil in home conditions.
Both oils described above are available at kreta24.pl .
Data publikacji:
Data modyfikacji:
Wszystkie treści i zdjęcia występujące w serwisie są naszą własnością.
Wykorzystanie ich w dowolnej formie wymaga pisemnej zgody autorów.