Fakes - lentil soup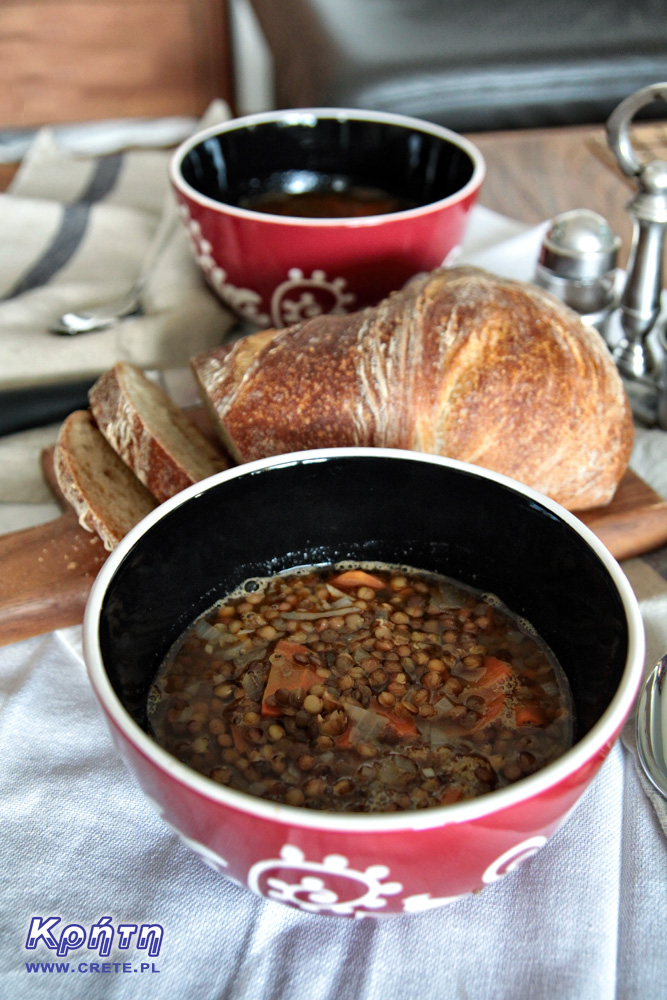 Components
250 g brown lentils

about 40-50 ml of olive oil

2 cloves of garlic

1 onion, finely chopped

1 large carrot, cut into thin slices or cubes

1l of water

1 pinch of oregano

2 laurel leaves

a small jar of home-made tomato paste

and / or finely chopped 2-3 skin-peeled tomatoes

salt and pepper to taste

2 tablespoons of wine or balsamic vinegar
Φακές
Fakes is a popular Greek soup prepared on the basis of lentils. It is quite dense and filling, so it is especially happy to be served during the fast preceding the Greek holidays. In our climate, it will definitely work during winter and autumn months.
Although the preparation of fakes is simple and quite fast, however, the choice of the right kind of lentils is crucial. Brown is best suited for this purpose, which does not break up during cooking. Other types of lentils, unfortunately, quickly turn into a mash, which, although it does not lose the quality of taste, however, visually it does not look very attractive.
Fakes can be prepared in a classic form without the addition of carrots and tomatoes. Nevertheless, if you want to achieve a more rich taste, it is better to add these ingredients. Finally, a few tablespoons of vinegar are added to this soup. It is not necessary, however, in our opinion, it is worth to supplement the taste of Fakes with this ingredient. As an addition, the wine vinegar or balsamic vinegar from Crete will be the best. It's vain to look for it in our home stores, but fortunately it is available in some of the online counterparts involved in importing Greek food. Of course, Cretan balsamic vinegar you can buy during your stay on the island.
1. Pour lentils in a saucepan, pour enough cold water to cover it to a height of about 3 cm. Cook for 10 minutes, then drain off the sieve.
2. Wipe the pot dry and warm up the olive oil in it. The amount of oil is a matter of taste. The Greeks add a lot of it, but you can limit the amount a bit.
3. Put the chopped onion, finely chopped garlic and carrot on hot oil. Fry the vegetables until the onions are glazed, then add lentils and pour with water. We add puree and / or tomatoes.
4. Season with oregano, laurel leaves, salt and pepper. Cook for about 30 minutes until the lentils are soft. Finally, after cooking, add vinegar.
5. The soup can be served with delicious bread.
Καλή όρεξη!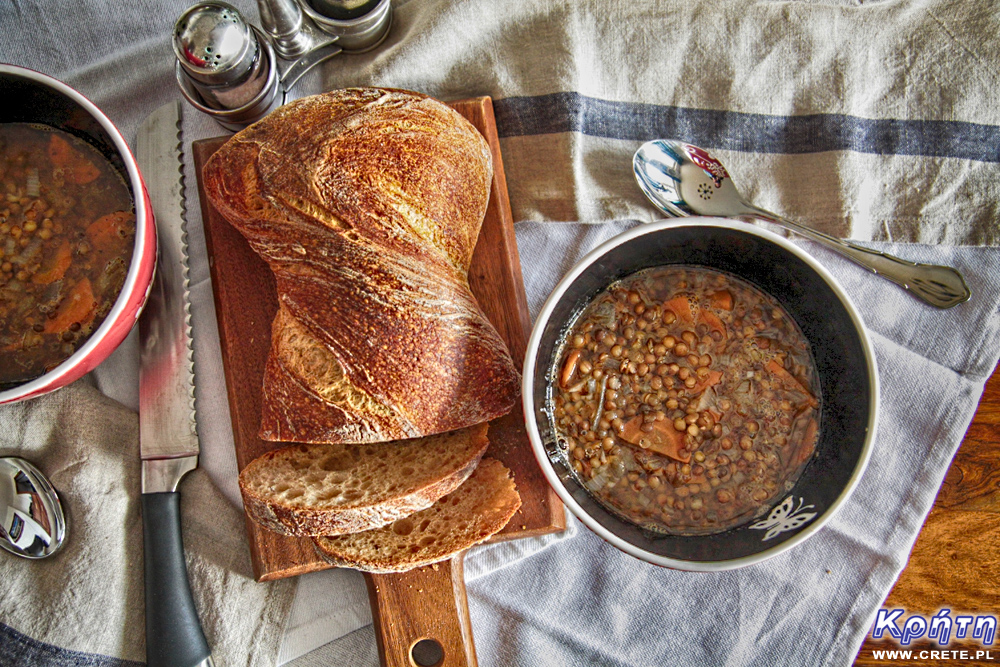 Data publikacji:
Data modyfikacji:
Wszystkie treści i zdjęcia występujące w serwisie są naszą własnością.
Wykorzystanie ich w dowolnej formie wymaga pisemnej zgody autorów.