Baked fish from the island of Spetse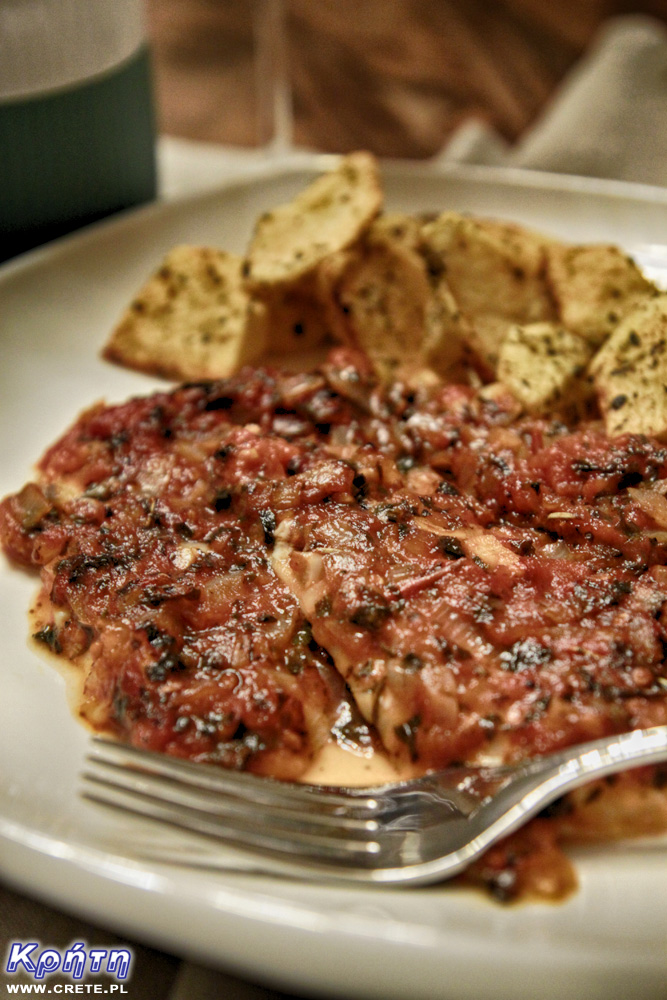 Components
olive oil (about 2-3 tablespoons)

1 medium-sized chopped onion

2 garlic cloves finely chopped

120 ml of white wine

1 can of chopped tomatoes with a pickle

a pinch of sugar

2 tablespoons finely chopped parsley

3-4 fish fillets (depending on the size), preferably species such as salt, shredded salmon, cod, or monkfish, turbot or penetrotte

Greek herbs for fish


salt pepper

juice from 1 lemon half
Ψαρια σπετσιώτικα
This is one of our favorite recipes for Greek fish dishes. It comes from the tiny island of Spetse located on the Halkidiki peninsula. It's an extremely delicious and quite simple dish that does not require the addition of sophisticated ingredients. Originally the Greeks sprinkle the fish with breadcrumbs at the end of baking, but I do not. I season the fish with a Cretan fish herb and a sprig of fresh rosemary. There are quite a lot of ways to make this dish, so I think that this small modification will not hurt, and I do not commit barbarism against this recipe.
If you add herbal wine instead of a dry white wine, it will further emphasize herbal flavors. The prepared fish can be served with roasted or fried potatoes. Potatoes can also be baked together with the fish, putting them on the underside of a casserole for fish. It must be remembered, however, that this method will extend the preparation time.
This recipe is quite flexible when it comes to fish species that can be made this way. Both fillets and whole fish will prove themselves in this dish.
1. Arrange the fish in a casserole with a thin layer of olive oil and sprinkle with lemon juice. At the end, sprinkle with salt and freshly ground pepper.
2. The preparation of the sauce begins with the frying in olive oil onion and garlic, to which after softening (about 5 minutes) pour wine. The amount of wine given in the ingredients is an approximate value, because in practice I usually pour them by eye. Then I add the tomatoes together with the pickle, parsley and a pinch of sugar.
3. Season with salt and freshly ground pepper and also add a pinch of herbal mix to fish purchased in Crete (with the composition: oregano, basil, celery and rosemary).
4. After bringing the sauce to boiling, screw the gas and reduce it until it is thick. The proper evaporation of the sauce is important because the excess water does not serve this purpose.
5. Put the ready-made sauce on the fillets and then put the sprigs of fresh rosemary on top.
6. Place the dish for 10 minutes in the oven preheated to 170 degrees. If the fillets are thicker, we keep them at this temperature for an additional 5 minutes. After this time, increase the temperature of the oven to 220 degrees and bake for a further 15 minutes.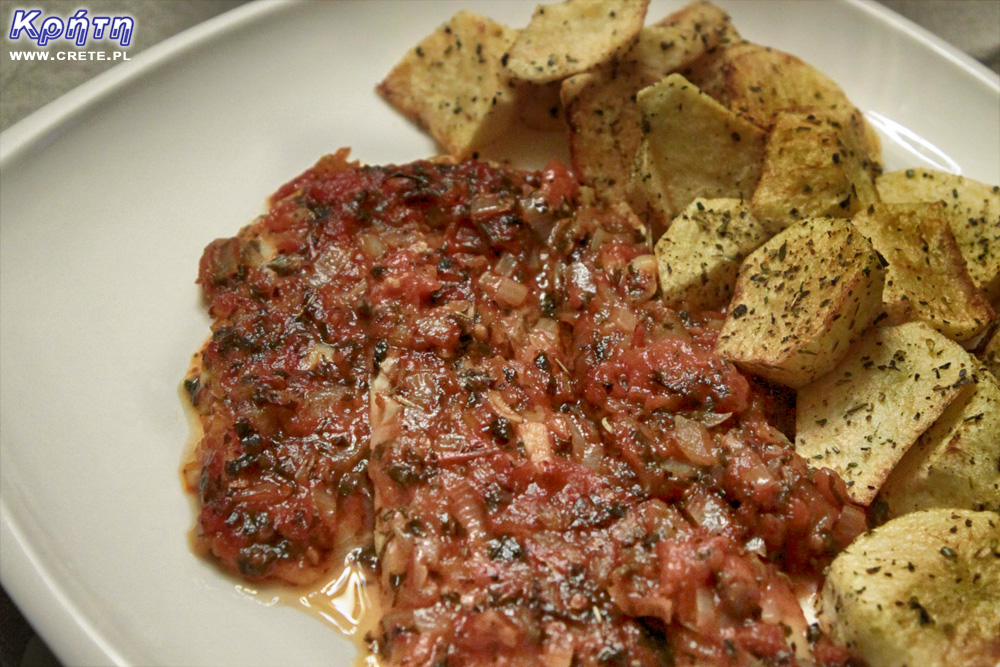 Data publikacji:
Data modyfikacji:
Autor Gosia
Wszystkie treści i zdjęcia występujące w serwisie są naszą własnością.
Wykorzystanie ich w dowolnej formie wymaga pisemnej zgody autorów.