Peppers stuffed with calamari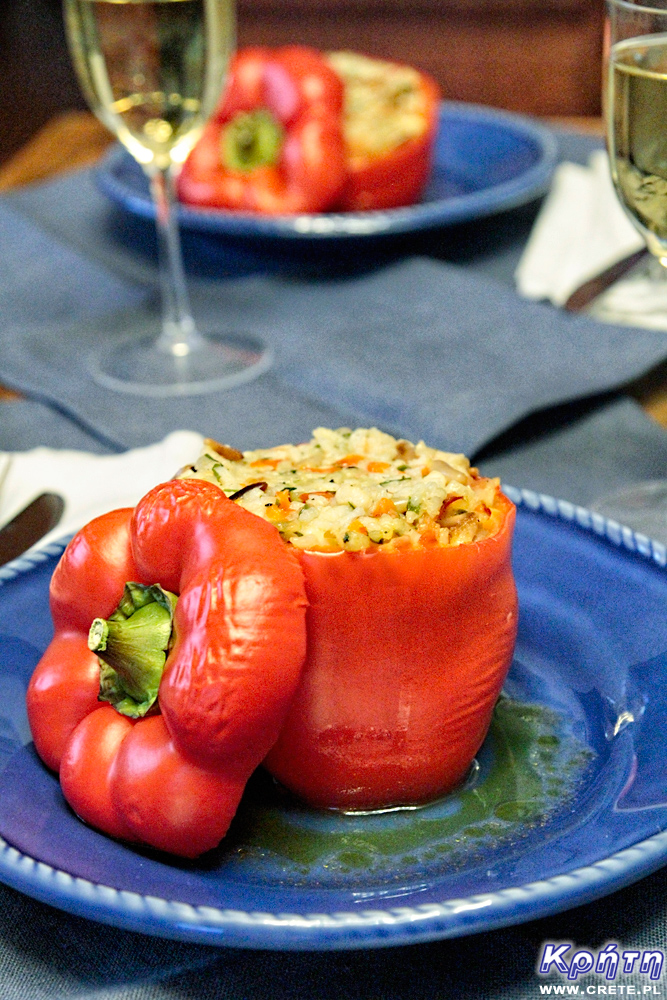 Ingredients for 4 servings:
4 large red peppers

1 red pepper (can be oblong sweet)

150 grams of rice for risotto

about 300-400 gr of cleaned calamari

4 chopped fine onion bulbs

3 cloves of garlic

squid

half a cup of oil

about a liter of vegetable broth

120 ml of white wine

1 tomato peeled from leather and seeded

2 tablespoons chopped parsley

5 tablespoons pine nuts

salt pepper

3-4 tablespoons of homemade tomato puree
πιπεριές γεμιστές με καλαμαράκια
The regulars of Crete and Greece know the gemista dish well, ie stuffed peppers, zucchini or tomatoes. This great tasty dish can be prepared both in the vegetarian version and with meat. In both cases it is just as delicious.
Recently, having some peppers and some calamari in excess, we started looking for a recipe for a dish, in which both of these ingredients can be used. As usually happens with us, in the first place we searched the Greek cookbooks. And bingo! We found an idea in the impressive book Vefa's kitchen for peppers stuffed with calamari and rice. It turned out that this is a slightly less conventional approach to making a traditional gemist :)
This dish will appeal to seafood lovers, because the squid flavor is quite clearly above the rest of the ingredients. However, if someone is cooking and tasting is not on the way with seafood, let it be better with the veg version of the gemist :)
1. Clean one pepper and cut into small cubes. Finches and garlic finely chop. Preheat some of the oil in the pan and fry these ingredients for about 5 minutes. Then add the rice and cook it over a high heat for about 2-3 minutes until it starts to be transparent.
2. Then add half a cup of stock, mix and reduce slightly the fire. As in the case of a classic risotto, the decoction should be added in portions when the rice absorbs the previous portion. Remember to mix frequently. After about 15-20 minutes, the rice will become creamy and soft. The rest of the decoction that has been left, keep it.
3. While fried rice with vegetables, warm the oil on a separate pan. Add the squid thinly chopped and fry over low heat until the excess water evaporates. Increase the fire, add wine and fry until the alcohol evaporates.
4. At this time, pine nuts must be roasted in a dry pan and the tomato should be cut finely. Put the fried squids, parsley, tomato and pine nuts into rice with vegetables. Season with salt and pepper and mix thoroughly.
5. Cut off the top parts of the other four peppers and carefully remove the seeds so as not to damage the vegetables. Pour the prepared stuffing inside each pepper. It should not be applied with a hill, because during the baking rice will increase its volume. We pour the peppers and stuffing lightly with olive oil, cover with previously cut pieces and put in a deep ovenproof dish. Pour the vegetable vinegar into the dish, which remains and add the tomato puree.
6. Cover the dish with aluminum foil and put in the oven preheated to 180 degrees. We bake peppers for about 65-75 minutes.
We serve hot preferably with a glass of white wine.
Καλή όρεξη!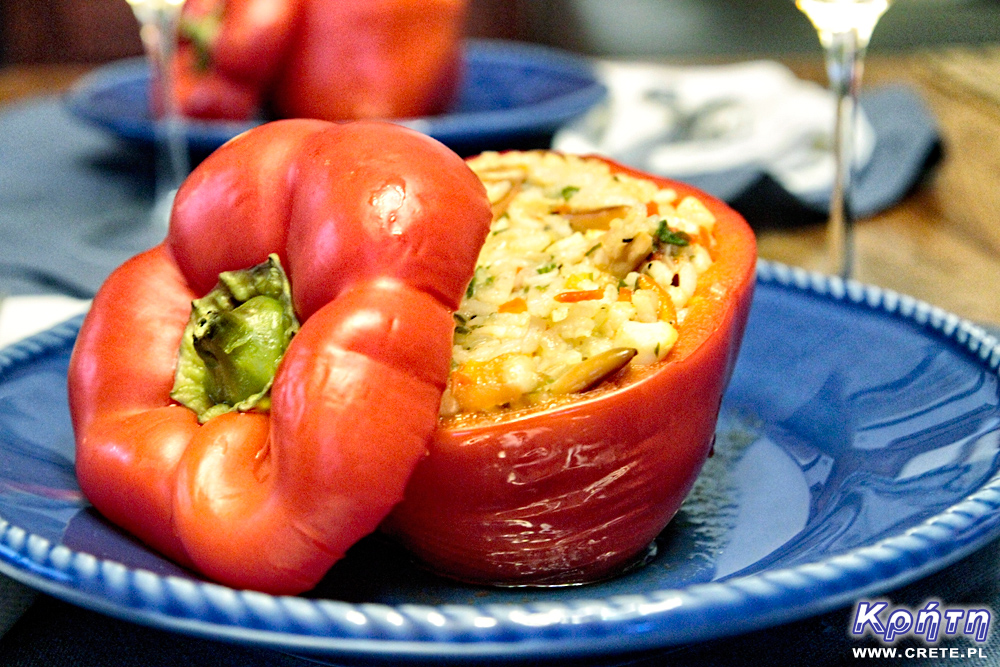 Data publikacji:
Data modyfikacji:
Wszystkie treści i zdjęcia występujące w serwisie są naszą własnością.
Wykorzystanie ich w dowolnej formie wymaga pisemnej zgody autorów.