Beef stewed in tomato sauce with noodles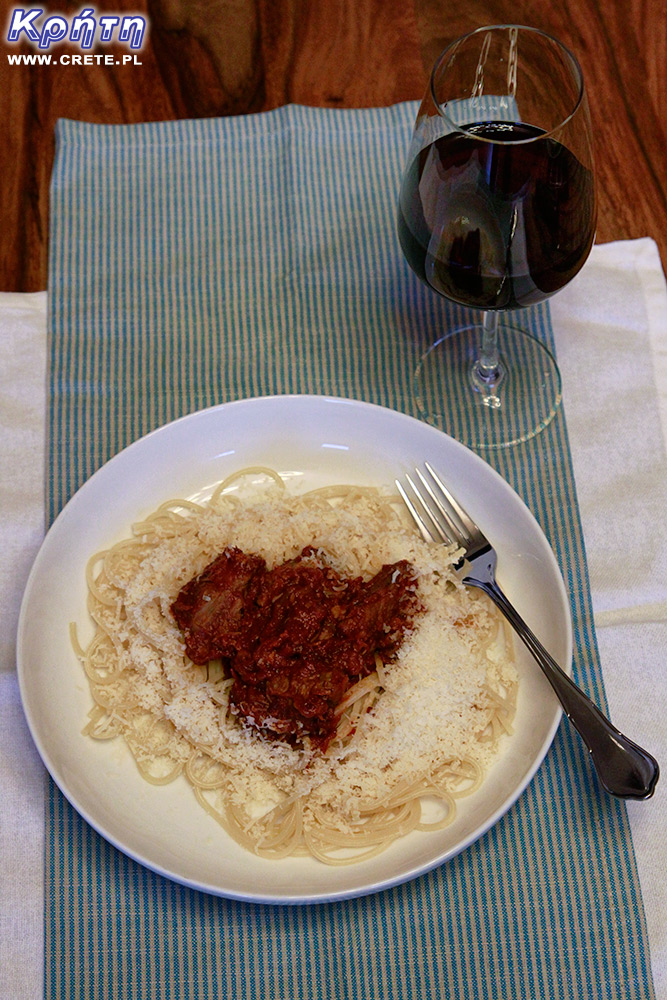 Components:
about 1 kg of beef for stewing

2 large red onions

2-3 cloves of garlic

4 ripe tomatoes or a can of skinless tomatoes

3-4 tablespoons of homemade tomato puree

a nice glass of red wine

a cup of oil

a larger pinch of cinnamon

a pinch of ground cinnamon

optional: a pinch of ground cloves or grated nutmeg

pinch of sugar

salt and freshly ground pepper

salt pepper

a portion of bucatini or pasticio, possibly thicker spaghetti

a portion of grated kefalotiri, parmesan cheese, grana padano, etc.
Μοσχάρι Κοκκινιστό
In our latitude, the combination of stewed beef with pasta similar to thicker spaghetti is very unusual. And the idea of adding tomatoes to stew meat is also far from Polish culinary customs.
When in Greece, however, it is worth abandoning your personal prejudices about food and be surprised by the different cuisine and combinations of flavors.
A good example of such an unusual dish that can appear on our plate is Μοσχάρι Κοκκινιστό (moshari kokkinisto), i.e. beef stewed in tomato sauce with a hint of cinnamon. It is served with bucatini noodles, which are sprinkled with grated hard kefalotiri cheese. It is a very tasty set and, most importantly, it can be prepared without major obstacles in Poland. Instead of kefalotiri, you can use another hard maturing cheese like Parmesan, Grana Padano. However, you should search in Polish shops, because you can buy Greek graviera and kefalotiri cheeses more often.

Μοσχάρι Κοκκινιστό is a very traditional dish, which in the past, due to the low availability of meat, appeared on Greek tables rather festively. Today, however, it is prepared much more often.
1. We start preparing the dish by washing and thoroughly drying the meat with a paper towel. Then, cut the beef into larger pieces (about 4 cm).
2. Heat the olive oil in a pot and fry the beef in it. After browning one side, transfer the meat to the other and repeat the process. Try not to overfill the bottom of the pan or stir the meat while frying.
3. Add chopped onion and garlic to the meat and fry another 2-3 minutes, then add the wine. When the wine has evaporated, add tomatoes and tomato puree. If fresh tomatoes are used, they should be peeled and chopped. In the case of canned tomatoes, you only need to slice them.
4. Season the whole with cinnamon, optionally with a scoop / cloves, a pinch of sugar, and pepper. Also pour hot water so that the meat is covered. Add salt only at the end of stewing.
5. Stew the prepared meat until tender over low heat, stirring from time to time. Stewing generally takes 1.5 to 2 hours. If the water evaporates significantly during stewing, add some warm water.
6. When the meat is soft, cook as much pasta as needed.
Put the cooked and drained pasta on the plate, put the pieces of meat on it, add the sauce and then sprinkle the pasta with grated cheese. Finally, you can pour olive oil on the dish.
7. Serve the dish hot and drink the rest of the wine that is left after opening the bottle ;-)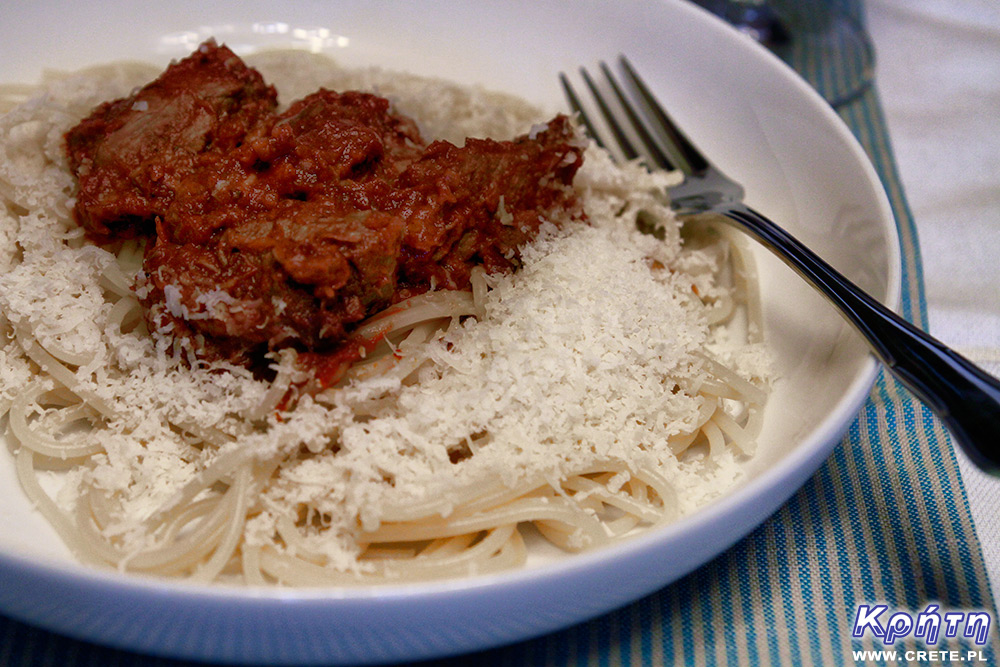 Data publikacji:
Data modyfikacji:
Wszystkie treści i zdjęcia występujące w serwisie są naszą własnością.
Wykorzystanie ich w dowolnej formie wymaga pisemnej zgody autorów.