Moussaka
Components
3-4 aubergines

3 potatoes (optional)

0.7 kg of ground lamb or beef

1-2 onions

around a glass of red wine

400 g tomatoes from cans or 5 larger grated fresh tomatoes

olive oil
Spices:

½ teaspoon of cinnamon,

2 tablespoons of oregano

½ teaspoon of ground cloves,

salt, pepper, a pinch of sugar

(or mix for moussaka)
Μουσακάς
Most people are asked to give names of known Greek dishes, first of all mention moussaka. This very famous meat dish consists primarily of eggplants, minced meat with tomatoes and béchamel sauce. In Greece, the best moussaka can be eaten in traditional family taverns, where the dish is refined, full of aromas and very tasty.
Moussaka ingredients are widely available. If you can not buy fresh lamb, you can use beef. Moussaka owes its unusual taste to spices, which should not be regretted. On the Greek islands, you can easily buy ready-made spice mixes composed just for moussaka. This is a good solution, especially if we already have a proven manufacturer. However, if we do not have such a cook, we can successfully replace it with cinnamon, cloves and oregano. Do not regret moussaka with wine, which will sensitively revive the taste of meat and nutmeg when seasoning béchamel sauce.
Originally only aubergines were used in moussaka, but now in taverns you can also find a version with eggplants and potatoes. Both options are good, but the one with potatoes is more filling. If you choose this version, you need to reduce the amount of eggplants.
The dish is very labor-intensive, so it takes a lot of time to prepare it. You can heat them for the next days :)
1. Cut the eggplants into slices of centimeters thick, salt and leave for about half an hour. During this time, you can cook potatoes (if you plan to add them to moussaka), which then cut into quite thick slices.
2. After half an hour, rinse the aubergines with salt and juice and then dry thoroughly with a paper towel. Heat a little oil in a pan and fry aubergines slices from each side until they become soft. These vegetables will absorb any amount of oil, so do not overdo it with its quantity. Alternatively, you can add some water to the pan. Fried aubergines are drained from excess oil on paper towels.
3. Heat a little oil in a frying pan and fry diced onion. Then add minced meat and fry until browned, then add about a glass of wine. My experience with moussaka shows that it is better to add more wine than less, so I never measure the exact amount, but I pour so much that the meat absorbs a lot of the wine aroma.
4. Then add the chopped tomatoes and reliably season. Cook on a medium heat for about 20-25 minutes, stirring occasionally. Excess tomato water should evaporate.
5. At the time when the meat is fried, we start to prepare a bechamel sauce. In a saucepan with a thick bottom, melt the butter and add the flour. Mix quickly with a whisk and slowly gradually add milk while stirring. Season the sauce with nutmeg, salt and pepper and leave to cool. Add the egg and grated cheese to the cooled sauce and mix thoroughly.
[Gallery = moussaka, = 0, title, description = 0]
6. Moussaka is a layered dish, and the order of arranging the ingredients is not accidental. The bottom of a large heat-resistant dish is laid out with aubergines or potatoes (if we use them). We put on a layer of meat and then eggplants. If you plan a larger amount of moussaka, then you can make more layers of meat and eggplants keeping in mind that there are always tightly arranged slices of eggplants on top. This will prevent lower layers from leaking béchamel, which is poured to the very top.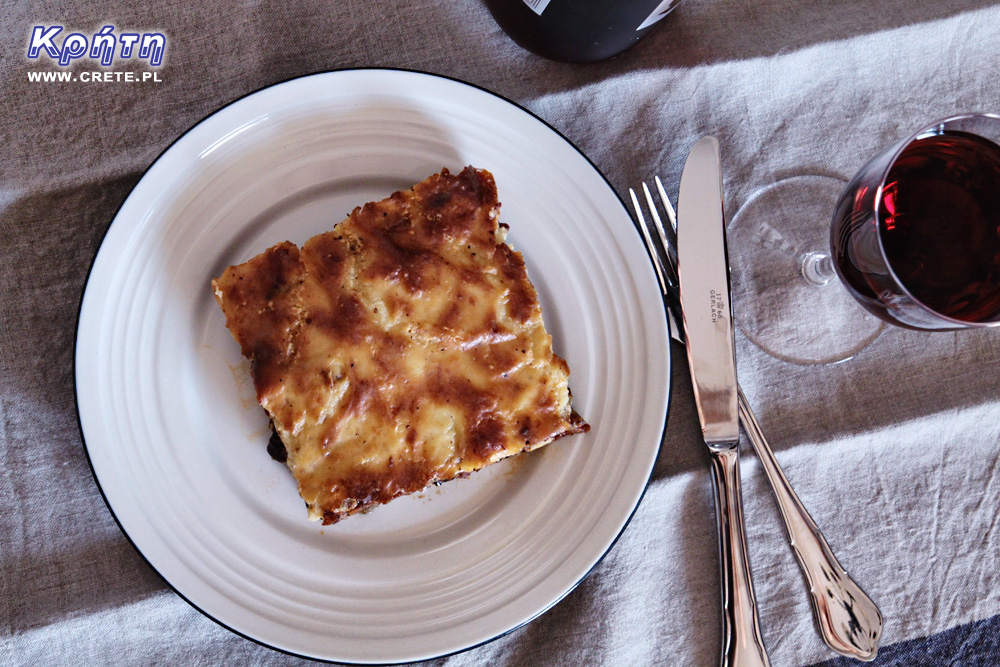 7. The amount of béchamel sauce is a matter of taste. I like it when there is more, because if it is well seasoned then its taste perfectly complements the taste of the dish. If you want to get a thicker layer of béchamel then simply increase the amount of ingredients during its preparation.
8. Bake moussaka at 180-190 degrees for about 45 minutes. If the béchamel sauce becomes golden brown, it means that the dish is ready.
Καλή όρεξη!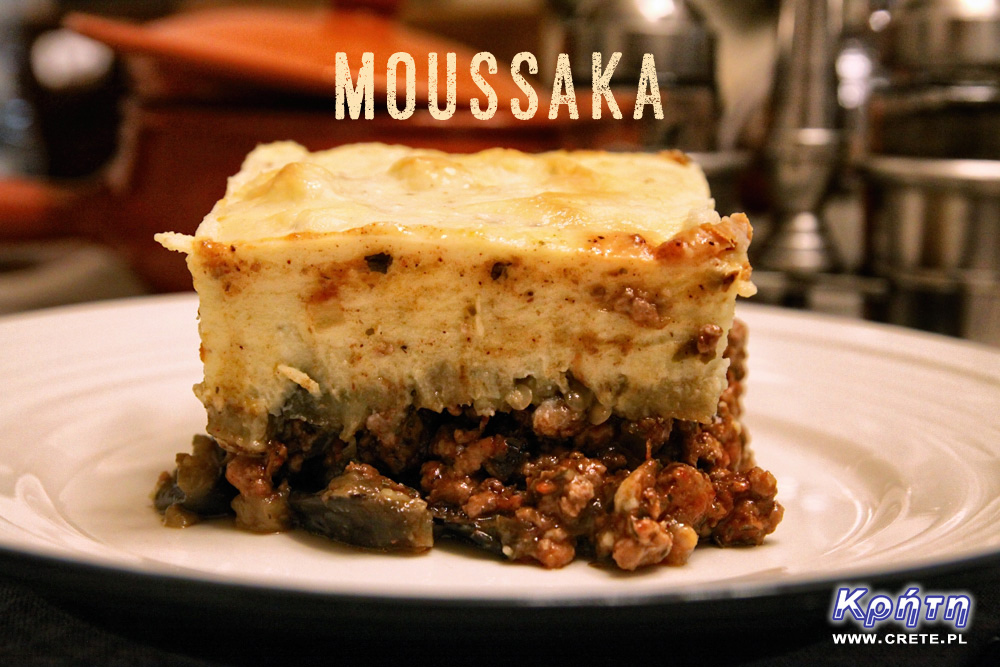 Data publikacji:
Data modyfikacji:
Wszystkie treści i zdjęcia występujące w serwisie są naszą własnością.
Wykorzystanie ich w dowolnej formie wymaga pisemnej zgody autorów.