Olive oil uneven, or classification of oil types
Many people looking at our store shelves may get the impression that the price and appearance of the bottle are the only parameters that distinguish individual oils. It is also easy to be under the delusion that all pressed oils are those classified as extra virgin olive oil. Cleverly created labels composed of appropriate graphic elements can cover up the much lower real quality of the product.
Before starting any discussion about the quality of oil, it is worth getting acquainted with the classification adopted on the European market. This list includes four basic types: extra virgin olive oil, virgin olive, refined olive oil (pure olive oil), pomace oil. Below you will find an overview of individual categories along with an approximation of their basic features.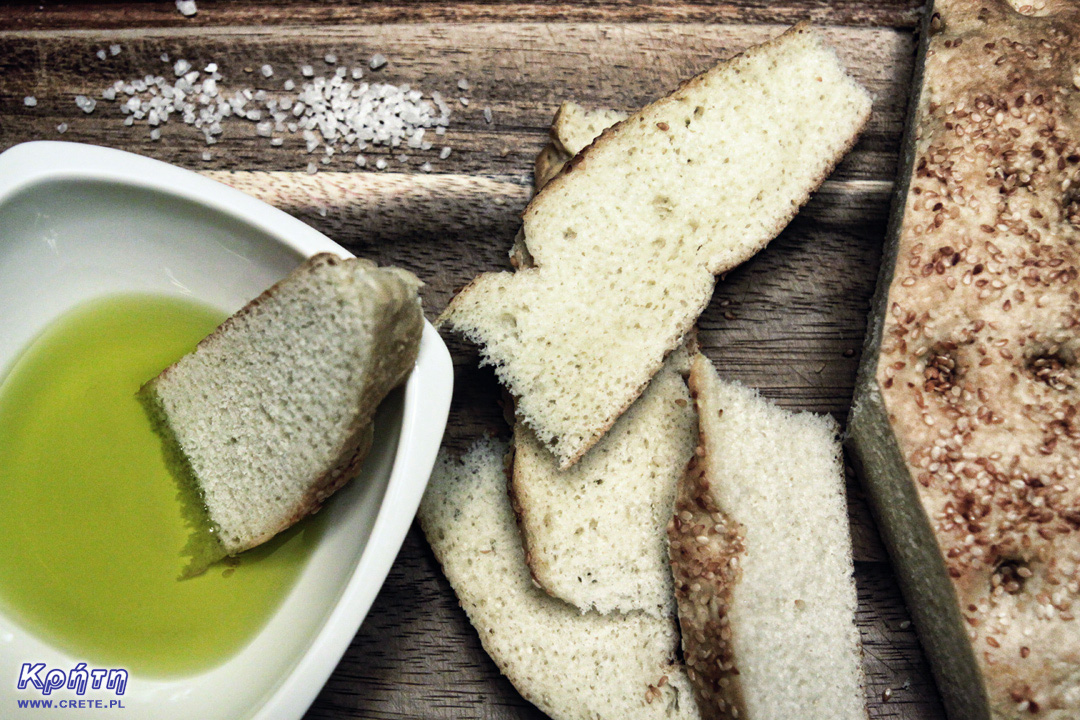 Extra-virgin olive oil
The most popular species is virgin olive oil extracted by cold pressing, whose acidity is less than 0.8%. By combing the corners of the Internet, I found erroneous opinions that all the oils currently available in the shops were extra virgine oils. Certainly, such a statement is not truthful. A good example is oil sold in one of the discount chains. It is vain to look for the words Extra Virgin on it, although according to the manufacturer's declaration it is virgin olive oil. Of course, it does not disqualify this oil from everyday use in any way.
By the way, it is worth noting that only 10% of oils obtained from the first pressing, from the total global production, meet the conditions of the extra-virgin class. For Mediterranean countries, this percentage is much higher. For pressed oils in Spain, it is 30%, while for Italian it is around 65%. In this field, Greece is a definite leader, because as much as 80% of the oil obtained at the stage of the first pressing is extra virgine oil. Such a result gives the concept of high quality and excellent taste qualities of oils originating from Greece.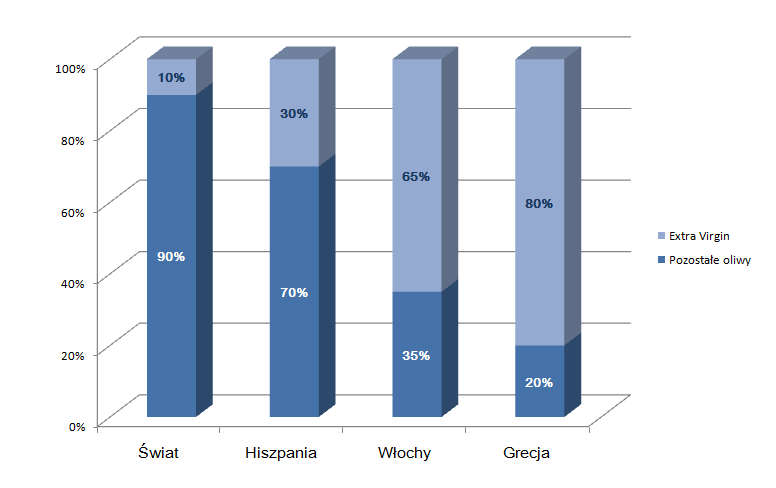 Percentage of extra virgin oil in the general production of selected countries and in the world
Virgin olive oil
Extra virgin olive oil of slightly inferior quality. The content of free acids should be within the range of up to 1.5%. These types of oils still have to have high taste qualities. All kinds of strange smells and unpleasant taste disqualify this type of products from consumption destination. These oils are usually intended for refining or other uses (e.g., in the cosmetics industry).
Refined oil
This type of oil arises as a result of chemical changes aimed at eliminating taste defects or too high acidity. Typically, the refining is used worse quality oils obtained from virgin, which have a bad taste or aroma, and their acidity often exceeds 3%. The unprocessed form of this type of oil is called Lampante. This name comes from the Italian word for a lamp and refers to the old typical use of these oils as fuel.
Refined olive oil is characterized by much lower acidity (at the level of about 0.3%) than the oil from the first two categories. Such a low result, however, is obtained at the expense of eliminating some of the positive attributes of the oil. Refining also has a drastic impact on the taste values ​​of the finished product.
In the course of trade, refined oil very often appears under the names Pure olive oil or simply Olive Oil. The oils of this type have a higher temperature of smoking, which is a particularly desirable feature when frying. For this reason, they are eagerly used in small gastronomy, all kinds of restaurants, bars, or taverns. Of course, refined oil is also suitable for domestic use, especially if the main purpose of the oil will be heat treatment at a higher temperature. If, after all, you have deleted this type of oil, remember that the vast majority of rapeseed oils so popular in Poland are also refined.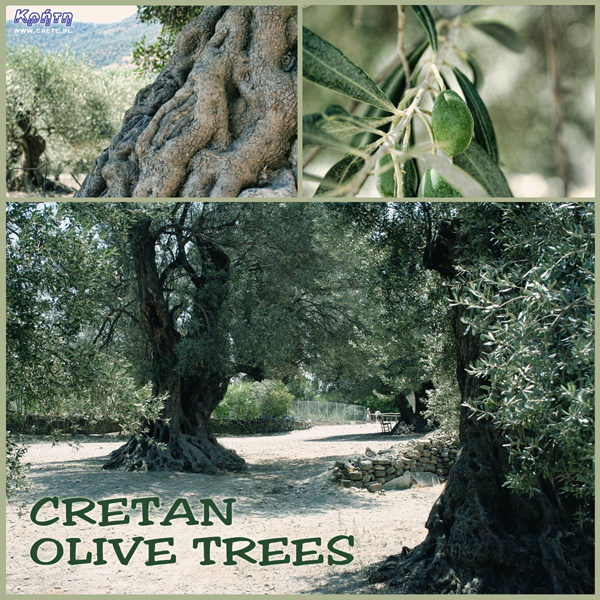 Olive oil obtained from Greek and Cretan trees is unrivaled
Pomace oil
It is created as a result of the refining of oil obtained from the re-pressing of the fruit pulp remaining after the extra virgin olive oil production stage. In this case, the oil is obtained by using a combination of several processes significantly facilitating the extraction of oil residues from imprinted pometches. One of the basic ways to increase efficiency is hot stamping and the use of solvents that support the process of obtaining oil. This is by far the worst type of oil that can not bear the name of olive oil. In a situation where the final product is intended for consumption, its taste can be enriched by the addition of other oils, including an admixture of olive oil. In most cases, pomace oil is not intended for consumption, and its typical application is industrial use.
You already know the classification of the oils, but at the end we would like to add something. From our own rather rich culinary experience, we encourage you to try and use Greek oils. In our opinion, in relation to oils available in Poland, they are unconventional in terms of both aroma and taste. Even the average Greek extra virgin olive oil will definitely be better than most of the best olives on our shop shelves - especially those advertised as the number one in one of the southern countries.
Data publikacji:
Data modyfikacji:
Wszystkie treści i zdjęcia występujące w serwisie są naszą własnością.
Wykorzystanie ich w dowolnej formie wymaga pisemnej zgody autorów.