Hiking trails in Crete
In Crete, in addition to beautiful beaches and ancient monuments, there are many gorges and mountain trails that attract people who prefer active rest and hiking. A lot of trails are relatively easy, although when assessing the scale of difficulties, one must always remember about individual possibilities and limitations, as well as take into account external conditions such as the temperature in summer or the amount of snow and water occurring there in early spring. Pedestrian crossings should be well planned, because it can happen that even in the case of frequently frequented places, what was supposed to be a simple and pleasant trip ends completely different.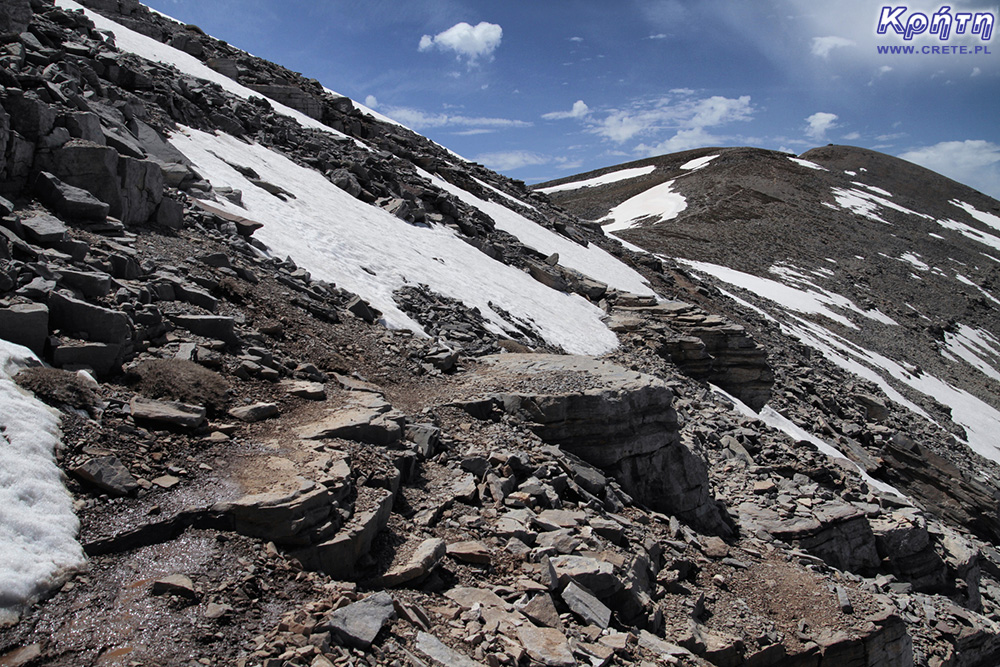 Road to Psiloritis
In principle, during each season, local emergency services have their hands full. Tourists on the "krecich" paths experience innumerable injuries, underestimate the power of the sun, overestimate their own abilities, go badly prepared for the trail, and get lost in space-time. Unfortunately, unfortunately, there are also more serious accidents every year. During the season, it is impossible to inform about all such events, because our website would undoubtedly become a kind of chronicle of accidents.
Different quality
Even if you have a lot of experience in walking around the Polish mountains, you should remember that the mountains and ravines are just different when going to the Cretan routes. They are much more dangerous, wild, have a different structure, most often they are poorly or even badly marked. Even these easy-to-follow trails are marked in an inadequate way, so you do not really need to miss the marked mark.
You will meet such a crowd on the trail only in Samaria
In principle, crowds of hikers can only be found in Samaria, which is a very crowded place. The remaining gorges or mountains are still not very popular and rarely frequented. Travel agencies do not organize optional trips to such places, so only individual people can be found on the trails. When choosing a niche place, it may happen that you will be accompanied only by goats along the way.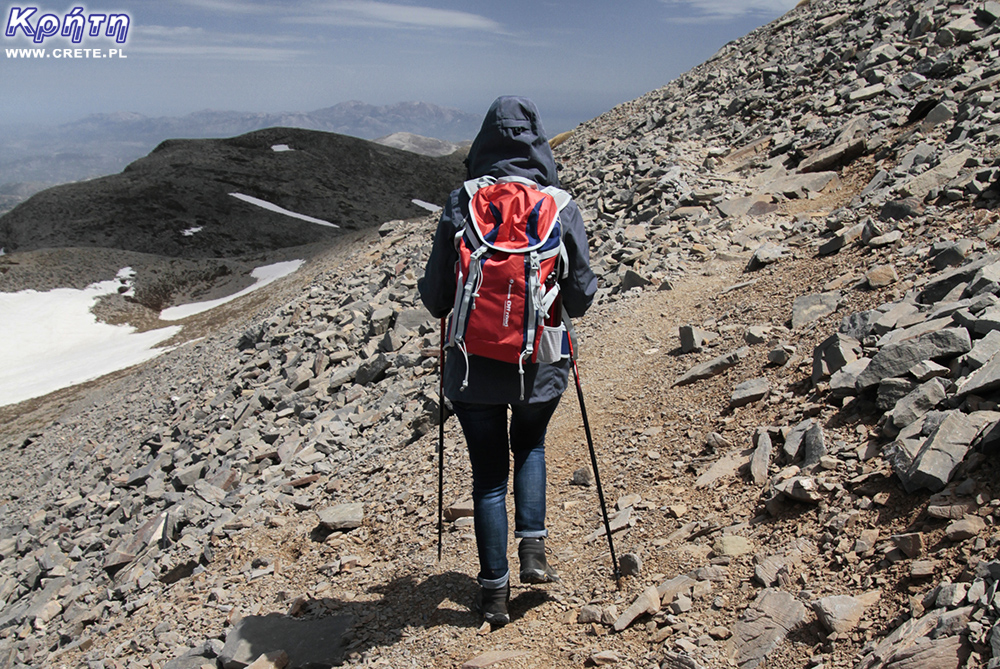 There are also places in Crete that are rarely visited due to the very high level of difficulty or due to the unavailability of the area. Sometimes even the locals are wondering why tourists are going to such places. Most of such transitions are located especially in the vicinity of the White Mountains or the Asterousia mountains in the south of the island.
Rustic paths can be narrow, rocky, very steep, exposed, led at a cliff or the edge of a cliff. Passing them requires, in addition to physical fitness, constant attention, because slipping or falling down can be disastrous. When the fragments of the trail are exposed, the problem is both the burning sun and a strong wind. Transitions in spring and autumn are burdened with an additional risk of rainy weather. The most difficult part of the E4 route between Sougia and Agia Roumeli is such a flagship example.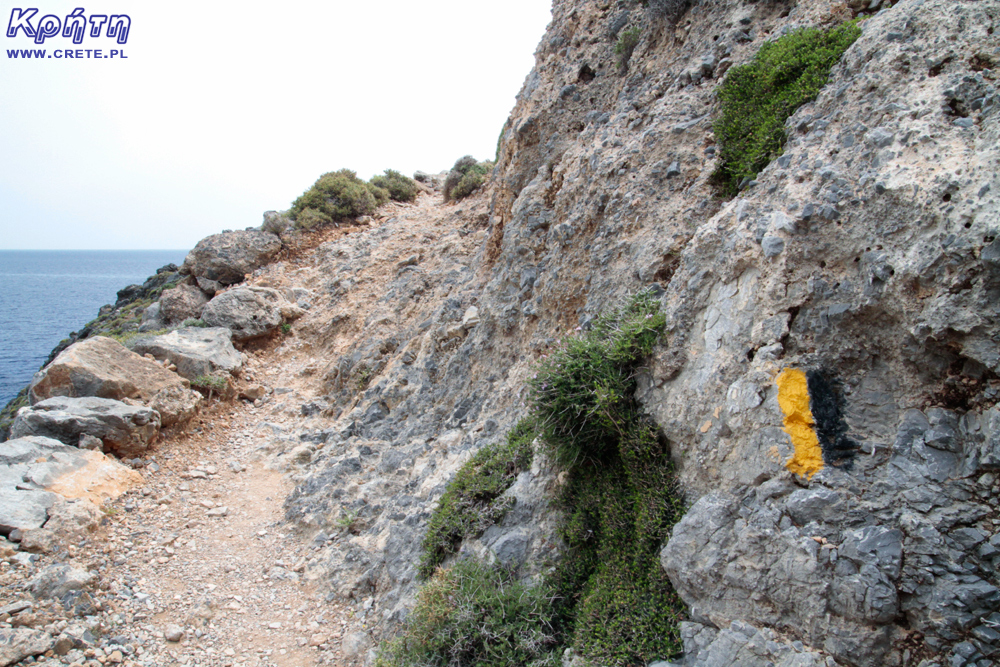 A fragment of the E4 route
Extremely difficult places
In some of the most dangerous and inaccessible places of Crete, there are warning boards requiring the return (eg Klados Gorge, Tripiti, both located to the east of Samaria). Only some locals and a few people with a lot of knowledge of mountaineering come to such areas. Both of these ravines have claimed many deaths, and some of the missing have never been found.
Photo source: cretanbeaches.com
As Stavros Badogiannis , president of the Association of Alpine Highlands in Chania ( EOS ) said, in one of the interviews on the above ravines : when people ignore the warning boards and go further they reach the point where the further path is possible only with the help of climbing equipment. Many climbers choose a different path here. People who see the sea think that they will just go down an alternative route that looks easy. After they begin to descend, it turns out that the further way down is getting more and more difficult or even impossible to descend further, and the return to the top becomes unreal because of the slippery, steep approach. It is said for such places λέσκωμα, i.e. a trap. Bumping into it you can not make any move, you are trapped, no one will hear you and will not see you.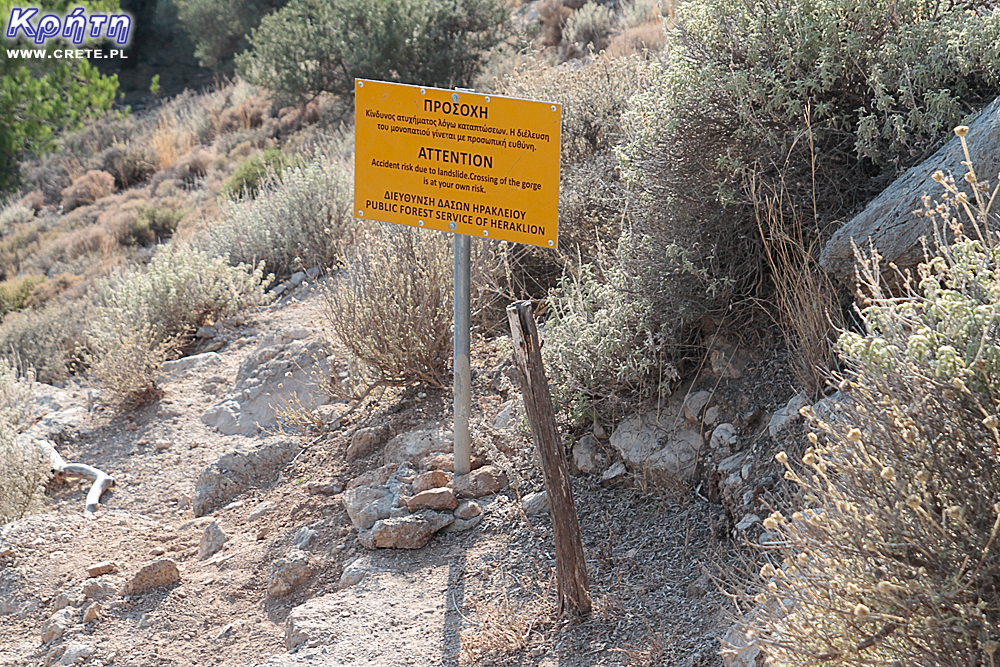 Entering the trail on your own responsibility - Rouvas Gorge
Many climbers who have been lost around the Klados or Tripiti ravines have never been found, and for many others, the rescue came too late. Many people who survived their unfortunate trip to this area of Crete ended it with serious wounds. One of the most tragic stories concerns a French climber who broke his leg while trying to pass the so-called. stairs in the Tripiti Gorge. After many days of being stuck in a hopeless situation and with no hope of rescue, this desperate man finally hanged himself on his own laces. He left a letter with him, in which he described the deep despair and drama of his situation.
Diversified scale of difficulty
Of course, not everywhere is so extremely dangerous. The scale of difficulties of the Cretan gorges is very diverse. Only some of them are available only to people with appropriate climbing equipment and appropriate qualifications (such as Ha, Eligia (Valahas), Koumos, Goula, Portela, Arvi, as well as Tripiti and Klados gorges). In such places, if you do not have proper preparation, you absolutely should not walk.
The remaining gorges, however, have easier and more difficult stages (Aradena, Richtis, Sarakin), and some are simply easy to cross (eg the Zakros Gorge or the Gorge of the Dead, Imbros, Agia Irini). This spring, an additional difficulty occurring in many places is a very large amount of water flowing down from the mountains. At the moment, some gorges are flowing with regular rivers that practically prevent their passage.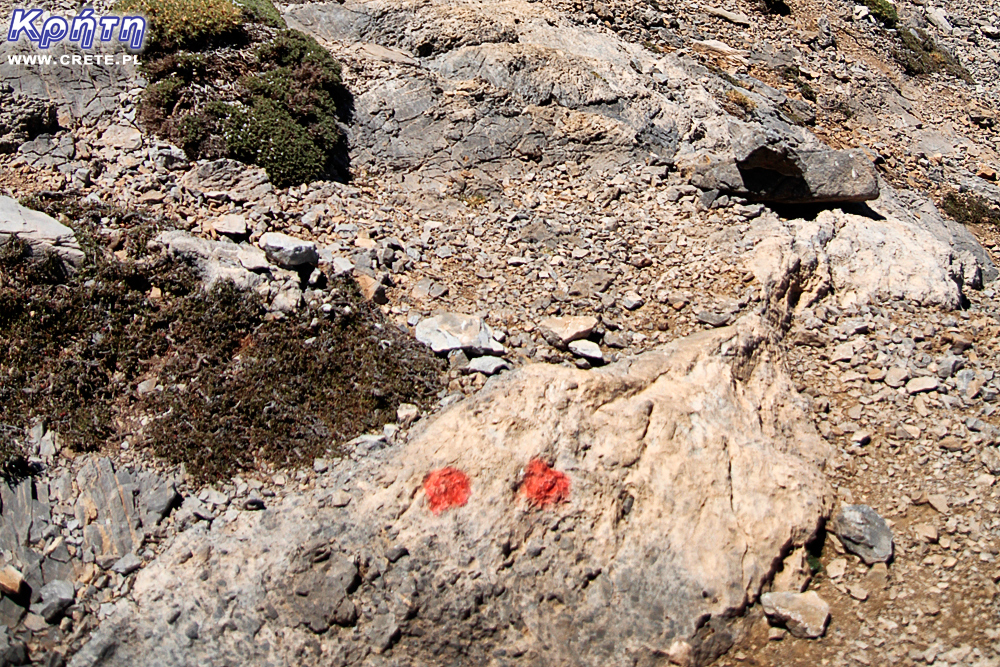 Such signs are easy to miss, especially on the way back
Appropriate preparation and reason in the head
If you plan a trip to some hiking trails during your holidays, you should prepare yourself, gather a lot of information about their difficulties, signs, approximate times of passage, and in some cases you will need to plan camps. We strongly advise against taking hot decisions, under the influence of the momentary admiration of the beauty of the surrounding nature.
If during the walk you realize that you have strayed from the path, you should go back the same way and absolutely do not choose the so-called shortcuts. If you think that the further route is definitely above your options, turn back. In such a situation, the least important are your ambitions or the nearness of the target is often illusory.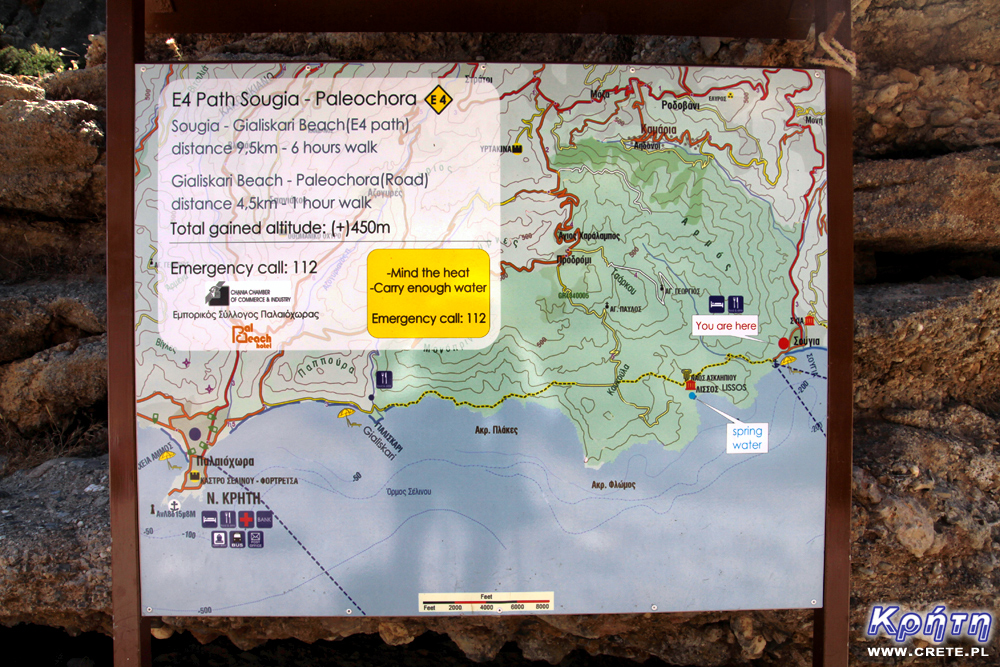 Before entering the trail, look at the information board
If you go alone or in a small group, leave information about the planned route in the guest house, write down the emergency telephone numbers. In case of problems, you will know where to call, of course if you go wherever you go. For more difficult mountain trails, it may also be a sensible alternative to hire an experienced guide.
Even if you are going on a trip organized by a travel agency or other organizer, you should always be well prepared (footwear, water, food, headgear) and not separate yourself from the rest of the group. Some of you have certainly read about the disappearance of Polish siblings very loud a few years ago that lost sight of the group before entering the Samaria Gorge. As a result, these people chose the wrong path that led them to the already mentioned, very difficult Tripiti ravine, where after a few days both died of exhaustion. Worse still, they were convinced all the time that they were going in the right direction, only the guide with the group left too soon.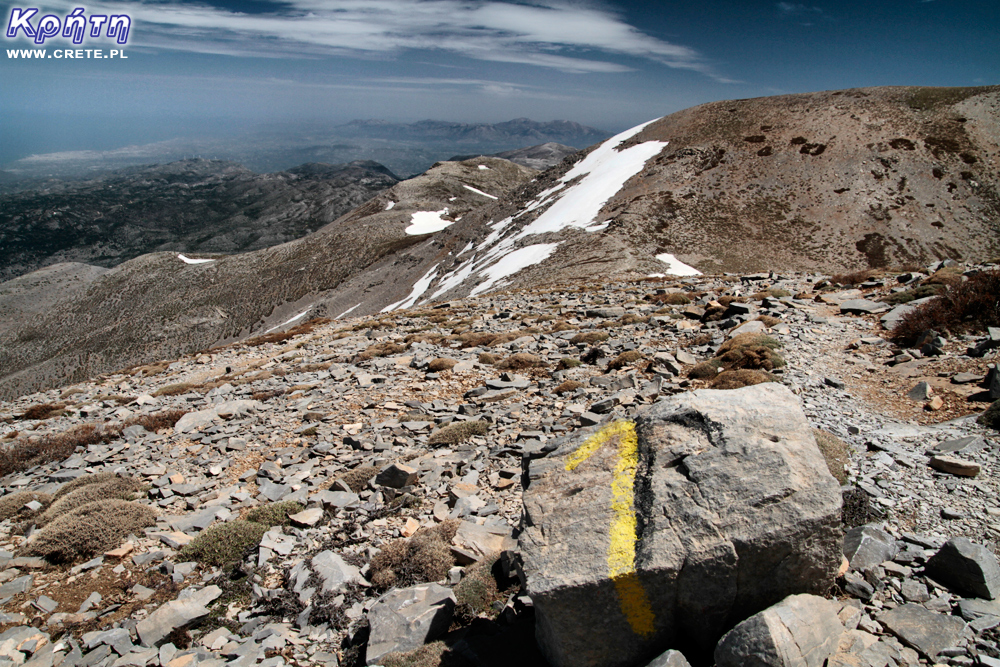 Markings on some routes are clear and clearly visible
Water is the basis
In the summer, when natural springs and streams have dried up, there are no access to water in many places in Crete. When planning a hiking trip, it is always necessary to remember to have a good supply of drinks with you. Insufficient water combined with summer heat, burning sun and effort will quickly cause dehydration. One such bad decision can cause you to get into real trouble, which will be difficult to disentangle.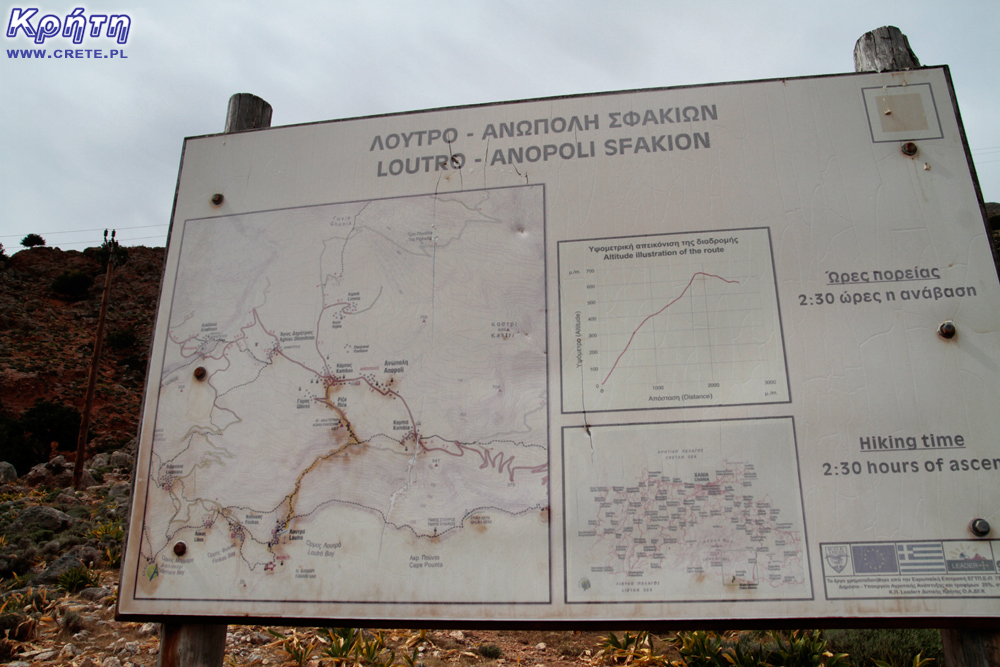 Profile of the Loutro-Anopoli route
We know this not only from newspaper reports but also from our own experience. If there is an injury in such area, and if you are alone, without a proper supply of water, and without the coverage of a cellular network, then you can get stuck for good. As an example, we can give you a relatively simple but slightly steep path between Loutro and Annopoli turned out to be deadly for a couple of French people who died on the path of exhaustion .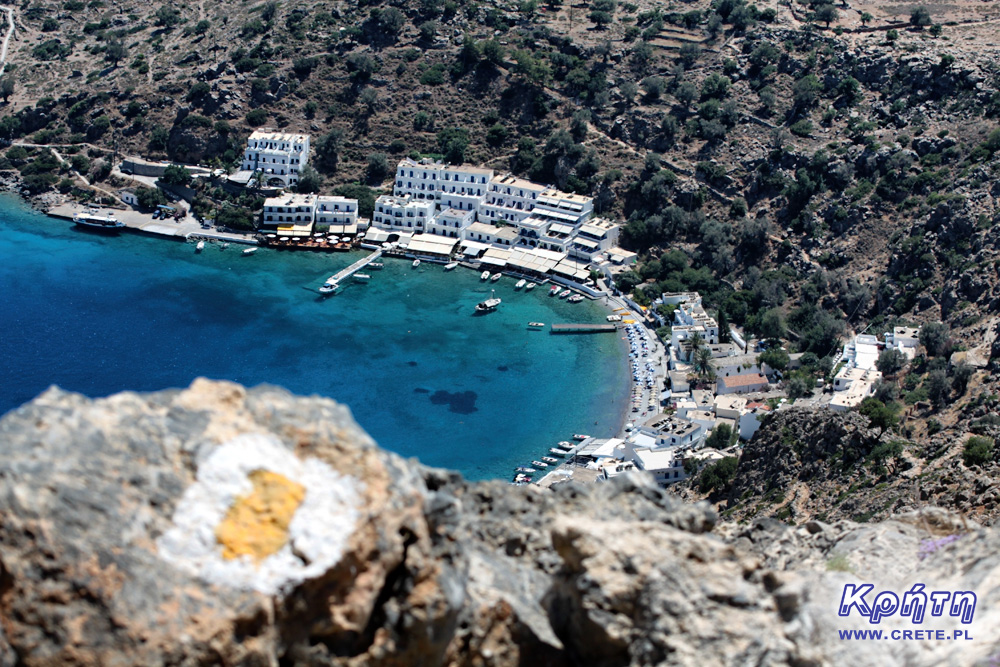 Trail to Loutro from Anopoli. Going down you do not feel the difference in altitude, the way back is another fairy tale.
Last missing
At the end of April, the fruitless search for an individual Polish tourist was completed, which decided on the independent passage of the most difficult part of the E4 route between Sougia and Agia Roumeli. Lack of telephone contact for several days and failure to reach the return plane caused the family to initiate an alarm and emergency services began their search on the island. After a few days of extensive action at the mouth of the same Tripiti gorge only the tent and personal belongings of the missing were found. After exhausting all exploration possibilities and passing the available surrounding paths, the rescuers completed the operation. The missing was searched for a week, although according to the law, in such a situation the action can be ended after 3 days. An extended search action testifies to the great determination of rescuers, although the area on which these people operated is one of the most difficult in Crete.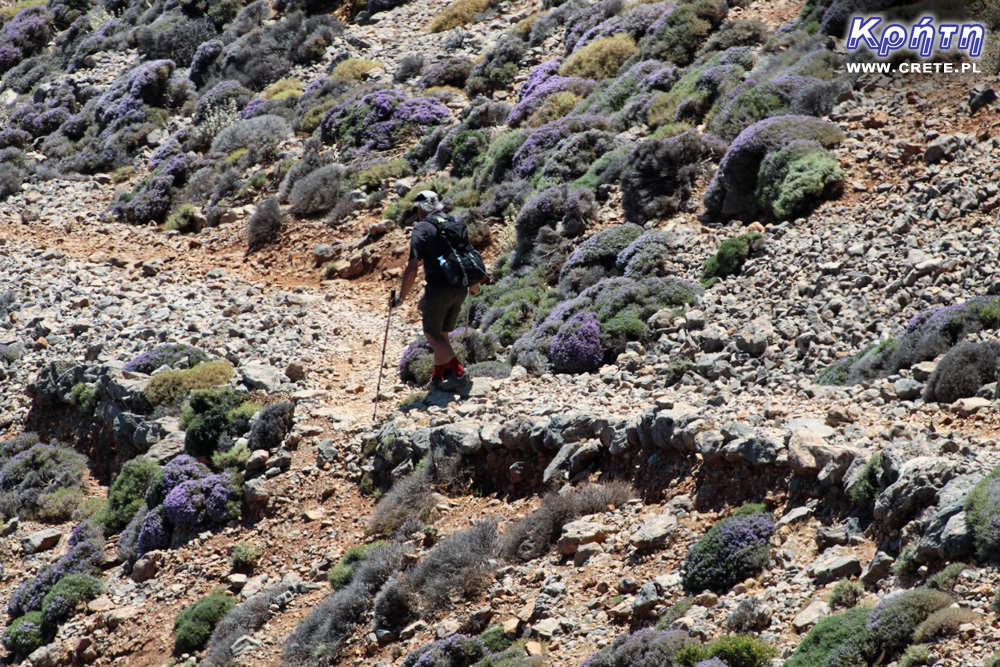 It was this last situation that contributed to the creation of this article. We do not want to scare you or to persuade you to sit in a hotel (because Crete is so dangerous ...). We encourage ourselves to the activity and sightseeing of the island on our own. However, every year more people are riding on Crete, and our website and funpage reach an increasing group of readers, from which only a part of them regularly goes through mountain reaps and experience in this field goes beyond the average. That is why we only want you to be on the trek in Crete and have the awareness of what can happen and be careful and have good sense in the back. Of course, we know that the world is full of "Cossacks", who will even come to Kazbek (and descend) in socks, but that does not mean that everyone is so lucky.
Data publikacji:
Data modyfikacji:
Wszystkie treści i zdjęcia występujące w serwisie są naszą własnością.
Wykorzystanie ich w dowolnej formie wymaga pisemnej zgody autorów.