Hotel rating system in Greece and Crete - EOT certificates


Hotel Blue Bay Escape Resort - four and a half stars, or the Greek category A +.
Assessment achieved by the high standard of public space and additional attractions such as: a large swimming pool, gym, animation for children, tennis courts and a volleyball court. Hotel rooms, however, in category C.
Practically in each country there are systems for assessing hotels and awarding them a corresponding number of stars. A similar system also exists in Greece, where keys are granted (ie stars). Their number determines the different level of equipment, infrastructure and the attractiveness of the hotel or guesthouse location. The amount of the rating depends on the number of points awarded to a given tourist institution and it can range from 2 to 5 stars. For an assessment of 3 stars, it is required to obtain from 5001 to 7500 points. These points can be obtained by appropriate equipment of rooms or the creation of adequate hotel infrastructure. Examples of point values ​​of individual elements are: reception - 600 points, hotel parking - 160 points, air conditioning in rooms - 840pkt, small equipment and furniture are items for which the hotel can get up to 200 points for a single item (eg a dryer). As you can see, the rating of a given hotel is not only dependent on the equipment of the rooms, but it is also influenced by other factors. This rating system means that hotels with a similar EOT rating can guarantee a very different level of accommodation.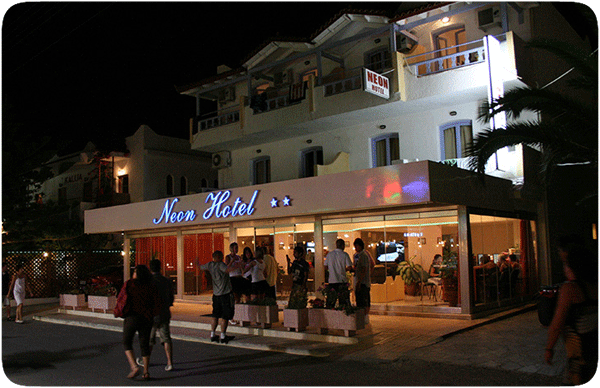 Hotel Neon - Greek category C - a typical Greek two stars.
The modest furnishings of the rooms and economical continental breakfasts are a standard in this class of hotels.
The use of facilities such as air conditioning is subject to additional fees.
The basic 4 categories of hotels are:
Deluxe - " L " ( ***** ) - Hotels with large rooms and public areas, tastefully furnished and furnished. The price of renting a room includes meals.
I class - " A " ( **** ) - Rooms and public areas of the size ensuring comfort with nice furniture. The price of renting a room includes meals.
II class - " B " ( *** ) - higher-class tourist class hotels "Superior". The price of renting a room includes meals.
III Class - " C " ( ** ) - Modest hotels mainly providing accommodation and usually breakfast.
Two additional categories (practically unused and not marked by hoteliers) are:
IV, V Class - "D" and "E" - Usually pre-war hotels in which you have to reckon with rather archaic equipment (eg shared bathrooms).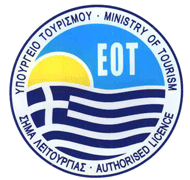 Obtaining an assessment confirmed by EOT is time-consuming and quite expensive ( from about 3 to 5 thousand € ), and also involves the need for the hotel to have other valid certificates such as: fire and tax, and meet health and sanitary requirements. The EOT certificate is awarded for a period of five years. During this time, it is necessary to renew, for example, the fire certificate mentioned above. Extending the validity of the assessment is associated with significantly lower costs than the initial financial costs borne by the company. Most of the hotels that have managed to complete the tedious procedure of preparing complete documentation, meet all formal requirements and pass the final assessment positively, trying to maintain and extend the received EOT certificate.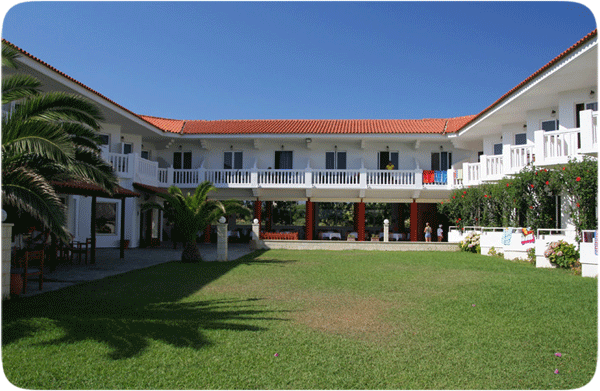 Hotel Chryssana - Greek category B +, equivalent to over three stars.
The furnishings and the appearance of the rooms can be very similar to the rooms of category C.
The price of the room includes meals - breakfasts and dinners. For some hotels, you can count on free air conditioning.
It is worth asking a question: should the client when choosing a hotel be guided by the company's possession of this certificate and the number of stars awarded? There is no unequivocal answer, but such an assessment is a determinant and a guarantee of the legality of the hotel's operation and the fulfillment by him of the minimum requirements necessary to obtain a given number of stars. It is also worth remembering that the standard of Greek hotels rated two stars will be noticeably lower than Polish hotels with a similar rating. Regardless of the number of stars awarded, it is also worth checking on the Internet what opinions the hotel is enjoying and which clientele it is focused on. You can irreplaceable sites such as tripadvisor or holidaycheck , where you can easily find reviews of most hotels. In the case of small boarding houses or people renting rooms in their home, a tourist should hardly expect to have an EOT certificate. As I wrote earlier, this is tantamount to quite high costs, and secondly, the legalization of activities is required, which is not so obvious in the case of Crete (and Greece).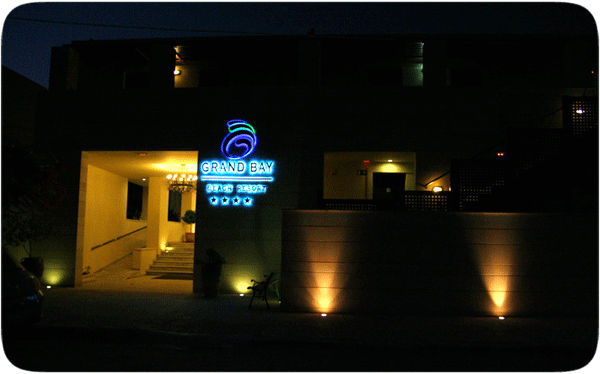 Grand Bay Hotel - one of the A category hotels, the equivalent of four stars.
Typically, in hotels of this category, full-board (so-called All Inclusive) and free air-conditioning are included in the room rate. Guests should expect slightly more spacious rooms equipped with relatively new furniture. Typically, hotels of this category and higher, due to the orientation towards mass tourism, lose the typically Greek atmosphere characteristic of hotels rated two and three stars.

EOT certificates are also awarded to other companies from the tourism industry. An example of such an enterprise may be a car rental company. Of course once again having such a certificate is by no means a determinant of the quality of services offered. In the case of this type of outlets, it is much more important that the certificate is a guarantee of the legality of the company's operations. This is tantamount to the fact that the company will not close its activity during our holiday. Two years ago, the case of a car rental company in Hersonissos was known, which turned out to be illegal. The company did not pay the required taxes, and the borrowed vehicles did not have the required insurance. Unfortunately, people using the services of this company had an unpleasant surprise in the form of a sudden shortening of the car rental period and a loss of money for the rest of the paid days.
Data publikacji:
Data modyfikacji:
Wszystkie treści i zdjęcia występujące w serwisie są naszą własnością.
Wykorzystanie ich w dowolnej formie wymaga pisemnej zgody autorów.