Vasilopita - Greek New Year's cake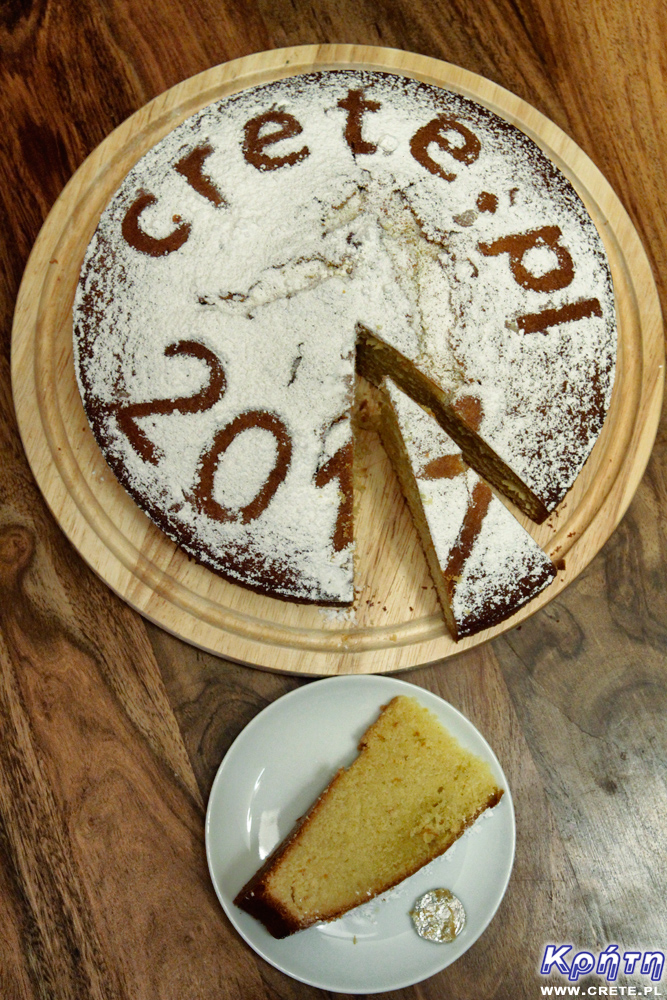 400 g of cake flour

2 spoons of baking powder

250 g sugar

170 g of melted butter

1 glass of fresh orange juice

50 ml of alcohol

1 tablespoon of orange peel

1 teaspoon of vanilla

3 eggs

powdered sugar for sprinkling
Βασιλόπιτα
Vasilopita is one of the most characteristic pastries prepared in Greece especially for the New Year. Depending on the region, you can meet many different rules that exist under the same name. Some of these cakes are reminiscent of a sweet challah and others are the basis for preparing a filo pastry, which is wrapped with the addition of sweet or spicy filling. Below you will find a recipe for a traditional vasilopita in the form of a biscuit dough.
Regardless of the recipe, a characteristic feature of all these cakes is the fact that a coin is placed inside the cake before baking. A householder or guest of the New Year's party, who will go to her in his piece of cake, according to tradition, in the coming year will enjoy special prosperity and happiness.
Baking Vasilopita is not too difficult or requires special culinary skills. However, it is important to take care when measuring the weights of individual ingredients and choosing the right baking dish. Our recipe allows you to make a cake in a cake form with a diameter of 24-25 cm.
1. Using a kitchen robot, we grind sugar and butter.
2. Add the orange juice, alcohol, orange peel and vanilla to the creamy mass obtained earlier. Mix again for about 2 minutes.
3. In the meantime, in the second bowl, beat the eggs and then add them to the pre-prepared mass. The whole mix for a further 2 minutes.
4. In a separate vessel, weigh the required amount of flour and then mix thoroughly with two teaspoons of baking powder.
5. Add the flour so prepared gradually to the previously mixed "wet" dough ingredients. The finished mass should have a smooth consistency.
6. Lay the bottom of a baking pan or baking mold with baking paper, while the side walls are greased with butter. To the prepared dish, pour the dough, and then press the coin wrapped in aluminum foil. The top is smoothed with a spatula.
7. Put the dough prepared in this way into the oven preheated to about 175'C. The baking time depends on the thickness of the dough and ranges from 45 to over 60 minutes. At the end of the baking, it is worth checking once in a while whether the dough is fully baked. You can do this by pricking them with a thin wooden stick. After removing it from the dough we check if it is not covered with raw dough.
8. Put the dough ready to cool and then take it out of the mold. At the end, decorate them, sprinkling the top with powdered sugar.
Καλή όρεξη!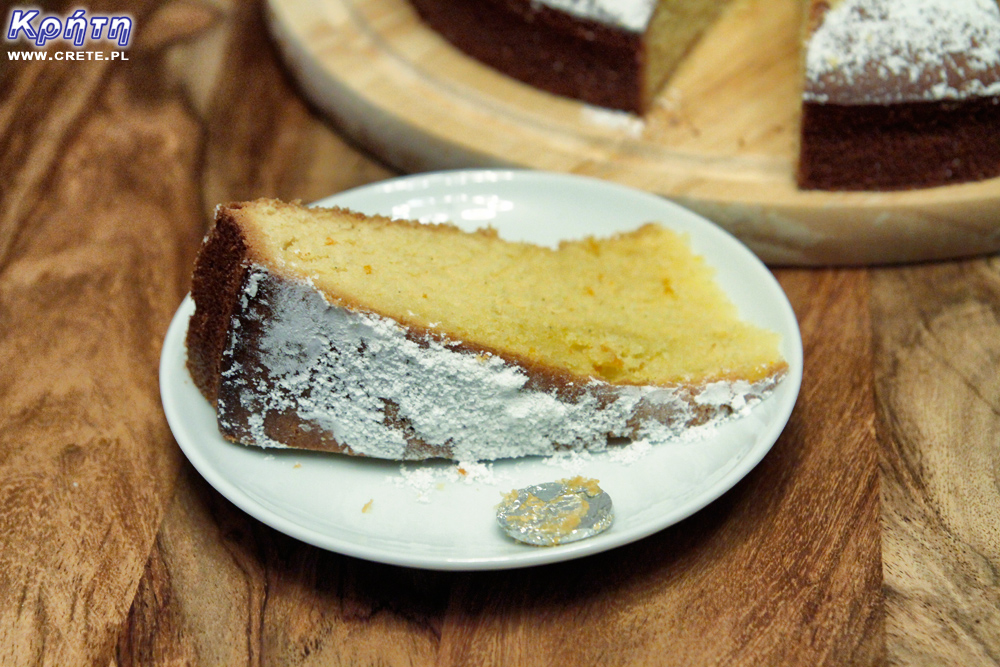 Data publikacji:
Data modyfikacji:
Wszystkie treści i zdjęcia występujące w serwisie są naszą własnością.
Wykorzystanie ich w dowolnej formie wymaga pisemnej zgody autorów.