Pocket guide Dumont - Crete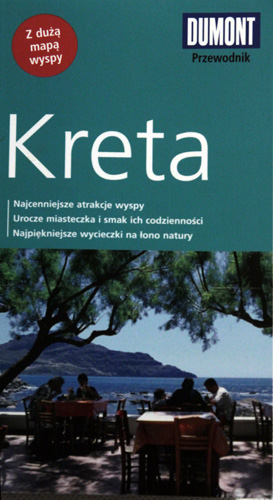 The "Kreta" guide from Dumont publishing house (in Poland printed by PWN) is another very handy pocket publication that is sold at a reasonable price of less than PLN 20. As with other such small guides, you will not find many descriptions of places here, and the amount of information provided is clearly limited by a small format of 19 x 10 cm and a small number of pages. Despite these restrictions, Klaus Bötig, who is the author of this guide, managed to put quite a lot of interesting information in it.
It is noteworthy that, as in the case of the RM guide, this is not a collective study. Dumont's "Kreta" is based on the experience of Klaus Bötig, who has been traveling this island for many years. This German writer-traveler has specialized in creating guides describing Greece and its islands. At the moment, he can boast several dozen publications discussing less than 20 regions of this country. On our market is also available his second guide to Crete, which was printed by the Pascal publishing house as part of the Marco Polo series.
A big plus of the Dumont guide is the very good print quality. The guide consists of 120 pages of thick Cretaceous paper. This translates into high detail of photographs that are a perfect complement to the content of this publication. Glued edge, definitely worsens the possibility of comfortable reading, but this is the only serious minus that can be demonstrated in relation to this guide.
The most attractive and valuable part of the guide is the description of fifteen trips that you can organize yourself on Crete. In relation to the rest of the guide, these contents are clearly distinguished by the green background color. Tours offer a very diverse level when it comes to duration and requirements for tourists. You will find here both walking walks, challenging trekking, as well as simple trips made by car. If you are looking for a ready plan to visit the most important attractions of Crete, these descriptions may be a good base for active development of two weeks of holiday spent on this island.
Descriptions of larger cities are enriched with small maps, on which the most important monuments and places important for tourists are listed. In the case of some excavations, next to the text you will find small plans to help you explore.
On individual trips you will find additional information containing a list of alternative attractions that are worth visiting in a given region of Crete. The descriptions of these places are relatively short and contain only a general outline of history. In this part of the guide you will also find a list of recommended taverns with a list of recommended hotels. This information can be particularly useful for people who will not be making a stationary holiday and have plans to travel around Crete. Remember, however, that at the peak of the holiday season, the occupancy of such places can be very large, so it is worth thinking about possible reservations in advance.
In addition to the aforementioned trips, the guide also contains a lot of practical information. In addition to the usual topics discussed in these types of sections, the author has attempted to include several more personal thoughts. It is worth mentioning the valuable and true advice related to navigating the New National Road. We were very pleased that in this section, as a reliable online source of practical information on Crete, our three pages dedicated to this island were indicated: www.crete.pl, www.kreta.favorites.pl and www.westcrete.favoites.pl .
In the final part of the guide there is a small glossary, a mini-phrase book and a town index. An interesting subchapter is the culinary lexicon, in which the Greek names of the dishes have been translated into the corresponding Polish names.
The guide is accompanied by a fairly schematic map of Crete on a scale of 1: 310,000, which is definitely more suited as a supplement to the guide's content than an independent product, thanks to which it will be able to move around Crete creatively. As in the case of other maps included in the guides, we strongly recommend you to buy an additional "serious" map well reflecting the network of Cretan roads.
In our opinion, this guide can work well as a complement to more extensive publications. The author focused on offering ready trip proposals and this is the strongest part of this guide. We also like the fact that next to the offer to visit the typical attractions of Crete, among the proposed trips were also less clichéd. For example, take a walk trekking through the Valley of the Dead or a suggestion of a walk along the Megalopotamos River flowing to the beach of Preveli.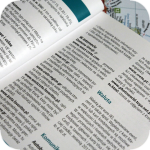 Nasze strony zostały polecone w informatorze tego przewodnika
Mapa przykładowego miasta wraz z polecanymi miejscami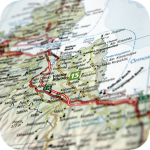 Wszystkie opisane wycieczki zostały wyróżnione na mapie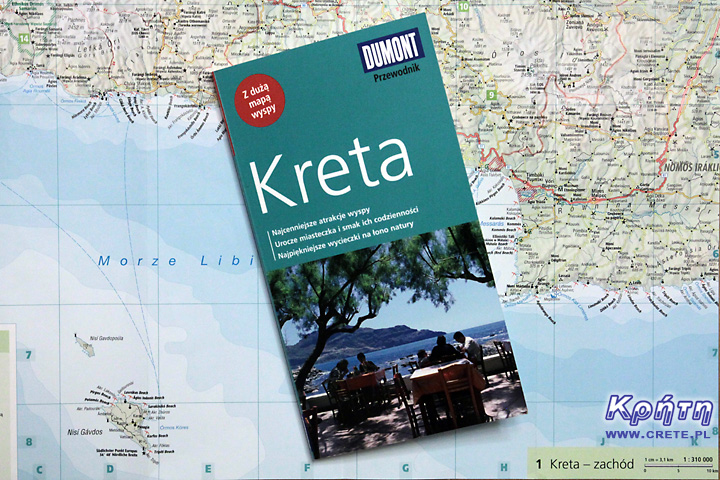 Data publikacji:
Data modyfikacji:
Wszystkie treści i zdjęcia występujące w serwisie są naszą własnością.
Wykorzystanie ich w dowolnej formie wymaga pisemnej zgody autorów.