Pascal's Guide to Crete, series-around the world-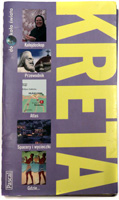 Pascal's Guide to Crete from 2006 (with resumption in 2009) belongs to the series of guides around the world, which are characterized by a small format (24 x 11 cm), a soft spiral binding and a colorful cover with a large, vertical name of the described place. This graphic design makes these guides easily recognized on the shelf in the bookstore. The Crete Guide is a collective study translated from English with 192 pages. The book was printed on glossy, chalk paper, which kept the image quality high.
The first 30 pages of the guide are a brief introduction to history, culture, Cretan world and local cuisine. There is also a place to describe the fauna and flora of this island and the most famous in the world of the Cretans. People who have never traveled to this island will let you know it a bit.

The rest of the guide was divided into four parts: Iraklion, Central Crete, East Crete and Western Crete. Each of them starts with the presentation of several one-day trips including visits to attractions in a given region. In the following, descriptions of the most interesting places are placed, which have been arranged in a conventional order from the most important to the less important. Place descriptions are completed with practical information such as the time of admission, price category and short remarks.
Each of these four departments closes the section In their free time with additional proposals of interesting, but less well-known places worth visiting, as well as information about the example hotel and gastronomic database of the described region.
The last chapter of this guide is Walks and Trips, or descriptions of five separate several-hour routes, both for tourists and motorists. In our opinion, this is an interesting addition to the previously described places and a good proposition for people who have a problem with independently composing additional trips around Crete. Of course, these descriptions should be treated only as a preliminary proposal, which can be modified in any way by adding or subtracting further intermediate points.
At the end of the guide there is an Informator, a somewhat simplified map of Crete and an index of the described towns. During everyday situations, Polish-Greek mini-phrasebooks may be useful.
When using this guide, keep in mind that it was released a long time ago, so some of the information may have already become obsolete. Whenever possible, it is worth to confirm the data contained in this guide on the basis of other sources. In particular, this applies to opening hours, ticket prices and the availability of visiting individual tourist attractions.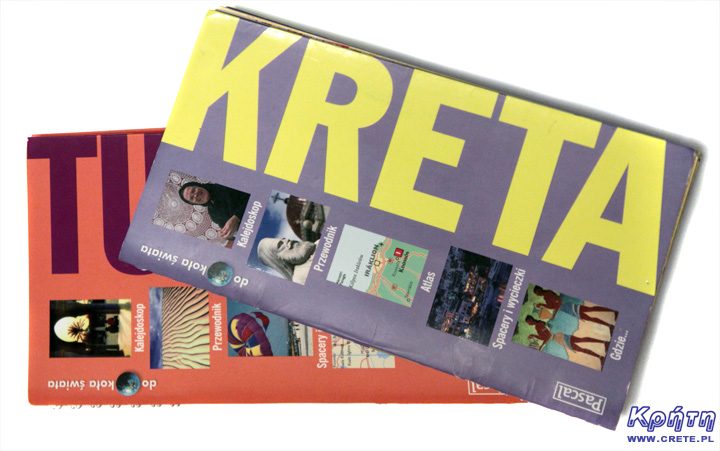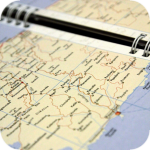 Na zdjęciu widoczna jest schematyczna mapa Krety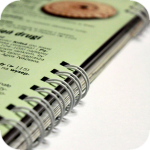 Brak klejonego grzbietu znacznie ułatwia operowanie tym przewodnikiem
Przewodnik złożony na jednej z przykładowych stron
We used this guide intensively during our first trip to Crete. It is on such trips that it will work best, because first and foremost, the most known and recognizable places are described in it. Tourists who know this island better and are interested in more thorough sightseeing will not find enough information in this guide, as the number of described alternative facilities is relatively small. However, these people, as we wrote above, do not constitute the target group of this guide.
We never used the map at the end, because it is too simplified and schematic. If you are moving a rented car or scooter, it is better to buy a separate car map, which will be more detailed and allow for better orientation in the field.
In practice, this guide turned out to be very handy, because thanks to the binding on the spiral, it can be folded in half without any harm, which would be impossible in case of publication with a glued ridge. This solution allows you to easily read the page we are interested in containing information about the place currently visited.
The guide of Crete from the "Around the World" series of the Pascal publishing house is, in our opinion, a good proposition only for beginner kretomaniaków.
Data publikacji:
Data modyfikacji:
Wszystkie treści i zdjęcia występujące w serwisie są naszą własnością.
Wykorzystanie ich w dowolnej formie wymaga pisemnej zgody autorów.