Jellyfish glowing in Greek waters - scientists speak out
A few days ago, we wrote about the fact that glowing jellyfish ( Pelagia noctiluca ) began to appear off the coast of Greece, which are considered to be one of the most dangerous jellyfish species found in the Mediterranean Sea. Its appearance is noted by Internet users in the iNaturalist application and the inaturalist.org website. On the map of Greece, all places where Internet users noticed this species are marked.
In the case of Crete Pelagia noctiluca has been spotted and recorded so far in the areas of the cities of Chania, Ieraperta, Sitia and Heraklion and the beaches of Elafonissi, Plakias, Agios Pavlos, Agia Pelagia, Kato Gouves and Xerokampos. The list of these places has been published recently. Does this mean, however, that bathing in these areas is dangerous and should be avoided?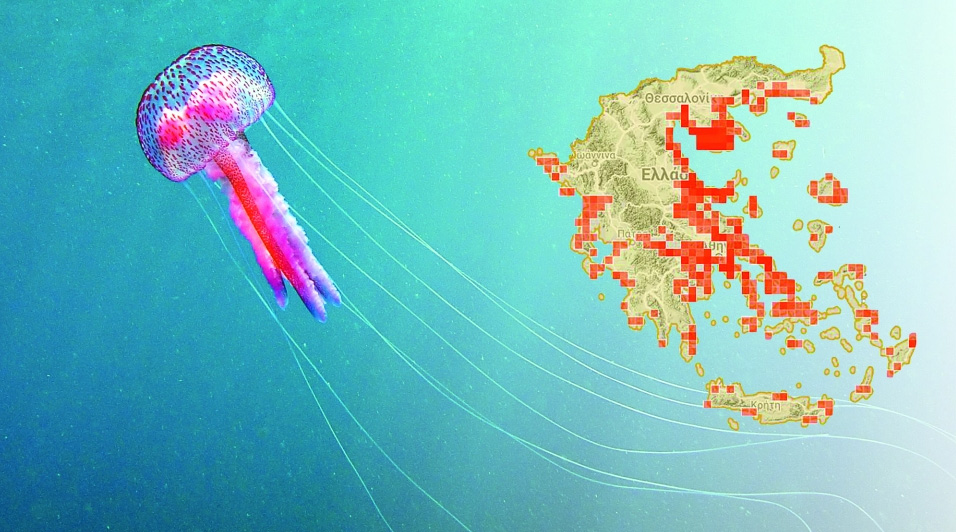 Areas of Greece where the presence of glowing jellyfish has been noticed so far
Source: www.protothema.gr
As we wrote in our previous article , the species Pelagia noctiluca began to appear off the coast of Greece from October 2020 and it is expected that the problem will worsen for at least another 1.5 to 2 years. The burns caused by these jellyfish are very painful, take a long time to heal and can cause permanent scarring. In extreme cases, after contact with the stingers of this jellyfish, symptoms such as severe local pain, drop in blood pressure and tachycardia, severe nausea combined with vomiting or shortness of breath may appear.
Due to the possibility of serious reactions following burns, doctors especially warn people diagnosed with allergies to avoid swimming in waters where the presence of these jellyfish has been reported.
Scientists speak up
Due to the serious consequences of meeting the glow jellyfish, the topic gained a lot of publicity. Almost all Greek media issued warnings, and biologists from the Institute of Marine Biology in Heraklion have also spoken out.
According to the words of Ms Jolanda Koulouris, who works at this Institute, at the moment the situation in Greece is fortunately not as dramatic as it is, for example, in Spain. She also emphasizes that you will have to get used to the presence of these jellyfish off the coast of Greece and constantly monitor their population and places of appearance.
Ms Koulouris also said that when using the iNaturalist application and map, one should pay attention to the dates of the appearance of this information. This is necessary in order not to draw wrong conclusions and avoid swimming on beaches where glowing jellyfish have been spotted so far. On the above-mentioned map, red dots mark all the places where this species was noticed, both in recent days and a few months earlier. That is why it is so important to carefully follow new appearances and verify the dates of these relationships.
Yolanda Koulouris also emphasizes that single specimens do not pose a great threat. Although, of course, this does not change the fact that the unlucky people who meet this specimen on their way will have a different opinion. The real danger increases greatly when more jellyfish appear in one area. At high concentration, 99-100% of people staying in the water at that time suffer burns. However, for example, the appearance of 100 to 1000 jellyfish in the bay is considered a moderate concentration. Ms Koulouri explains that the significantly increased concentration of jellyfish is visible to the naked eye from land. These jellyfish, thanks to their purple tint, are better visible in water than their completely transparent cousins.
In order to face this new danger, it is also necessary to know the behavior of this species. The important information is that it is passive, i.e. it does not follow food by itself. Jellyfish are carried by sea currents and waves. Inland winds will transport jellyfish deep into the sea. You have to pay special attention to what is happening in the sea when the wind starts blowing from the sea. This is because waves and sea currents can drip purple jellyfish into coastal areas and beaches.
See also:
A dangerous jellyfish off the coast of Greece

2022-06-18 21:32:00
see other news from this month »
Wszystkie treści i zdjęcia występujące w serwisie są naszą własnością.
Wykorzystanie ich w dowolnej formie wymaga pisemnej zgody autorów.