A dangerous jellyfish off the coast of Greece
Bathing in the warm waters of the Aegean Sea, which washes the coastline of the Greek islands, is undoubtedly a great pleasure. The unique color of the water and its transparency are attributes associated with Greece, holidays and carefree vacation. And although, as a rule, the inhabitants of this sea do not pose any greater threat to people, it is worth knowing that for some time the population of a specific species of glowing jellyfish Pelagia noctiluca has started to increase significantly.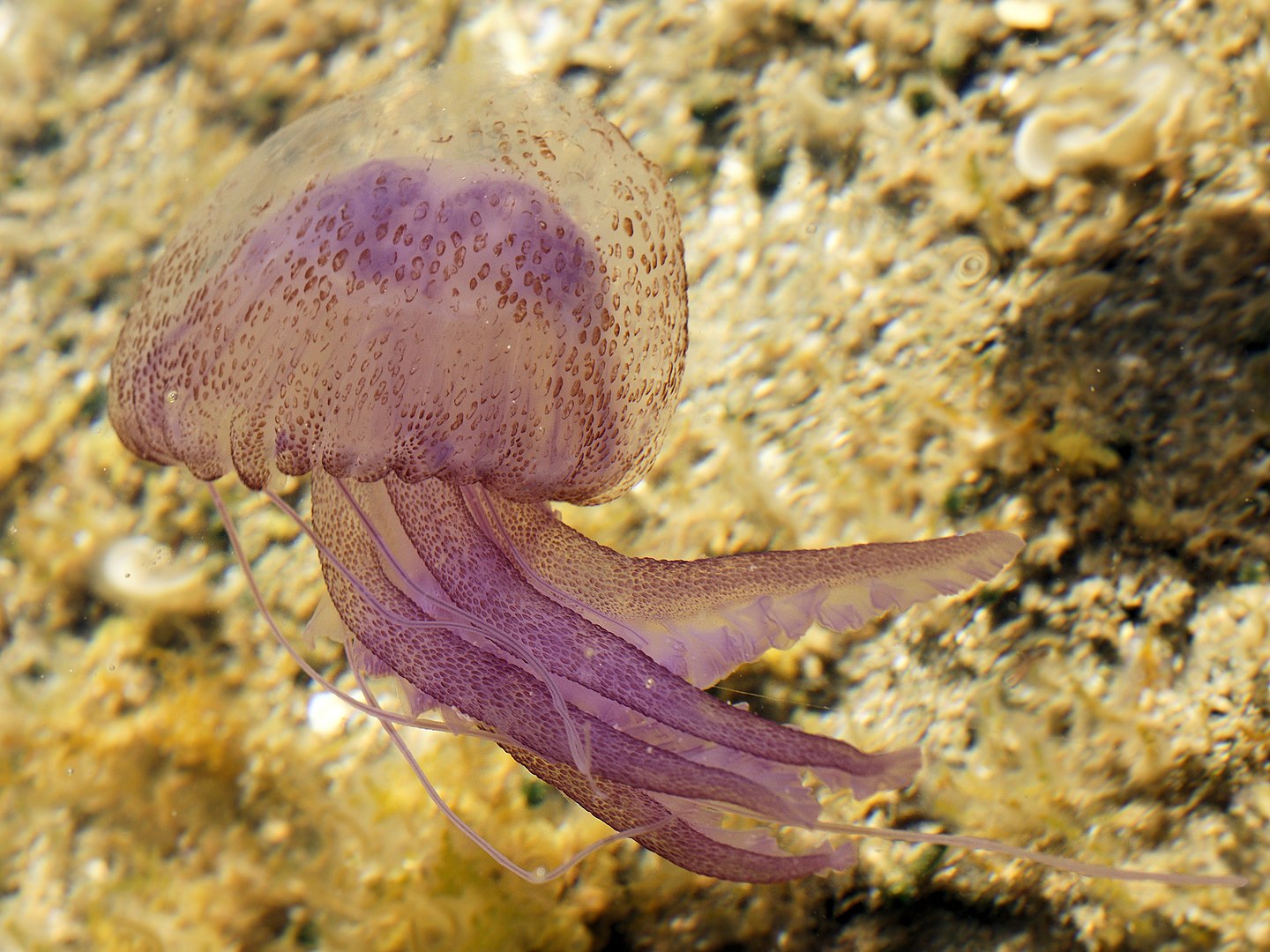 © Hans Hillewaert
Their occurrence is recorded in Greek waters from October 2020. Currently, since the beginning of this year, they are already noticed in various regions of the Aegean and Ionian Sea, also in the waters around Crete. In the course of the summer, the population of these jellyfish will certainly increase even more as the warmer sea temperature promotes the reproduction of Pelagia noctiluca. One of the factors that contributed to the appearance of more of these jellyfish in this region is also the global warming, and thus the increased sea temperature. An important reason is also the decrease in the population of fish and sea turtles that hunt these jellyfish.
Although naturally these creatures tend to swim at greater depths, now it happens that they more and more often swim just below the surface of the water, and the sea is able to throw large amounts of these jellyfish onto the beaches.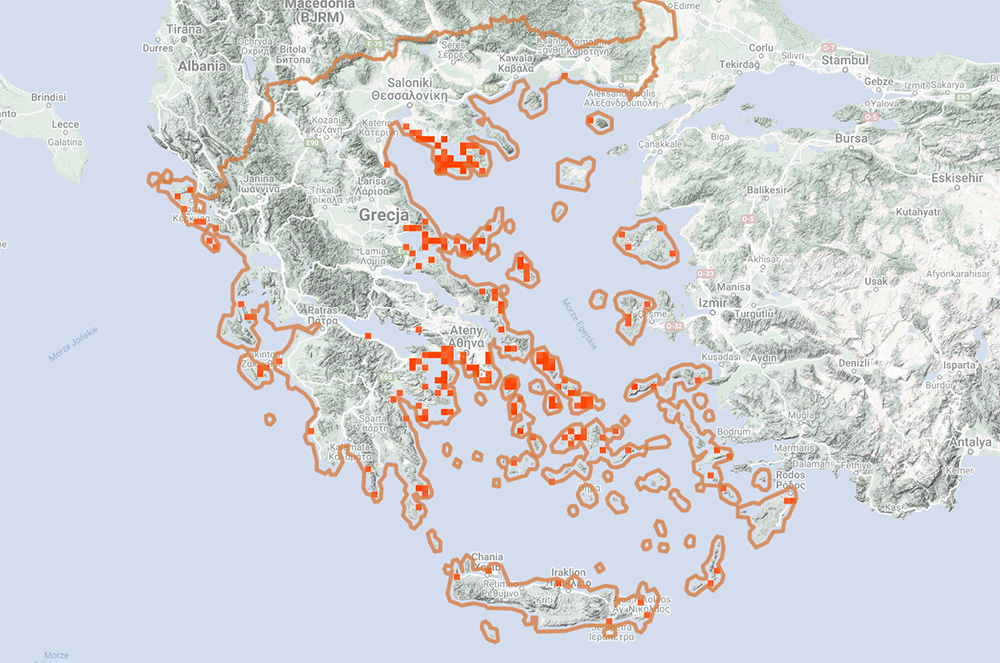 All places with glowing jellyfish have been marked in red on the map
in Greek waters
Dangerous beauty
Glowing jellyfish, also known as purple jellyfish, are considered to be one of the most dangerous jellyfish species in the Mediterranean Sea. The meeting with them is remembered for a long time, because touching the antennae with stung cells causes very painful and long-lasting burns. Therefore, these animals should be avoided with a wide berth, not to touch them or remove water in which we see such jellyfish because its antennae can be very long. We can only afford something like that when we have gloves on our hands, e.g. while diving.
Pelagia noctiluca is usually purple-pink in color, so it is quite distinctive and eye-catching. Unfortunately, pretty colors can be an incentive for some people (especially children!) To get to know them better, which, unfortunately, may end badly.
Unpleasant consequences of the meeting
A stinging sting is like being stung by multiple bees at the same time. There is reddening of the skin that has been in contact with the jellyfish antennae and pain that may persist for up to a week after such contact. Worse still, burns can leave permanent scars and marks on the skin. If, after such an encounter with jellyfish, you still notice symptoms such as nausea or vomiting, muscle spasms or breathing problems, you should immediately contact your doctor.
If you do not notice such problems, it usually helps to remove the remains of the stingers from the skin with tweezers and rinsing it with vinegar. After that, the burned skin should not be washed with water, and even less exposed to the sun.
A serious nuisance
The threat that a meeting with a large swarm of these jellyfish can pose can be seen in the cases recorded several years ago. In 2008, in the Costa Blanca region of Spain, 4,000 people needed medical assistance during just one day. A year earlier, a huge swarm of these jellyfish killed as many as 100,000 salmon for a total of £ 1 million on a farm located in Northern Ireland. During this invasion, jellyfish occupied an area of 26 square kilometers of sea.
The presence of these jellyfish has been a serious problem for many years in coastal towns in Spain. On the beaches where they appear, special warnings for tourists are introduced. The amount of jellyfish thrown here by the sea is enormous and the removal of several tons of these animals requires the use of tractors. So the rapidly expanding population of glow jellyfish in Greek waters is a serious handicap and threat.
Tunisian beach covered with tons of glowing jellyfish
See also:
A dangerous fish off the coast of Greece

2022-06-14 20:04:32
see other news from this month »
Wszystkie treści i zdjęcia występujące w serwisie są naszą własnością.
Wykorzystanie ich w dowolnej formie wymaga pisemnej zgody autorów.