Kolokithokeftedes - cutlets of zucchini and potatoes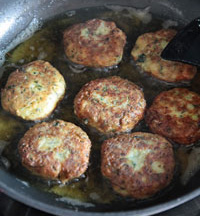 Components
1 kg of zucchini

½ kg of boiled potatoes

2 onions

2-3 tablespoons chopped parsley

2-3 tablespoons chopped fresh mint

approx. 100 gr. feta

approx. 100 gr. any grated yellow cheese

2 eggs

breadcrumbs (about 110-130 gr)

flour for rolling


olive oil

salt, freshly ground pepper
Κολοκυθοκεφτέδες
Zucchini cutlets is a great way to have a less traditional dinner or a great snack. They are served with tzatziki sauce, which is their perfect complement. Unfortunately, it is prepared quite labor-intensive, however, their luscious slightly mint flavor rewards the preparation. They tolerate heating well, so you can eat it the other day.
The most important issue when preparing Kolokithokeftedes is very strong imprinted excess of water from zucchini. If we do not do it, the chops will start to disintegrate during frying. '
1. Wash courgettes and after drying, grate on a large mesh grater, lightly salt and leave for about 40 minutes. After this time, we extract the zucchini very carefully from the excess of water.
2. Add zucchini potatoes, finely chopped onions, cheese, eggs, herbs and spices to zucchini. To get the right consistency, add the breadcrumbs gradually until you can form a small, compact ball in your hands, which is finally flattened to form a chop.
3. Heat a small amount of olive oil in a frying pan. Chop each chop in flour and fry until brown. If the mass is quite compact, then you can give up breading in the flour. We serve obligatory with tzatziki sauce.
4. Optionally, you can prepare Kolokithokeftedes without potatoes, but then you need to add a bit more breadcrumbs. It is also worth to cover the chops in a beaten egg before coating in flour.
Καλή όρεξη!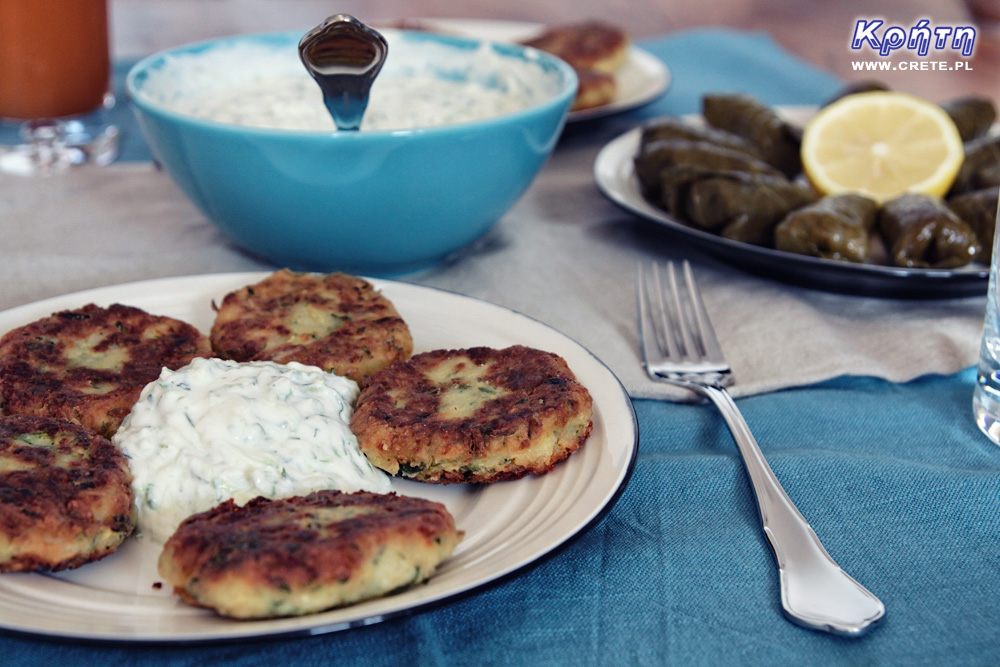 Data publikacji:
Data modyfikacji:
Wszystkie treści i zdjęcia występujące w serwisie są naszą własnością.
Wykorzystanie ich w dowolnej formie wymaga pisemnej zgody autorów.