CRETE - ExpressMap, not exactly comfort! maps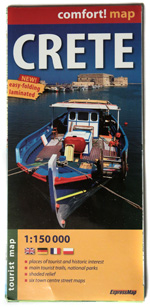 Last year before the next trip to Crete, we urgently needed a new map, so we decided to buy - for less than PLN 25 - a tourist map of the Express Map publishing house. It was the only relatively current map (printed in August 2011) available in bookstores right away.
It is a double-sided laminated map in the soft cover. Its dimensions are small: 100 x 48 cm after unfolding, and in the composite form it is only 11 x 24 cm. The plan of Crete was presented in 1: 150,000 scale. In addition, the publisher on both sides also posted the plans of major cities: Heraklion, Rethymnon, Chania, Agios Nikolaos, Ierapetra and Sitia, which are sketched on a scale of 1:10 000. There is also a small plan of islet Gavdos (1: 150,000).
On the map, apart from roads of various categories (from expressways to roads under construction), museums, monuments and historical places such as fortresses, ancient cities, temples, tombs and churches have been marked. For tourists who travel alone, it may be useful to sign gas stations, campsites, mountain huts, hiking trails and tourist information points. It also features natural attractions and the boundaries of national parks.
The publisher introduced plastic shading, which shows the terrain. The geographical coordinates of the map are presented in the WGS-84 reference system (World Geodetic System '84), which means its compatibility with GPS devices. All names of towns, mountain peaks and tourist attractions have been given in both Latin and Greek.
Double-sided lamination of the map is its great advantage. Thanks to this, it is resistant to damage or accidental wetting. Another advantage of this solution is the ability to mark a potential route or points planned to visit with a marker. Despite laminating, the map folds up conveniently because there are no paper at the folding points.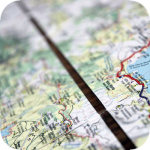 Na załamaniach znajduje się tylko laminat, co znacznie ułatwia złożenie mapy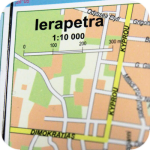 Schematyczne plany 6 największych miast to zdecydowana zaleta tej mapy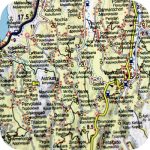 Największą bolączką CRETE comfort! map jest zbyt duża ilość oznaczeń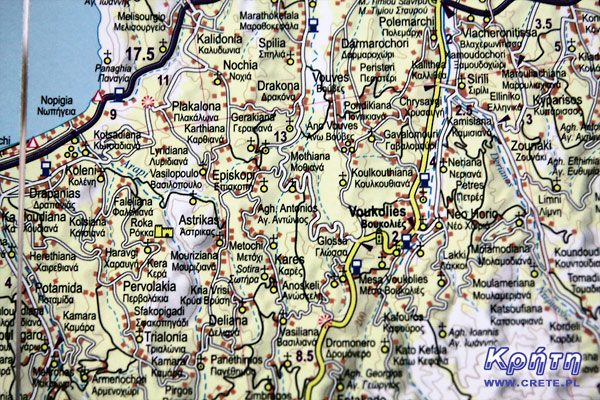 Readability is severely limited by over-saturation of the information provided. It is perfectly visible in the attached photo
fragment of this map
However, there is no rose without thorns. During real use, the map turned out to be excessively saturated with details, which makes it difficult to read. Too much accumulation of various types of markings, inadequately small differences in the size of the text of the signed places, as well as an ambiguous illustration of the built-up area cause difficult orientation in the field. While planning a trip with this map lying on the table does not pay attention to these drawbacks, it is difficult to work with her when driving a car. In our case, this map will unfortunately be a typical "semi-trailer", which will probably never go with us again. In our opinion, an additional disadvantage of this product is the lack of markings of scenic routes (which are not difficult on Crete). The publisher has only introduced viewpoints, which in our opinion is insufficient.
We leave the final evaluation of this map for you. It has its advantages and disadvantages, which for different people can have a completely different weight. Before any purchase, we advise you to carefully review and test it in some stationary bookstore. We do not exclude that there will be people who will like the manner of mapping the area on this map, so we will refrain from extreme recommendations.
Data publikacji:
Data modyfikacji:
Wszystkie treści i zdjęcia występujące w serwisie są naszą własnością.
Wykorzystanie ich w dowolnej formie wymaga pisemnej zgody autorów.