Samaria still closed and evacuation of tourists from Glyka Nera

2023-08-15 20:27:31
Probably many people are waiting for the announcement regarding the opening of the Samaria Gorge. Unfortunately, however, we do not have good news. The Organization for the Environment and Climate Change announced today that Samaria National Park will remain closed until Friday, August 18 inclusive.
This decision is due to the earthquake that hit the area last Sunday. As a result, there was a landslide and rock fragments, which seriously injured an accidental tourist. The situation is still unstable and there are great concerns about the appearance of further rock landslides, which would be a direct threat to people crossing the trail. For this reason, it was decided to extend the closure of the gorge for another three days.
Rescue operation on the trail...
Unfortunately, despite the warnings and the ban on hiking in dangerous areas, today the fire brigade evacuated two tourists from the area of the White Mountains. The American siblings were stranded this afternoon in rough terrain near Linoseli (Λινοσέλι) west of the Samaria Gorge. When they realized that they would not be able to continue the crossing, they notified the services and asked for help.
...and evacuating tourists from the threatened beach
An evacuation operation was also organized today on the Glyka Nera beach in Sfakia. Warnings were issued yesterday to avoid trips to the area. This beach is located at the foot of a high mountain, so there is a real risk that the rocks will roll out of the rocks if further tremors occur. Despite these warnings, many people went to Glyka Nera today. Water taxis also came here with tourists.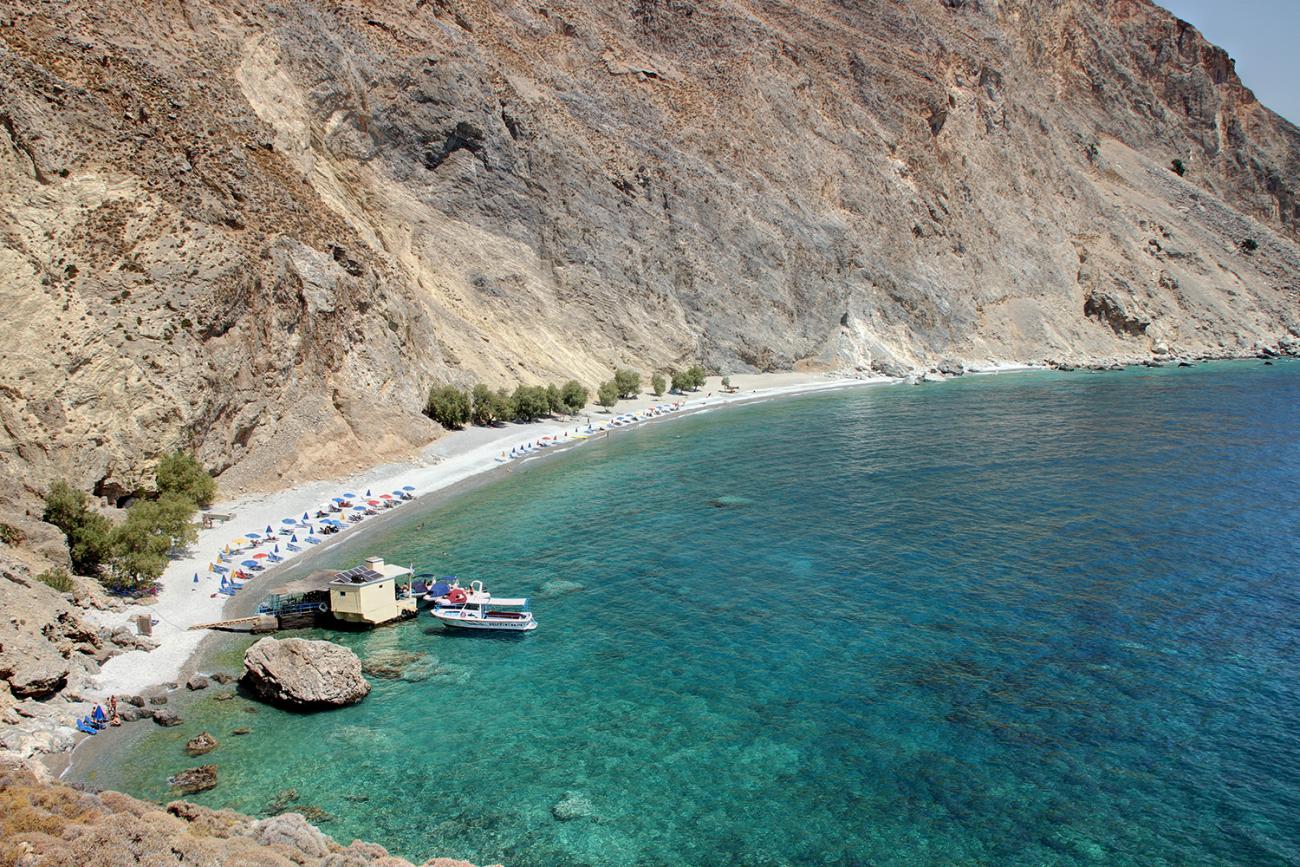 Glyka Nera beach
Image source: ekriti.gr
The evacuation operation was carried out by the Coast Guard. After taking tourists from the area of the dangerous beach, access to Glyka Nera has been banned today, both from the E4 route and by boats from the sea. It is worth noting that the warnings and bans of local authorities in the case of Glyka Nera are justified. In May 2015, a tourist from the Czech Republic died here, crushed by boulders.
While we still understand that not all tourists vacationing in Crete may be aware of the events of recent days, local companies organizing cruises to this area are not responsible for the life and health of others.

2023-08-15 20:27:31
see other news from this month »
Wszystkie treści i zdjęcia występujące w serwisie są naszą własnością.
Wykorzystanie ich w dowolnej formie wymaga pisemnej zgody autorów.