Blue Flags - record year for Greece

2023-05-13 20:45:52
As many as 617 Greek beaches, 18 marinas and 6 tourist ships have been awarded the Blue Flag internationally this year. Greece ranked second out of 52 countries for the second year in a row, accounting for 15% of the awarded coastline. Only Spain has more distinguished beaches, which has been winning first places for many years. In the case of Greece, it is worth noting that this year the number of awards granted exceeded 600 for the first time. As for Crete, this year the characteristic blue flag will appear on the island in 139 places, which means that last year's result (128) has been significantly improved.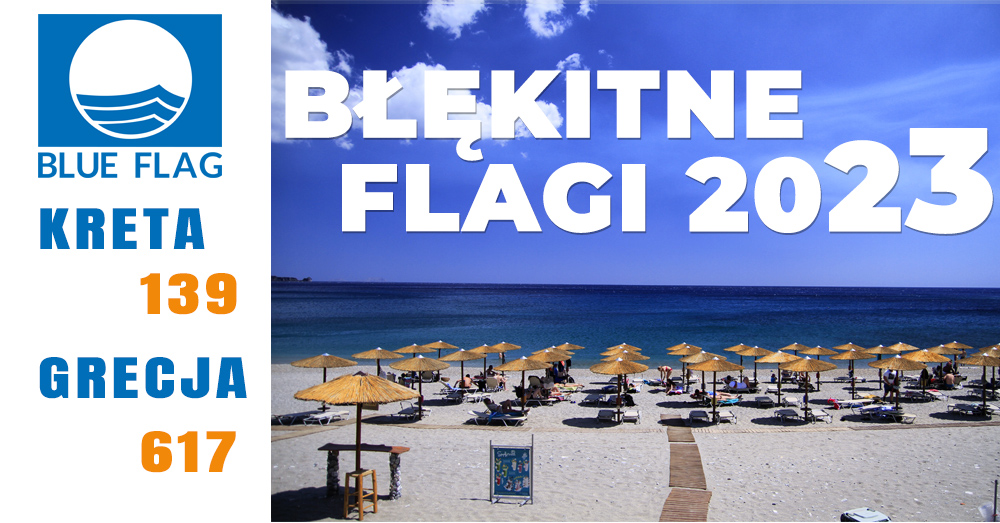 Lassithi prefecture has the most awarded beaches (48), followed by Chania (38), Heraklion (33), and Rethymno traditionally has the fewest (20). You can find the list of distinguished Cretan beaches at the end of this article.
Controversy around Voulisma Beach
This year, the city beach of Voulisma in Istro, which is the most popular beach in the municipality of Agios Nikolaos, did not receive this award. Voulisma is a beautiful sandy beach where it is difficult to find a piece of free space during the season. Turquoise water, sand and a beautiful bay attract a large number of tourists, which benefits the town and local entrepreneurs from the tourism industry. However, the Greek Society for the Protection of Nature decided not to award the beach this year. The reason is the plastic waste that regularly washes the beach on the sea currents and the remains of microplastics. The persistent presence of sea litter at this location is due to its geographical location and not negligence on the part of local authorities, but the criteria for awarding the Blue Flag are strict. The presence of waste means that the mandatory beach cleanliness criterion has not been met. The municipality is trying to deal with this troublesome problem, even signed a contract for the lease of a boat to collect garbage floating in the water.
The decision to deprive Voulisma beach of the blue flag is very controversial, because at the same time two neighboring beaches: Agios Panteleimonas and Karavostasi, struggling with the same problem with waste, received an award this year.
36 years of the Blue Flag programme
The awards have been granted since 1987 to those beaches and marinas that meet stringent requirements and criteria. Over the past several years, the Blue Flag has become the most recognizable and popular international symbol of high-quality beaches and marinas in the world. A uniform standard for this award was developed in 2001 by the Foundation for Environmental Education (FEE) in Denmark. In Greece, the Blue Flag is awarded by the Hellenic Society for the Protection of Nature (EEPF), which coordinates this programme.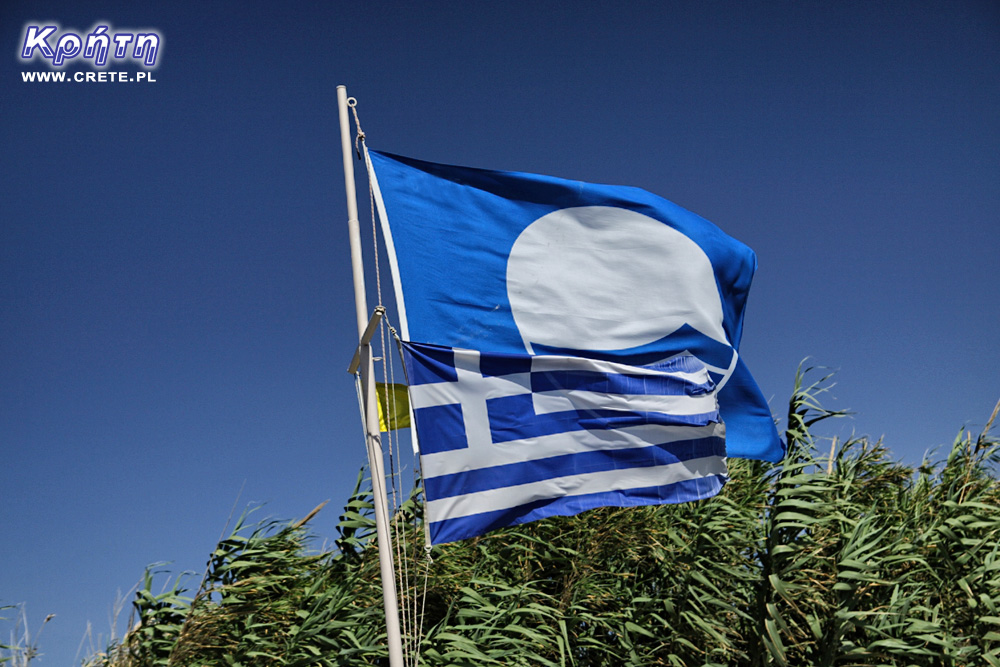 Bottle flags
Interestingly, since 2021, the characteristic blue flags have been produced 100% from used PET bottles. They are collected in supermarkets and other collection points in Western Europe. The bottles are chopped into small flakes, which are then melted down into polyester yarn, which is used to create the fabric that is ultimately used to make the flags.
The birth of an idea
The history of this award dates back to 1985, when the idea of distinguishing coastal communes characterized by high water quality was born in France. Two years later, in 1987, this idea was launched as an official European program known as Blue Flag. Initially, the awards were to become an incentive for bathing water managers to meet the assumptions of the European Council Directive on the reduction of pollution of bathing water and its protection against further pollution (Council Directive 76/160/EEC of 8 December 1975). Over the next several years, the simple and clear concept of marking the best beaches and marinas was also positively received by tourists in the European Union. Work has begun on changing the rules to allow the award to be introduced in other countries around the world. Since 2001, after establishing uniform rules, this label has become an international symbol of the best beaches.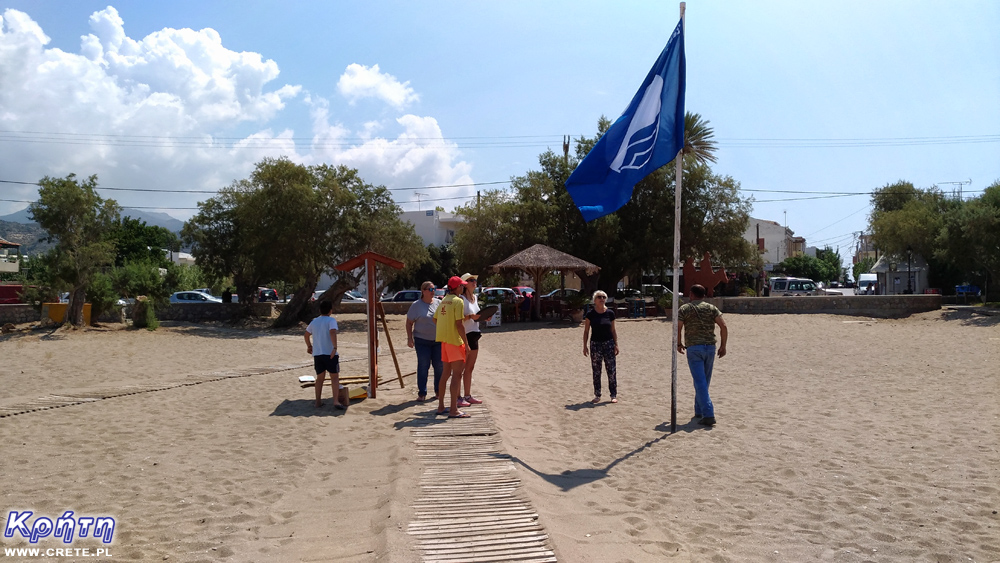 What criteria must a beach meet to receive the Blue Flag award?
Beaches applying for the right to use this mark must meet 33 criteria imposed by FEE (in the case of marinas it is 38 criteria, 51 for pleasure boats). The precondition for this award is excellent water quality. No other quality classification, not even "good", is acceptable. Below we present the most important criteria that are taken into account. They are divided into four issues within which detailed conditions are specified.
Clean sea and coast
excellent bathing water quality confirmed by sample testing
a sufficient number of waste and recycling containers, which must be emptied regularly
continuous, regular cleaning of the coast from garbage, cigarette butts, etc.
Coastal organization
posting official results of microbiological analyzes on the mandatory notice board
ban on the movement of vehicles and mopeds on the coast
no camping
efficient and clean sanitary facilities
Guest safety
the presence of trained, certified lifeguards or direct access to an emergency telephone, emergency equipment and first aid
accessibility and provision of services for people with disabilities (IDP)
Protecting nature and caring for the natural environment
protection of the coastal zone, in particular protected areas, including flora and fauna
implementation of specific educational activities in the field of environmental protection for visitors to the Blue Flag coastal zone
List of featured places in Crete in 2023
Chania region (38)
Municipality of Kantanos-Selino
Grammena
Pachia Ammos
Sougia
Chalikia
Municipality of Kissamos
Kasteli/Mavros Molos-Plaka
Falasarna/Pachia Ammos 1
Falasarna/Pachia Ammos 2
Platanias Municipality
Kolymvari/Euphoria Resort
Platanias-Limanaki/Porto Platanias Beach
Platanias/Geraniotis
Rapaniana/Cavo Spada
Gerani/Asterion Hotel
Municipality of Chania
Agios Apostoli 1
Agios Apostoli 2
Agia Marina/Santa Marina
Agia Marina/Almira Beach
Agios Onofrios
Calathas
Kalamaki
Kladissos/Domes Zeen Chania
Marathi
Nea Chora
Stalos
Stavros
Chrissi Akti
Apokoronos Municipality
Almyrida
Georgioupoli/Corissia Hotels
Georgioupoli/Corissia Princess
Kavros/Anemos
Kavros/Eliros Mare
Kavros/Georgioupolis Resort
Kavros/La Mer Resort
Kavros/Mythos Palace
Kalyves Xyda
Kyani
Maistrali
Perastikos/Mare Monte
Perastikos/Pilot Beach
Rethymnon Region (20)
Municipality of Rethymno
Adelianos Kampos A/Aquila Rithymna Beach
Adelianos Kampos/Caramel Boutique
Pigianos Kampos/Grecotel White Palace
Platanias B/Minos Mare Resort
Rethymno 1/Aquila Porto Rethymno
Rethymno 1/Ilios Beach
Rethymno 1/Kriti Beach
Rethymno 2/Pearl Beach
Rethymno 4-Myssiria/Creta Palace
Rethymno/Ikones
Skaleta/Creta Star
Skaleta/Rethymno Mare
Mylopotamos Municipality
Lianos Kavos Lavris/Iberostar Creta Panorama
Lianos Kavos/Creta Marine
Panormo Limni/Grecotel Club Marine Palace
Municipality of Agios Vassilios
Agia Galini/Ystero Varkotopi
Ag. Pavlos
Plakias
Rodakino
Souda
Heraklion Region (33)
Malevizi Municipality
Ammoudara 1/Agapi Beach
Ammoudara 4/Candia Maris
Ammoudara/Atlantica Akti Zeus
Ammoudara/Dessole Dolphin Bay
Ammoudara/Lifestyle Beach
Ellinoperamata/Apollonia Beach
Made/Athina Palace
Fodele/Fodele Beach Hotel
Heraklion-city beach
Ammoudara/Enorme Teatro Beach
Municipality of Iraklio
Agios Georgios 1/Aldemar Knossos Royal
Agios Georgios 2-Panagia Rizi/Annabelle Beach Resort
Agios Georgios 3/Mitsis Cretan Village Beach Hotel
Agios Georgios 3/Mitsis Royal mare
Ag. Dimitrios/Alexander Beach
Agia Pelagia-Menopetra/Akrogiali Beach
Amnissos/Unique Blue Resort
Anissaras/Lyttos Beach
Anissaras/Mitsis Laguna Resort
Drapanos/Nana Golden Beach, Nana Princess
Estavromenos/Arina Beach Hotel
Kastri/Creta Maris
Klontzani/Enorme Ammos Beach
Klontzani/Sirens Hotels
Kokkini Chani/ Knossos Beach
Kokkini Chani/Mitsis Rinela Beach Resort
Kokkini Chani/Themis Beach
Limenas Chersonissou 1/Akasha Beach Hotel & Golden Beach
Limenas Chersonissou 5/Silva Beach Hotel
Potamos A
Potamos/Cretan Malia Park
Phaistos Municipality
Kali Limenes
Kokkinos Pyrgos
Matala
Lassithi Region (48)
Agios Nikolaos Municipality
Agios Nikolaos 1/Saint Nicolas Bay
Agios Nikolaos 2/Minos Palace
Agios Nikolaos 3/Minos Beach
Agios Panteleimonas
Almyros
Ammos/Marina
Ammos/Municipal
Ammoudar
Ammoundi/Niko Seaside Resort-MGallery
Driros/Domes of Elounda
Elounda/Porto Elounda
Elounda 1/Elounda Blu
Elounda/Elounda Mare
Karavostasi
kitroplateia
Mirabello/Wyndham Grand Crete Mirabello Bay
Pigaidakia Eloundas/Elounda Village
Pilos/Istron Bay
Plaka/Blue Palace
Poros 1/Elounda Bay Palace
Poros 2/Elounda Beach
Spiliada/Kalimera Kriti
schism
Chavania 1/Candia Park Village
Chavania 2
Sitia Municipality
analypsies
Vai-Finikodasos
Vourlia
Kato Zakros
Kouremenos
Lagoufa/Mikri Poli Crete
Limanaki
Makrygialos-Langoufa/Sunwing Makrygialos Beach
Sitia 1/Galliko
Sitia 1/Sitia Beach
Khion
Ierapetra Municipality
Agia Fotia
Game Lygia
Ierapetra 1-Municipal
Ierapetra 2-Municipal
Ierapetra/Enorme Santanna Beach
Katharades/Ostria Resort
Kaki Skala/Avra Palm
Makrygialos Κοινοτική
Koutsounari 2/Kakkos Bay
Koutsounari-Agios Ioannis/Sunshine Crete & Sunshine Crete Village
Koutsounari/Coriva Beach - Pelagos Seaside
myrtle

2023-05-13 20:45:52
see other news from this month »
Wszystkie treści i zdjęcia występujące w serwisie są naszą własnością.
Wykorzystanie ich w dowolnej formie wymaga pisemnej zgody autorów.