Changes in legislation in Greece
Since yesterday, updated regulations have entered into force in Greece, specifying new rules for the functioning of people not vaccinated against covid-19 in public spaces. We decided that since the season is still going on and many tourists are still in Crete, among others, or are planning their holidays at a later date, it is worth describing the changes made. And to be clear - we do not intend to discuss the validity or non-implementation of legislation and we are not interested in your private views on vaccines. This post is for information only, and people who plan to travel to Greece in the next few months should certainly know the applicable law.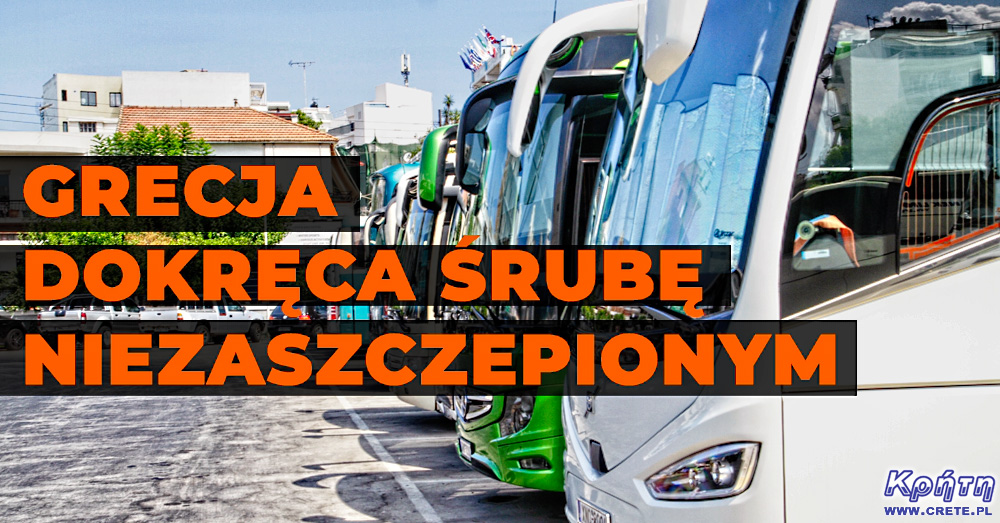 Traveling in Greece
The new regulations were introduced on September 13 and will remain in force until March 31, 2022. The additional demands that will be placed on the unvaccinated people arise in many aspects of everyday life. The first is public transport in Greece. Unvaccinated persons are admitted to planes, trains and long-distance KTEL buses after presenting a negative result of the PCR test performed within 72 hours before the scheduled time of arrival at the destination, or a quick antigen test performed within 48 hours before the planned time of arrival.
Rapid diagnostic tests can only be performed at private diagnostic centers, private doctors or pharmacies at the expense of travelers. The cost of such a test was set at € 10. Each traveler will have to declare the result of such a test on the gov.gr website and download the generated certificate from it. Its authenticity is checked using the Covid Free GR app in conjunction with identity verification. It is worth noting here that this application only recognizes EU Covid certificates in the case of foreign travelers.
Minors between 12 and 17 years of age may travel under the condition of a quick antigen test. Children from 5 to 12 years of age may travel provided they have obtained a negative result of the free self-test 24 hours before travel.
Vaccinated persons and convalescents are required to present a vaccination certificate, which is valid only 14 days after the last dose or a certificate of covid-19 infection in the last six months.
In the absence of the required documents, the passenger cannot travel by public transport. Additionally, in the event of failure to comply with the above requirements, a fine of € 300 may be imposed on the passenger. For those who provide a false certificate, the financial penalty is as high as € 5,000.
When it comes to wearing masks in public transport, nothing changes. Masks are compulsory for everyone and a penalty of € 150 may be imposed for not having them. They are also obligatory indoors and when it is not possible to keep a distance outside.
It is hard to say at the moment to what extent these requirements will be enforced from tourists. In the case of using masks, we noticed that they guard it much more strictly, for example, in buses running on the northern coast of Crete.
Unvaccinated people who travel with their cars between different regions of Greece do not need to submit any additional documentation.
Gastronomy
Since yesterday, also unvaccinated people are not allowed to use the internal rooms of restaurants, bars, cafes and taverns. Only vaccinated and convalescents are allowed to enter these spaces, after the presentation and inspection of certificates, of course. Of course, at the moment it is not even a big problem, but with the worsening of the weather and the advent of cold weather, these restrictions will be much more severe.
Culture and sport
In the case of theaters, cinemas, museums, archaeological sites, gyms and sports clubs, unvaccinated persons must submit a negative rapid antigen test result within 48 hours prior to visiting such site. In this case, too, the unvaccinated people will have to pay for the tests out of their own pocket.
At the same time, it is worth noting that cinemas and theaters will be able to operate either in a covid-free formula or in a mixed formula. Information about it is to be posted on the front door. It's not hard to see what the difference is. Those facilities that decide to operate as covid-19-free space will only admit vaccinated and convalescent people on the basis of certificates. Here, too, as in the case of transport, the vaccination is considered valid after 14 days from the date of the last dose, and the documents for convalescence are valid for up to 6 months back. Those theaters and cinemas that choose to operate in mixed mode will admit unvaccinated people on the basis of negative results from rapid antigen tests.
Sports facilities will not allow unvaccinated people to enter their premises at all. Entry will only be allowed for vaccinated and convalescent.
Citizens from outside the EU
As the Covid Free GR app only recognizes Greek vaccination certificates and the digital EU covid certificate held by EU citizens, vaccinated tourists from countries outside the European Union (e.g. UK or US) will simply be able to present their national vaccination certificate or proof of past illness in printed or electronic form. Visitors from these countries, however, will need to have some kind of identity document with them.
However, this is not the end of changes, although the remaining ones mainly concern the inhabitants of Greece.
Changes for employees, employers, pupils and students
Unvaccinated public and private sector workers will have to perform a quick antigen test once a week at their own expense. In the case of academic staff from the tourism, entertainment and catering sectors, two such tests a week will be compulsory, also at their own expense. Unvaccinated Greek students are required to complete two self-tests a week, with children receiving these self-test kits free of charge at pharmacies. However, students will have to perform two antigen tests a week at their own expense.
The new law gives Greek employers the opportunity to verify the status of tests and vaccination certificates of employees. In the event of refusal to present them, they may suspend such an employee from their duties. Employers who fail to check the current status of their unvaccinated workers' screening tests may be fined between € 300 and € 1,500. If an unvaccinated employee ignores the obligation to conduct such tests, he or she is also liable to a fine of € 300. Pupils and students will be suspended from classes if they fail to meet the new requirements.
The above changes in the regulations are a continuation of the announcements made by the Greek Prime Minister Mitsotakis a few months ago. The prime minister then announced tightening the screw on unvaccinated citizens and declared that he would not introduce another nationwide lockdown to protect those who oppose vaccination. In previous months, compulsory vaccinations were introduced for medical workers and staff working in nursing homes. About 6,000 of these workers, who did not receive at least the first dose of the vaccine on time, were suspended from September 1.

2021-09-14 20:13:14
see other news from this month »
Wszystkie treści i zdjęcia występujące w serwisie są naszą własnością.
Wykorzystanie ich w dowolnej formie wymaga pisemnej zgody autorów.