Flooding of the Malia excavations and a video of the flooded Gouves
The list of losses caused by the recent heavy rainfall also includes the partial flooding of the archaeological site in Malia . In the vicinity of this tourist town there are remains of the third largest palace from the Minoan period.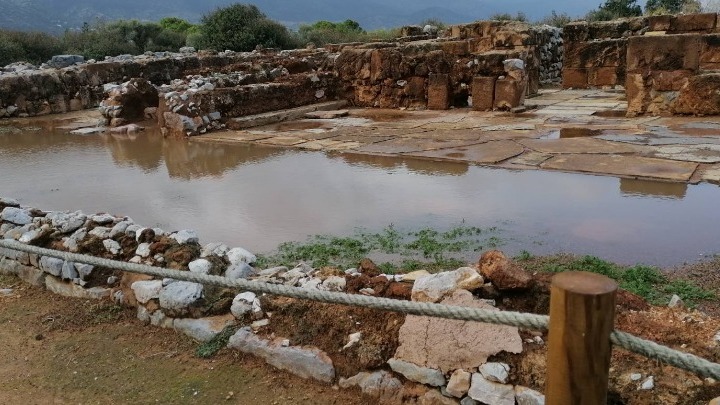 Flooded excavations in Malia (photo from https://www.amna.gr/ )
The huge rainfall that fell in the Malia area also caused extensive flooding in the countryside surrounding the palace, the Ministry of Culture and Sports said today. Among other things, a large agricultural area to the east of the palace parking lot was flooded. Despite the installed drainage system, rainwater entered the archaeological site. The reaction of the local authorities was immediate and attempts were made to intervene, but the intensity of the rains made virtually impossible any work.
Mainly the so-called Quartier Mu district was flooded. One of its buildings was built before the main palace buildings were built. A thick layer of mud has deposited on the floors of the former palace, which can only be removed after it is dry. Then it will also be possible to assess the condition of the excavations. Fortunately, no wall collapse or other serious damage has been found so far.
Unfortunately, after an initial inspection of the excavation site, it turned out that the drainage of the site had not been properly done. The slope of the runoff channels is incorrect, so they do not function satisfactorily under heavy rainfall such as in recent hours. The level of the surrounding land around the excavations is higher, and no drainage ditches have been made, so the water from the higher areas flows towards the archaeological site. Improving these shortcomings is very important because the palace in Malia is on the list of candidate sites for inclusion on the UNESCO World Heritage List.
Destruction in the Gouves area in the film by Nikos Sarantos
In yesterday's news, we collected several videos from various places in Crete, where you could see the extent of the damage. Today we will add to this "collection" a film made by Nikos Sarantos over the village of Gouves. The video was recorded from a drone, so you can better assess the scale of the damage. Apart from the broken bridge, our attention was also drawn to the color of the water in the sea.
Here you will also find some photos taken in the area of the Hersonissos commune .

2020-11-11 20:23:42
see other news from this month »
Wszystkie treści i zdjęcia występujące w serwisie są naszą własnością.
Wykorzystanie ich w dowolnej formie wymaga pisemnej zgody autorów.