Caretta caretta set up a nest in Crete
At the beginning of June, the first nest of Caretta caretta turtles in Crete was discovered near Rethymno. After a few days, turtles appeared in the vicinity of Chania and Messara. Such sockets were also noticed on the island of Zakhyntos. In the period when turtles start laying eggs, the coast is patrolled by the volunteers of the Archelon organization, which actively supports the protection of these animals. Every day at 5 am they set off to the beaches, where turtles are known to have established their nests there. Volunteers check whether under the shelter of the night no new traces of their presence have appeared on the sand. It is thanks to their hard work that we know that this year the first nests were established in each breeding area.
Each time such place is described in detail by Arechelon volunteers. In addition, these sockets are marked in a very visible way that facilitates their monitoring. In addition, tourists and residents are also warned that they should take special precautions when staying in their area.
Human activity unfortunately creates an additional threat to the development of turtles. The dynamic development of tourism on the Greek islands, which is the most popular breeding area, causes a systematic decrease in the number of Caretta caretta nests. Umbrellas stuck on the beaches, a large number of sun loungers, artificial lights after dark, noise, driving on the beaches and rubbish left by tourists, cause slow turtle extinction. Even ordinary plastic bags floating in the sea turtles are associated with jellyfish being their delicacy, which is a deadly danger for them. Employees of Archelon, therefore, remind that with the beginning of the turtle breeding season, special safe conditions should be created for them.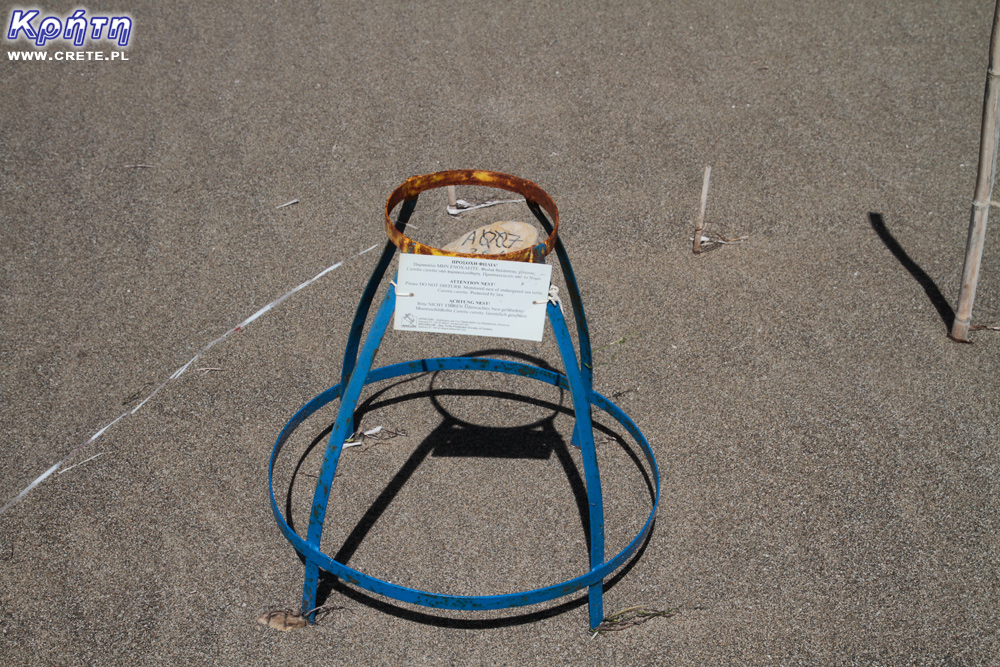 One of the characteristic indications of the Caretta caretta nests
A few simple rules
In fact, turtles do not put in particularly high demands and it is enough to comply with several Archelon recommendations during the breeding season. One of the basic ones is that heavy equipment can not be used for beach cleaning. From the beginning of the breeding period, umbrellas should not be moved as much as possible, and if they need to be repaired, they must be stuck into the sand in exactly the same places. This allows you to avoid situations in which sockets that are not recognized by Archelon are damaged. Egg showers should not be installed in the immediate vicinity of egg tons, as excessive water may adversely affect their hatching. In the evening, beaches should be cleaned of as many sun loungers, tables and other additional equipment used by tourists to relax. As far as possible after dark, these spaces should be free from the presence of large numbers of people, as well as free of excessive artificial lighting and noise emitted by the loudspeakers.
More information on
Caretta Caretta
turtles and Archelon can
be
found
on our website.
Wszystkie treści i zdjęcia występujące w serwisie są naszą własnością.
Wykorzystanie ich w dowolnej formie wymaga pisemnej zgody autorów.