A simple tomato sauce Σάλτσα ντομάτας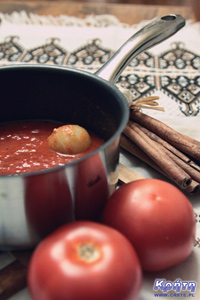 Components
Each kitchen in the world has its own way to tomato sauce, but the most important difference is in the spices that the individual nations spice up the simplest and best of sauces. The variety of spices that are popular in a given region of the world is also landing in a tomato sauce every day. We love tomatoes in absolutely every form, so every day the sauce made from them reigns in different forms.
Greek cuisine is a rather simple cuisine, and the Greeks themselves season their dishes with fresh herbs. We will not find here the richness of flavors that prevail in, for example, Indian cuisine, where the list of ingredients of most dishes opens over a dozen different spices added in the right order. Greeks primarily focus on the freshness and quality of ingredients. The same spices apply rather little, and one of the most commonly used is cinnamon, which can be found not only in the popular mussace, kleftiko, stifado or sweet baklava. We can also find a cinnamon note in tomato sauce. This sauce in the edition of the Greeks is very simple to prepare, its list of ingredients is short, and the rather long cooking time refers rather to the unhurried way of life.
1. Tomatoes should be peeled and cut into small pieces. Only peel the onion and do not cut it into cubes.
2. In a saucepan with a thick bottom put the chopped tomatoes, add the onion, olive oil, cinnamon, salt and pepper.
3. Stew simmer for an hour with stirring from time to time. When the sauce is ready, we remove pieces of cinnamon and onions from it.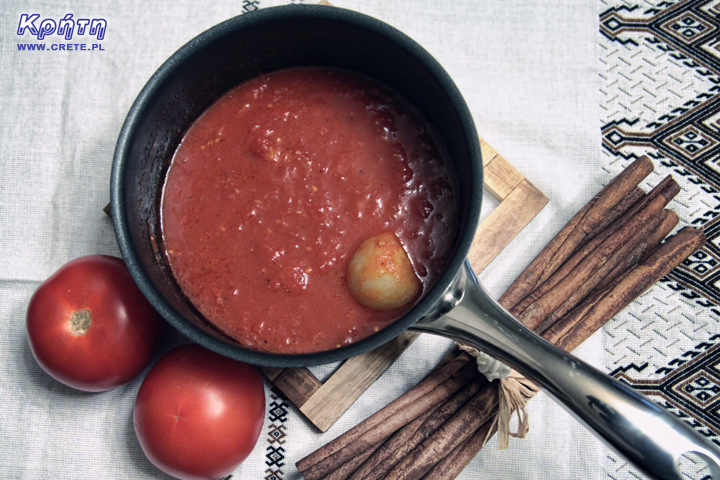 Data publikacji:
Data modyfikacji:
Autor Gosia
Wszystkie treści i zdjęcia występujące w serwisie są naszą własnością.
Wykorzystanie ich w dowolnej formie wymaga pisemnej zgody autorów.