Sweet cherries in syrup
Components
Κεράσι γλυκό του κουταλιού
Glyka tou koutaliou is a Greek delicacy that means fruits (usually) made in very sweet syrup. Such delicacies sometimes offer taverns at the end of the main meal, it is also a popular addition to desserts. Trying them can be a real test of resistance to the Greek definition of sweets.
Greeks can make almost any fruit and some vegetables in syrup. Currently, these types of ready-made preserves made from various types of fruit are also available in Greek stores. You can of course try these products, but in our opinion, nothing tastes as good as homemade ones. You must also remember that the sweetness of glyka tou koutaliou also translates into a correspondingly large number of calories. It is assumed that one small spoon of this specialty contains a minimum of 100 kcal.
On our website we have already given a way for cherries in syrup , and today we add a recipe for the preparation of cherries. We chose one of the simpler and less time-consuming recipes that we have been using successfully for several years. It's worth trying your hand and trying to make your own tou koutaliou with cherry. In the autumn and winter months these fruits perfectly remind us of the summer
1. Pour the sugar into the pan, pour the water and cook constantly stirring, taking care that the sugar does not burn. When the sugar dissolves and the syrup boils, put together a pot of fire and cool it a bit.
2. At the time when the syrup cools down, we wash the cherries and remove seeds from them. The fruit should be hard and ripe.
3. Put the pitted cherries in a pot with syrup and start cooking on a quite strong fire. In the initial stage, foam will appear, which should be gently removed.
4. When the syrup thickens a little, add lemon juice and possibly a pinch of vanilla.
5. Keep in mind that you do not exceed 15-20 minutes of cooking. Sweet cherries will shrink after this time, and their taste will not be so good anymore. We know from our experience that these fruits are best tolerated by quite a short and strong cooking. They maintain their taste and firmness.
6. We pour our glyka tou koutaliou in jars. After cooking, we translate the fruit into smaller jars and pour the resulting syrup. In jars, it's worth to leave the cherries a little slack and do not stuff them by force trying to fit as much fruit as possible. Then we pack in airtight jars and cool.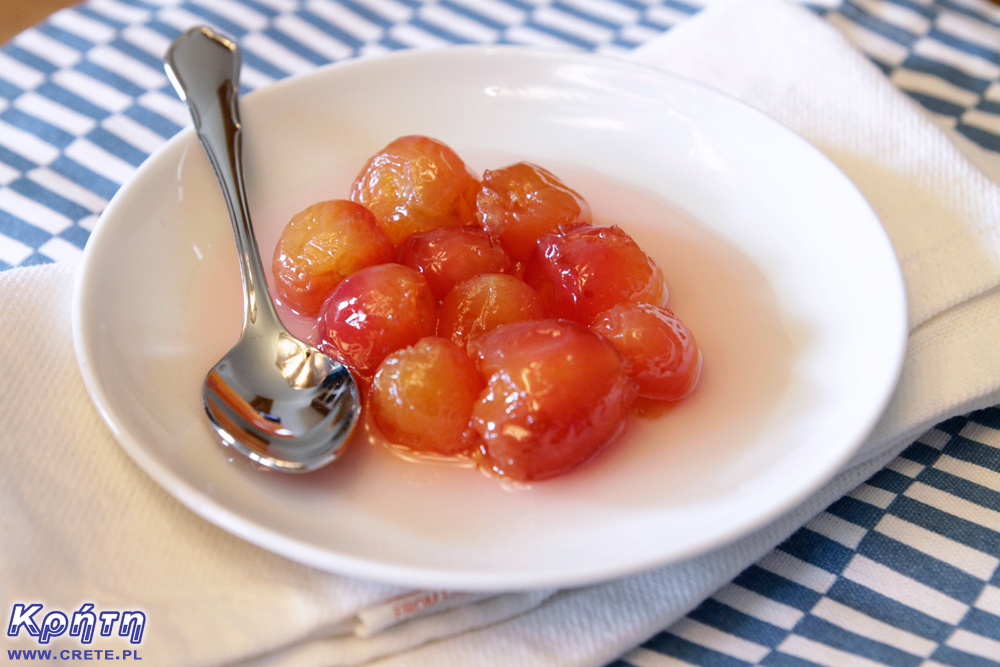 Data publikacji:
Data modyfikacji:
Wszystkie treści i zdjęcia występujące w serwisie są naszą własnością.
Wykorzystanie ich w dowolnej formie wymaga pisemnej zgody autorów.