Giouvetsi with chicken - Giouvetsi Kotopoulo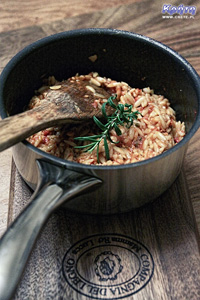 Ingredients for 2 servings:
200 g of skinless chicken, cut into 2 cm pieces

100-150 g of orzo pasta (kritharáki)

1 small red onion, finely chopped

can of tomatoes

⅔ cup of tomato puree (passata)

szklanka wody / span>

a pinch of sugar

a pinch of ground cinnamon

a pinch of ground herb

2 table spoons of olive oil

salt and freshly ground pepper

optional feta cheese, crumbled (100 g)
Γιουβετσι Κοτοπουλο
Giouvetsi is a traditional Greek dish that can be prepared from various types of meat. It is a simple one-pot dish traditionally prepared in the oven, although it can also be prepared in a pot and eventually in the oven in the oven. There are many different variants of this dish. If you decide to use beef in this dish, you can add a bit of red wine to the sauce. If you use poultry meat, wine will not be needed. In the recipe we present we use chicken meat hence the name giouvetsi kotopoulo. The use of this type of meat has the additional advantage - the dish can be made quickly.
The main role in giouvetsi is played by orzo - a special type of pasta resembling the shape of grains of rice. It is a pasta very popular in Mediterranean countries, although in Poland it also begins to show on store shelves. In Greece it is known as Κριθαράκι (Kritharáki). Works well in soups, pilaves, casseroles or as a component of stuffing.
1. On a large pan or in a saucepan we heat half of the olive oil. Fry the chicken pieces, then translate it to a separate dish and cover it.
2. Warm up the remaining oil and fry the onion until tender. Add pasta, tomatoes, tomato puree and a cup of warm water to the onion. Let's cook for a while, mix and re-throw chicken pieces.
3. Spice the whole with a pinch of sugar, cinnamon, English herb and season to taste with salt and pepper. We cover and reduce fire to medium. Cook for about 15 minutes, stirring occasionally, until the noodles are cooked. During cooking, you need to control the amount of water in the dish. If the water absorbs too quickly, add another cup of hot water.
4. The prepared dish can be baked in the oven after being put into a casserole. Before serving giouvetsi, you can also sprinkle with crumbled feta cheese.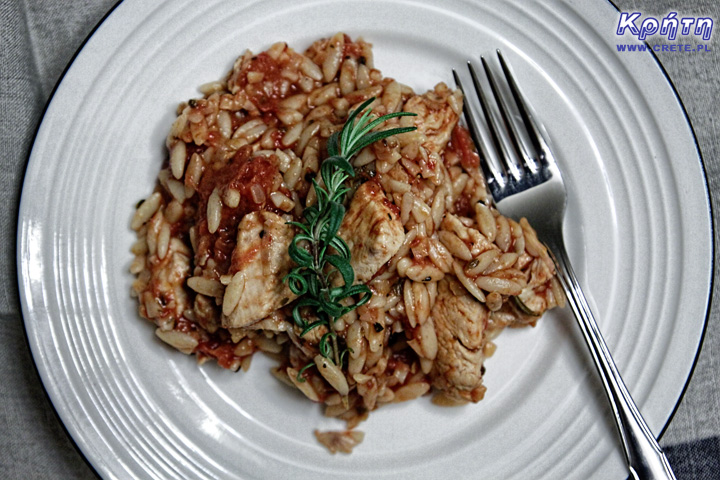 Data publikacji:
Data modyfikacji:
Autor Gosia
Wszystkie treści i zdjęcia występujące w serwisie są naszą własnością.
Wykorzystanie ich w dowolnej formie wymaga pisemnej zgody autorów.