Greek Panorama 2018
Late autumn and winter is certainly a difficult period for many people who are in love with the warmth of the Greek sun. The increasing monotony of colors dominating this period in Poland makes it easy to miss the landscapes and the climate of Crete. Fortunately, in the beginning of December, the Greek Panorama was organized in Warsaw. This unusually energetic event allows you to almost move to Greece for a moment, immerse yourself in its culture and climate.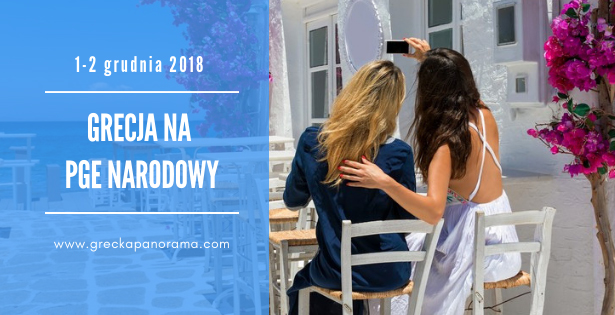 This year's fourth edition of the Greek Panorama will take place in less than two weeks on the first weekend of December. During these two days at the PGE National Stadium you will certainly be able to count on a wide range of trips presented by domestic tour operators. Certainly, not only leading travel agencies will be present on the Greek Panorama, but also nicer companies dealing in the organization of more thematic trips, such as sailing cruises.
However, if you are not interested in organized trips and are more interested in a more independent holiday, the Greek Panorama can be an excellent opportunity for you to familiarize yourself with the offer of flights. In recent years, at the event, one could count on the presence of a large part of airlines that provide courses between Polish airports and popular Greek destinations.
As part of this event, you will be able to count on a number of different types of additional attractions. It is worth mentioning that there will be culinary demonstrations conducted by Teo Vafidis, well-known to fans of Greek cuisine. Surprises are also waiting for all visitors, prepared by travel agencies, which in these days will offer not only additional promotions but also contests in which you will be able to win attractive prizes. As in the previous year, a lot of olive tree seedlings will be drawn.
Finally, it is also worth reminding that the Greek Panorama is also the Greek Food Show, which is a culinary festival where you can learn about the excellent local products. Interesting initiatives are Olive Oil Bar , as well as the Greek Wine Expo , where experts will be able to learn the secrets of wine and olive oil tasting. We, for our part, warmly invite you to visit the Physis of Crete booth run by our friends from Kritsa in Crete.
If you have not yet generated your invitation to the Greek Panorama, we encourage you to register. The form is available at the following address:
http://invitation.greckapanorama.com/
Like last year, the Greek Panorama will be held in Warsaw at PGE Stadion Narodowy (entry number 5 from the Szczecin Coast). The event will be available to visitors on December 1-2. On Saturday, the entrance will be possible from 10 to 18, and on Sunday from 10 to 17.

2018-11-19 19:55:58
see other news from this month »
Wszystkie treści i zdjęcia występujące w serwisie są naszą własnością.
Wykorzystanie ich w dowolnej formie wymaga pisemnej zgody autorów.